Commentary
Fatigue sets in, Lakers unconcerned
After losing just its second game since the All-Star break, L.A. isn't worried
Updated:
April 4, 2011, 2:54 AM ET
By
Arash Markazi
| ESPNLos Angeles.com
LOS ANGELES -- Kobe Bryant could hardly contain his laughter as the question was being asked. He looked down and simply shook his head and chuckled under his breath before the sentence could even be completed.
Are you concerned at all about the big picture after losing to the Denver Nuggets?
[+] Enlarge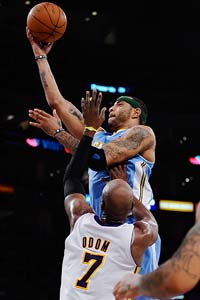 Kevork Djansezian/Getty ImagesKenyon Martin and the Nuggets had a little more spring in their step than the Lakers on Sunday.
It took about five seconds for Bryant to contain himself before he looked up and essentially sighed his response. "No."
Bryant's relaxed attitude after the Los Angeles Lakers' season-long nine-game winning streak was snapped after a 95-90 loss to the Nuggets seemed to permeate the Lakers' locker room after the game. It was the Lakers' second loss in their last 19 games since the All-Star break and their first loss at home since Feb. 3, when the San Antonio Spurs beat them with a similar late-game tip-in.
It was almost as if the Lakers expected to drop a game sooner or later before the playoffs started, and what better time than one of these dreaded Sunday afternoon games they notoriously loathe?
When Lakers forward Ron Artest was asked about the loss, he was more concerned with his long hair than the game that had just been played.
"I think I should have just gotten a haircut, that's what it was," he said as he rubbed his head. "This is ridiculous. I was going to get a haircut yesterday; I should have just stuck to my plan and gotten a haircut. That's what I wanted to do but I was too lazy."
Artest would continue on about his ever-growing mane when pressed about the game but his claim of being too lazy wasn't too far off from explaining the Lakers' struggles in the second half. They were outscored 55-43 after halftime while the Nuggets shot 60.5 percent from the field and 50 percent from 3-point range.
"We didn't play very hard in the second half," Lakers center Andrew Bynum said. "Collectively we didn't play that hard. I just think our energy was low in the second half and that's why we lost. We had a seven-point lead and they got it back real fast."
It was an unusually lackluster second half for the Lakers, who had run away from teams late recently. They had outscored the Utah Jazz 54-37 on Friday and outscored the Dallas Mavericks 56-21 on Thursday in the second half.
Jackson was as dismissive about the Lakers' first home loss in two months as Bryant was when he was asked about the Lakers' breakdown defensively and the fact that they gave up 17 turnovers, 10 in the second half alone.
"What was the score of the game?" Jackson asked rhetorically before taking the next question.
"I told the team we beat ourselves, but it's not quite the story," Jackson said. "I think Denver is very aggressive. I thought we had a scrum out there. It turned out to be a very physical game. Denver was able to come out in the second half and shoot the ball pretty well and execute pretty good too."
Heading into the game, Jackson and his players were continually asked if they really wanted to overtake the Spurs for the top seed in the West or if they were content with staying as the No. 2 seed. The thought process behind the questions: The No. 1 seed would possibly play the Oklahoma City Thunder in the second round while the No. 2 seed would likely play the Mavericks.
More on the Lakers

For more news and notes on the Lakers, check out the Land O' Lakers blog from the Kamenetzky brothers. Blog
"It really doesn't matter, you want to play your best basketball," Lakers forward Lamar Odom said. "Who you meet and when you meet in the playoffs, I think that's what scared teams do by positioning themselves. We're not going to run from a team not to finish first. That's what this is all about."
While the Lakers wouldn't mind finishing first in the West, they also don't think they need to finish first to win their third straight championship. Bryant has routinely swatted away questions about home-court advantage by claiming it's meaningless and simply shook his head when he was asked his thoughts on losing a game to the Spurs in the standings.
"When you look up at the banners, we don't put division titles up or things like that up, our goal is to be the best team," Odom said. "This is the time of year where we become a little bit more intense and pick up the focus and do our meditation and look to be the best."
The Lakers weren't exactly at their best on Sunday, but after they played their best basketball of the season for the previous six weeks, it didn't seem to matter to them as they left Staples Center. They feel they are exactly where they need to be heading into the playoffs whether they finish with the best overall record or not.
Before and after the game Jackson and Bryant reminisced about former Lakers assistant Tex Winter, who will finally be enshrined in the Naismith Memorial Basketball Hall of Fame this year. Winter, one of the innovators of the Triangle offense, was a perfectionist who would have cringed at the Lakers' play in the second half.
"I remember after we won our second championship he came in right before we had the parade and he talked about us not making fundamentally correct chest passes," Bryant said. "He was serious and we all started laughing."
And what would Winter have said after the Lakers' loss on Sunday?
"He would have had a few choice words for all of us," Bryant said. "To say the least."
Arash Markazi is a reporter and columnist for ESPNLosAngeles.com. Follow him on Twitter.
ESPNLosAngeles.com
Former columnist and writer after five years with Sports Illustrated
Markazi has also written for Slam, King, Vibe and Playboy
On board of directors for Jim Murray Memorial Foundation.