Commentary
Lakers' best acquisition might be rest
Updated:
May 12, 2011, 8:40 PM ET
By
Arash Markazi
| ESPNLosAngeles.com
LOS ANGELES -- So what do the Los Angeles Lakers have to do to fix their suddenly aging roster in the offseason? The answer seems simple if you talk to anyone who was on the team this season. Nothing.
Every player on the roster, along with general manager Mitch Kupchak, has said this week that the current Lakers team can still win a championship next season if the squad is brought back intact.
As crazy as that may sound, it's nothing new for a group that believed it was destined to beat the Dallas Mavericks despite being down 3-0 in its second-round series. That was before the Lakers lost Game 4 by 36 points and were swept out of the playoffs for the first time since 1999.
The general consensus by many pundits, including Magic Johnson, is that this Lakers team should be "blown up."
[+] Enlarge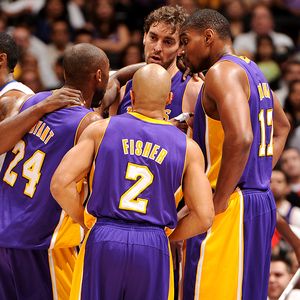 Andrew D. Bernstein/NBAE/Getty ImagesIs breaking up the Lakers' core an overreaction to one off season?
It's an amazing sentiment considering where this team has landed in such a short time.
Nine months ago, Lakers owner Jerry Buss looked at the Lakers' roster before the start of training camp and said, "I feel there's a good chance this could be the best team we've ever had."
Two months ago, the Lakers were in the midst of winning 17 of 18 games and were the clear-cut favorite to advance to their fourth straight NBA Finals and win their third straight championship.
Now, Lakers fans can't fire up the trade machine fast enough to see what they can get for Pau Gasol, Andrew Bynum, Lamar Odom and Ron Artest.
As Kobe Bryant sat in front of the media at the Lakers' training facility Wednesday, he smiled at the notion that the Lakers' roster should be dismantled after falling short of the Finals for the first time in four years.
"Do I think we can do it again? Yeah, I think so," he said. "In terms of this being the decline of the Lakers, that's nonsense. I remember they had a pretty good era in the '80s and they didn't win three [titles] in a row, and they didn't break that team up."
Bryant is a student of the game who wishes he could have played in the 1980s against the Pistons' Bad Boys, the Showtime Lakers, Larry Bird's Celtics and Dr. J's 76ers. He remembers those teams winning championships, keeping their core players intact for much of the decade and never overreacting when they fell short one season.
If the Lakers "blew up" their team every time they failed to win a championship in the 1980s, Showtime would have never gotten off the ground.
The year before the Lakers won the championship in 1982, they lost to the Houston Rockets in three games in the first round. In the two postseasons before winning the 1985 championship, L.A. was swept by the 76ers in '83 and lost to the Celtics in the '84 Finals. The year before the Lakers won back-to-back titles in 1987 and '88, they lost to the Rockets in five games in the Western Conference finals. And in the two postseasons before the Showtime Lakers' last Finals appearance in 1991, they were swept by the Pistons in the '89 Finals and lost to the Suns in five games in 1990's second round.
There is a reason no team has made it to four straight NBA Finals since 1987 (Celtics) and only five teams in NBA history have won three or more championships in a row.
To say that it's simply "hard" would be undermining all the Hall of Fame players, coaches and teams who have fallen short over the years. As Bryant mentioned, none of those great teams from the 1980s won three in a row. When the '86-87 and '87-88 Lakers teams won two in a row, it hadn't been done in 30 years, and this Lakers team is the only squad to win back-to-back titles since 2002.
As much as fatigue and motivation seem like cop-outs for a talented team that underperformed down the stretch, it's natural that both would set in over time. The Lakers have played nearly an entire extra season's worth of playoff games (77) since 2008, and Bryant, Gasol and Odom have spent the better part of some of those offseasons playing for their national teams.
It's certainly fair to point out the age of the roster -- every regular contributor outside of Bynum and Shannon Brown is older than 30 -- but the Mavericks are an older team and so were the Celtics last season when they pushed the Lakers to seven games in the Finals. The Lakers are an aging team, but they still have two years before they can be considered over the hill by NBA standards.
More on the Lakers

For more news, notes and analysis of the Lakers, check out the Lakers Index. Blog
"It's been a long run -- a great run, but a long run," Bryant said. "I think the biggest thing was the fatigue factor. Guys were tired. A lot of times when you get tired, you get burdened by things that you're normally not burdened by. I love quoting Tex [Winter], who always used to say, 'Fatigue makes cowards of all men.' It's definitely true."
The Lakers will almost certainly make some roster changes. There are always roster changes no matter what happens in the postseason. The Lakers had seven new players on the roster this season despite winning back-to-back titles, and it's possible they'll see that kind of turnover before next season. But the core group of players probably will remain intact.
Even if the Lakers wanted to break this team up, it would be difficult. They have Bryant, Gasol, Bynum, Odom, Artest, Derek Fisher, Luke Walton and Steve Blake signed through the 2012-13 season. Brown and Matt Barnes will probably exercise their player options and return to the team next season along with Devin Ebanks and Derrick Caracter, which would round out an unchanged 12-man roster from last season, barring trades.
The problem with making blockbuster trades when you're the Lakers is that few teams want to ship their superstars (like Dwight Howard or Chris Paul) to a team that has won 16 championships and is looking to reload for another long title run.
"There's nobody out there looking to help the Lakers, and I'm certainly not looking to help another team overtake us," Kupchak said Wednesday. "Certainly, our team continues to age, but veteran teams in this league contend for championships. You're not going to contend for a championship with a nonveteran team. With the core players we have intact, we do think we can continue to contend."
Perhaps the best additions for the Lakers next season will be rested legs and the motivation that comes from getting swept out of the playoffs and having everyone, including former Lakers, calling this team out. It was a simple strategy that worked in 2008, when the Lakers brought back the same team that got blown out by 39 points versus the Celtics in the last game of the Finals and went on to win back-to-back championships.
"They have a feeling in their stomach similar to the feeling they had when we got beat by Boston three years ago," Kupchak said. "And it's going to stay there until training camp next season. I think if there's a silver lining in losing, that's it. You get hungry again."
Arash Markazi is a columnist and writer for ESPNLosAngeles.com. Follow him on Twitter.
ESPNLosAngeles.com
Former columnist and writer after five years with Sports Illustrated
Markazi has also written for Slam, King, Vibe and Playboy
On board of directors for Jim Murray Memorial Foundation.