Commentary
Mike Brown a good fit for Lakers
He's isn't the sexiest choice but his résumé stands up to any other coaching candidate
Updated:
May 26, 2011, 1:18 PM ET
By
Arash Markazi
| ESPNLosAngeles.com
LOS ANGELES -- I know what you're thinking. Believe me, I thought the same thing when I heard the name.
Mike Brown? Really?
The same guy who was fired by the Cleveland Cavaliers a year ago? The same guy who looked as lost as LeBron James at times during the playoffs the previous three years? The same guy who has spent the past season as an assistant coach on his 13-year-old son's middle-school football team?
That guy?
Yet as crazy as it might sound, that guy just might be the perfect fit for the Los Angeles Lakers.
Let's begin with Brown's résumé, which is far too impressive to deserve the amount of criticism he's received from Lakers fans who were hoping the team would hire Brian Shaw, who has no head-coaching experience but was Phil Jackson's right-hand man the past six seasons.
[+] Enlarge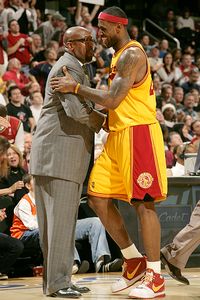 David Liam Kyle/NBAE/Getty ImagesMike Brown took a LeBron James-led team to two Eastern Conference championships and one NBA Finals. Those credentials stack up against the NBA's best.
Each of the last two seasons Brown was a head coach, in 2008-09 and 2009-10, his teams won more than 60 games, finishing with the best record in the NBA. He was named the NBA Coach of the Year in 2008-09, and his teams have advanced in the postseason to at least the conference semifinals in each of his five seasons as a head coach, reaching the NBA Finals in 2007. His 42-29 record in the playoffs is comparable to Gregg Popovich's (37-28) and Jackson's (50-29) over the same time period. Sans the championships, of course.
Now, remember he took over a Cleveland Cavaliers team that hadn't qualified for the playoffs the previous seven years before he was hired, hadn't made it out of the first round the previous 12 seasons and had never reached the NBA Finals.
The common perception is that all the credit for the Cavaliers' success during Brown's tenure in Cleveland should be given to James. But James, who was 21 when Brown was hired, would be the first to credit Brown with helping him become the player he is today, especially on the defensive end. James was already the most talented player in the league when Brown came to Cleveland, but by the time he left, he had helped James become a two-time all-defensive first-team player and a two-time MVP. Not only did Brown help James reach his potential, but Mo Williams became an All-Star in 2009 and Anderson Varejao was named to the all-defensive second team in 2010.
It's easy to say James simply carried a bunch of nobodies in Cleveland, but the truth is the Cavs' success began when Brown became the head coach. James didn't have as much success in the regular season with a far more talented roster with the Miami Heat this season. They finished with a 58-24 record as James finished third in the MVP race.
As much as Kobe Bryant would have preferred the far more familiar Shaw as his next coach, Bryant was the one who stated during his exit interview that the Lakers needed to make defense a priority when thinking about a new coach. Brown was probably the best defensive coach available.
"If you're building a championship team, your DNA always has to start with the defensive end of the floor. Always," Bryant said earlier this month. "I'm a firm believer in that. I don't believe in building a championship team on offense. It has to be built on defense and rebounding. Period."
The biggest problem with the backlash against Brown's hire is the notion that there were better coaches available. First of all, there is no coach on the planet who boasts Jackson's résumé, so anyone the Lakers could have hired would have been viewed as a major step down. Just take a look at the available candidates.
There was Shaw, who has no head-coaching experience and whose candidacy took a big shot when the Lakers were swept out of the playoffs by the Dallas Mavericks earlier this month. Any notion of simply keeping the same coaching staff sans Jackson probably went out the window after that flameout.
There was Rick Adelman, who is a fine head coach but has never won a championship. He last led a team to the NBA Finals in 1992, has made it out of the first round only once since 2004 and missed the playoffs his past two seasons with the Houston Rockets before he was fired.
There was Mike Dunleavy, the former Lakers coach who also has never won a championship, last made the NBA Finals in 1991, has missed the playoffs in all but one season since 2001 and was fired by the Clippers last year.
A couple of other candidates thrown out by fans but never seriously explored by the team were Jeff Van Gundy and Jerry Sloan, two other solid coaches who have never won a championship and last made the NBA Finals in the 1990s.
Some Lakers fans were even pining for the return of Kurt Rambis, who has gone 56-145 as an NBA head coach, including a stint with the Lakers in 1999, or Byron Scott, who went 19-63 in Cleveland last season after replacing Brown.
As nice as it would be to replace Jackson with a coach who has won an NBA title, the fact is only two active coaches (Gregg Popovich and Doc Rivers) have won a championship as a head coach. Besides, the last time the Lakers tried to replace Jackson by chasing a "championship coach," they hired Rudy Tomjanovich, and that didn't turn out so well. While Brown might not have a championship ring as a head coach (he has one as assistant with the Spurs in 2003), he has the fifth-highest regular-season winning percentage (.663) in NBA history. It's a mark that currently puts him ahead of Red Auerbach (.662), Pat Riley (.636) and Chuck Daly (.593).
More on the Lakers

For more news, notes and analysis of the Lakers, check out the Lakers Index. Blog
Brown certainly isn't the sexiest choice the Lakers could have made, but his résumé stands up to, and in some cases exceeds, that of anyone else who was available.
Brown is no "Zen Master" but can actually relate to Jackson better than the other coaching candidates. He took over a young team with a young superstar who hadn't won anything and got the young superstar to buy into his system and was able to get the most out of him and the team. Their time together didn't produce any championships, but that probably had more to do with the fact that they were working with Mo Williams, Zydrunas Ilgauskas and Delonte West instead of Scottie Pippen, Dennis Rodman and Toni Kukoc.
The truth is Brown probably got more out of the Cavs during his time there than any other coach might have, including Jackson. Look at what Jackson did in Los Angeles during his second stint before the Pau Gasol trade. The Lakers led by Bryant, Lamar Odom, Andrew Bynum and a band of misfits never won more than 45 games and failed to make it out of the first round.
As much as many Lakers fans loathe the hire simply because they had their hearts set on someone else, Brown is actually the best available coach to solve their biggest frustrations.
Nobody will stress the importance of defense more than Brown, whose Cavaliers teams were third in opponent scoring (94.4) and sixth in opponent field goal percentage (44.6) during his tenure. Nobody will stress the importance of playing hard in the regular season more than Brown, who squeezed an NBA-best 127 wins out of the Cavaliers over his last two seasons in Cleveland. And nobody will work harder at finding a way to get Bynum and Gasol to play effectively together than Brown, who practically lives in the film room, and was an assistant when Tim Duncan and David Robinson won a championship with the Spurs in 2003.
No coach the Lakers could have hired was going to be as good as Jackson, but in Brown the Lakers hired the coach with the best recent résumé and, at 41 years old, the biggest upside. In most cities and for most teams, that would be enough, but as Brown will soon find out, Los Angeles isn't like most cities and the Lakers aren't like most teams.
Arash Markazi is a columnist and writer for ESPNLosAngeles.com. Follow him on Twitter.
ESPNLosAngeles.com
Former columnist and writer after five years with Sports Illustrated
Markazi has also written for Slam, King, Vibe and Playboy
On board of directors for Jim Murray Memorial Foundation.
Adidas Youth L.a. Lakers Kobe Bryant #24 Purple Replica Jersey Shop »