Owner dispels family tension notion
Updated:
March 24, 2010, 2:07 PM ET
ESPNLosAngeles.com
THE BUSS TOUR

Jerry Buss bought the Lakers in 1979 from Jack Kent Cooke. In the three decades since, the Lakers have become synonymous with Los Angeles.
Q&A with Jerry Buss
The Lakers owner riffs on the Lakers, poker and his legacy. The answers »
A long relationship
Steve Springer puts in words his relationship covering Buss. The icon »
Video
One man's impact on Los Angeles and the sport of basketball.
The owner, 30+ years of success


Byron Scott reflecting on the boss

In pictures
Under Buss' ownership, the Lakers have hung nine banners. The gallery »
In his words
Buss on his love for USC football


Buss on traveling with USC football


Buss on his Los Angeles legacy


Buss on Phil Jackson's contract

Kobe Bryant is expected to sign an extension and the rest of the Los Angeles Lakers' core players are signed into the future. Hall of Fame coach Phil Jackson, however, is not under contract next season.
In a wide-ranging interview with ESPNLosAngeles.com, enigmatic Lakers owner Jerry Buss delivered some thoughts on the process and addressed recent reports of family tension regarding the re-signing of Jackson for next season.
"If I were to go to him right now and said, 'Phil, will you coach next year?' He would say let's wait until the end of the year and see how I feel," said Buss. "So, I don't think it causes any tension, I just have to wait until then before a discussion begins [on a new contract]."
Both the coach and owner in recent years have re-evaluated Jackson's contract after the season once the coach's three-year contract expired in 2008. Jackson traditionally takes time away from Los Angeles after the playoffs and assesses his health at his Montana ranch. He is 64.
Buss added: "I think from [the Lakers'] perspective we really want to get through the year, then take a deep breath and see where we are."
Jackson, in his 19th season as a coach, has won four NBA championships with the Lakers, including a title last June beating the Orlando Magic in five games. He is in his 10th season with the Lakers, one more than he spent as coach of the Chicago Bulls.
ROAD TO REPEAT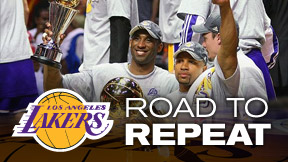 PHOTO GALLERY
STORIES AND COLUMNS
24/7/365: ALL ABOUT KOBE
LAND O' LAKERS BLOG
OWNER JERRY BUSS
710 ESPN PODCASTS