Buss joins 2010 class
Updated:
April 5, 2010, 6:06 PM ET
By
Arash Markazi
| ESPNLosAngeles.com
Los Angeles Lakers owner Jerry Buss was selected Monday as part of the Naismith Memorial Basketball Hall of Fame's Class of 2010.
Buss, owner of the Lakers since 1979 and winner of nine NBA championships in Los Angeles, was selected with Karl Malone, Scottie Pippen, high school coaching great Bob Hurley, Sr., WNBA star Cynthia Cooper and the 1960 and 1992 U.S. Olympic teams, which both won Olympic gold medals. NBA veterans Dennis Johnson and Gus Johnson and international star Maciel "Ubiratan" Pereira will be honored posthumously.
"This is an overwhelming honor and one that I never anticipated when I began my ownership of the Lakers 31 years ago," Buss said in a statement released by the team. "I truly thank everyone involved for according me the privilege of being a member of such a prestigious body as the Naismith Memorial Basketball Hall of Fame."
The induction ceremonies are scheduled for Aug. 13 in Springfield, Mass.
Buss, 77, helped usher in the "Showtime" era of the Lakers after purchasing the team along with the Los Angeles Kings, the Forum and a 13,000-acre Kern County ranch in 1979 for $67.5 million, then the largest transaction in sports history. Buss later sold everything but the Lakers, who are now primarily run by his son Jim and daughter Jeannie.
The Lakers had won only one championship in the previous 25 years before Buss purchased the team. After drafting Magic Johnson with the first overall pick in the 1979 NBA draft and teaming him with Kareem Abdul-Jabbar, the Lakers would win five championships over the next nine years while advancing to nine NBA Finals in 12 seasons.
With Buss at the helm, the Lakers became first NBA team to have a dance squad, the Laker Girls, and courtside seats became a living Hollywood Walk of Fame on game nights as Jack Nicholson became as synonymous with the Lakers as Pat Riley.
The Lakers have gone on to win four more championships this decade and currently have the second-best record in the league.
"Jerry Buss is a great owner," Lakers forward Pau Gasol said. "I couldn't be more thankful to Jerry and the Buss family for everything they've done for me and how much confidence they gave me and the efforts they made to trade for me and then keep me and give me the extension. They're about winning and they're about making the Lakers franchise a winning franchise every year and that's something that I admire. I'm happy to be a part of it and he deserves a lot of credit."
The Lakers' nine championships under Buss' ownership are the most by a team in any of the four major North American professional leagues since he purchased the team.
"My dream really was to have the Lakers and Los Angeles identified as one and the same," Buss recently told ESPNLosAngeles.com "When I was just a fan, I used to really object when I would go to see the Lakers playing New York and most of the crowd would be ex-New Yorkers cheering for the Knicks. Then the next time, it would be the same with some other team. When you think New York, you think Yankees. I wanted that to be the case here as well. That when you think L.A., you think Lakers. I believe I've accomplished that."
Arash Markazi is a reporter and columnist for ESPNLosAngeles.com.
ESPNLosAngeles.com
Former columnist and writer after five years with Sports Illustrated
Markazi has also written for Slam, King, Vibe and Playboy
On board of directors for Jim Murray Memorial Foundation.
ROAD TO REPEAT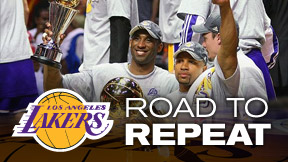 PHOTO GALLERY
STORIES AND COLUMNS
24/7/365: ALL ABOUT KOBE
LAND O' LAKERS BLOG
OWNER JERRY BUSS
710 ESPN PODCASTS