Jackson hopes Lakers can win out
Updated:
April 7, 2010, 7:54 PM ET
By
Dave McMenamin
| ESPNLosAngeles.com
Before the Los Angeles Lakers' disastrous five-game road trip last week in which the team went 2-3, suffering blowout losses to Oklahoma City and Atlanta in the process, coach Phil Jackson dangled the 60-win mark as a carrot in front of his team.
Now the Lakers have 55 wins with five games left in the regular season and Jackson still has 60 in his sights.
"We can, we sure would like to," Jackson said at the Lakers' practice facility in El Segundo, Calif.
Cleveland has already clinched the No. 1 overall record in the league this season, but a strong finish by the Lakers can stave off Orlando for the second-best mark in the league. The Magic are one game behind the Lakers with a 54-23 record.
"Orlando is a home-court advantage situation there, it's imminent," Jackson said.
The Lakers start their final five-game stretch in Denver on Thursday. It continues with a game in Minnesota the next day, followed by a home game against Portland on Sunday, a home game against Sacramento on Tuesday and a "road" game against the Clippers at the Staples Center on Wednesday.
More thoughts on Buss in the Hall of Fame
Kobe Bryant extolled the virtues of his owner, Dr. Jerry Buss, who will be inducted into the Naismith Memorial Basketball Hall of Fame in August. "You felt the impact of what he did with this franchise for a kid who was 8 years old in Italy," Bryant said, recalling his childhood spent overseas while his father was playing professional basketball in Europe. "The impact was felt. That was a team that was global at the time, the only team that was global at the time. Then the Celtics kind of got thrown into the mix because of the rivalry, but it really was because of the Lakers."
Scrimmage scribbles
The Lakers ended Wednesday's practice with a full-court scrimmage up to 70, 2-pointers were worth 10 and 3-pointers were with 15. A reserve team made up of Jordan Farmar, Sasha Vujacic, Josh Powell, Adam Morrison and D.J. Mbenga beat the first team of Bryant, Pau Gasol, Shannon Brown, Lamar Odom and Derek Fisher 70-60 on a "15-pointer" by Vujacic.
"It's good," Bryant said about the competition. "It's good to have a good practice and get out, work on some things, play with a lot of intensity and compete and try to get a rhythm."
Dave McMenamin covers the Lakers for ESPNLosAngeles.com.
ESPN.com
Cavs and NBA writer for ESPN.com
Covered the Lakers and NBA for ESPNLosAngeles.com from 2009-14 and the NBA for NBA.com from 2005-09
Syracuse University graduate
ROAD TO REPEAT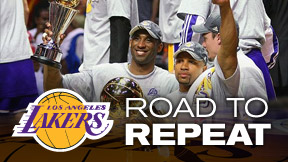 PHOTO GALLERY
STORIES AND COLUMNS
24/7/365: ALL ABOUT KOBE
LAND O' LAKERS BLOG
OWNER JERRY BUSS
710 ESPN PODCASTS