Commentary
Adversity nothing new to Matthews
Guarding Kobe Bryant is a familiar challenge to the rookie Jazz guard
Updated:
May 4, 2010, 10:27 AM ET
By
Shelley Smith
| ESPNLosAngeles.com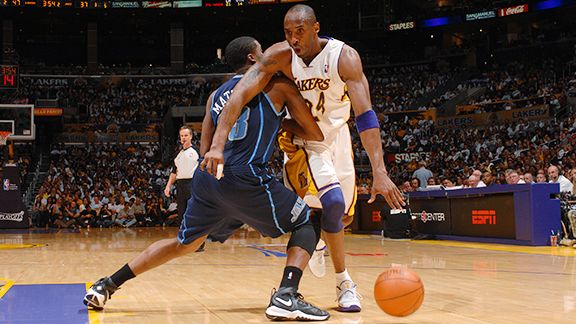 Noah Graham/NBAE/Getty ImagesMatthews' ability to overcome challenges gives him confidence when drawing the difficult assignment of guarding Kobe Bryant.
Utah guard
Wesley Matthews
was not drafted last spring. He didn't make the rookie squad for the All-Star game, nor did he crack the top 10 in the NBA Rookie of the Year balloting (he finished 11th). He even had to work his way into the starting lineup at Marquette.
But Matthews, 23, wowed the Jazz during the summer league to earn a spot on the roster and now finds himself guarding arguably the best player in the world, Kobe Bryant. Matthews gets that assignment after guarding Carmelo Anthony, a similarly challenging opponent.
IT'S L.A., AND IT'S LIVE

For more coverage of the complete Los Angeles sports scene, visit ESPNLA.com. »
"The draft was probably the worst night of my life," he said before Monday's practice at the Clippers' practice facility. "But at the same time, it was one of the best. It made me stronger, made me tougher, made me want this even more, made me grateful for the position I'm in now."
As opposed to the position he was in Sunday, when he let Bryant drive straight to the basket for a crucial (and easy) layup in crunch time.
"I keep thinking about it," said Matthews, the son of former NBAer Wes Matthews. "It's glaring to me. I wish I would have played it a little different, wouldn't have crowded him as much; I kind of gave him a straight run."
Still, by most accounts, the rookie wasn't as bad on Bryant as some, even though Bryant basically won the game for the Lakers.
"Nobody can guard Kobe Bryant," Utah coach Jerry Sloan said.
But Matthews intends to at least try.
"He's great in the midpost area. He's very patient, looks for his cutters, his teammates, tries to get them involved. He knows when to attack, when to put the game on his shoulders," Matthews said. "I just need to match his intensity and fire."
SportsCenter correspondent
Shelley Smith joined ESPN in January 1997 after working part-time as a reporter for the network since 1993. She has covered Super Bowls, the NBA Finals, the BCS championship game, the Stanley Cup playoffs, golf and tennis championships and more.
ROAD TO REPEAT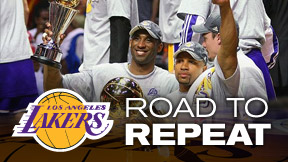 PHOTO GALLERY
STORIES AND COLUMNS
24/7/365: ALL ABOUT KOBE
LAND O' LAKERS BLOG
OWNER JERRY BUSS
710 ESPN PODCASTS