Lakers' Vujacic to return to lineup
Updated:
May 14, 2010, 7:18 PM ET
By
Andy Kamenetzky
| ESPNLosAngeles.com
EL SEGUNDO, Calif. -- Lakers guard Sasha Vujacic, who sat out the first two rounds of the playoffs because of a severely sprained ankle, said Friday he'll be active and ready to go when the Western Conference finals against the Phoenix Suns begin Monday at Staples Center.

#18 SG
Los Angeles Lakers
2010 STATS
GM

67

PPG

2.8

RPG

1.2

APG

0.6

FG%

.402

FT%

.848
"This is my fourth practice or so," Vujacic said. "I'm really excited. I can't wait."
Despite Vujacic's having missed over a month of action since being injured April 14, Lakers coach Phil Jackson told reporters after practice there was a possibility the 3-point specialist could reenter the rotation, depending on his health and matchups.
"I basically told him there's an opportunity for him to play in this series if he gets himself back and healthy and he's got two or three days left." Jackson said. "He's got an idea of what this series is like and how he's got to play."
The extended break between playoff rounds has been a double-edged sword for Vujacic. On one hand, the additional time has aided his quest to return to the lineup. On the other hand, the schedule's leisurely pace meant even more antsy days in street clothes watching the Lakers defend a title.
"I don't even want to talk about it anymore," Vujacic said of missing the first two rounds, preferring to focus on what's ahead.
IT'S L.A., AND IT'S LIVE

For more about the Lakers, plus coverage of the complete Los Angeles sports scene, visit ESPNLosAngeles.com. »
While Vujacic acknowledged the recent bad playoff blood between the Lakers and the Suns, he insisted any eagerness isn't fueled by a desire to settle old scores. Asked if this represented a grudge match, Vujacic responded with "never."
His immediate smile, however, suggested otherwise, as did the way he elaborated.
"It's always a new chapter, but definitely we can't delete the fact that they beat us a couple of years ago," Vujacic said. "We were up 3-1 once, but you know how it is. It's a new chapter. It's a new series. It's a new year. You're looking forward to defending our title this year, so they're in our way.
"We can't forget the fact that they eliminated us a few years ago. I think it's going to be an exciting series and we are in the Western Conference finals. You can't get more motivated than that."
Andy Kamenetzky is a writer on the Land O' Lakers blog on ESPNLosAngeles.com.
ROAD TO REPEAT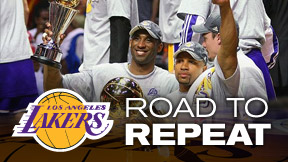 PHOTO GALLERY
STORIES AND COLUMNS
24/7/365: ALL ABOUT KOBE
LAND O' LAKERS BLOG
OWNER JERRY BUSS
710 ESPN PODCASTS