Lakers mum on rematch ... until Bynum
Updated:
May 23, 2010, 5:06 AM ET
By
Dave McMenamin
| ESPNLosAngeles.com
EL SEGUNDO, Calif. -- After the Lakers arrive in Phoenix on Saturday evening, they planned on getting together as a team for dinner and to watch Game 3 of the Eastern Conference finals between Boston and Orlando.

Bynum
Even though a rematch of the 2008 Finals between the Lakers and Celtics seems inevitable, seeing as how NBA teams with 2-0 leads in best-of-seven series have advanced 217 of 231 times (93.9 percent), Los Angeles' players have been loath to speak of it preemptively while they are still tangling with the Suns.
Until now.
"Man, it's going to be amazing to play against those guys again, especially having lost," Andrew Bynum said when asked if he has thought about his size being a factor should the Lakers advance past Phoenix, with "those guys" being the Celtics.
"We're going to have a lot of fuel, a lot of ammo to go at those guys," Bynum said. "They're definitely a great team, they got great veterans on their squad and we know that. So we're already getting prepared. The first step is closing out Game 3 and after that, we'll be focusing on Boston, looking at them play, watching how they're playing Orlando and just trying to pick up as much as we can."
IT'S L.A., AND IT'S LIVE

For more about the Lakers and coverage of the complete Los Angeles sports scene, visit ESPNLosAngeles.com. »
Lakers head coach Phil Jackson said he told his players what time the game starts at practice and while he only assigned them to watch game tape of the Suns versus the Spurs from the second round, "Tonight might be one of the chances to see the Boston team play ... Or Orlando," Jackson said, catching himself.
Jackson said he would watch the game with his coaching staff as well.
"[We look for] everything," Jackson said about the scouting process when his coaching staff has a viewing party. "First of all, you look for the officials, who's officiating the games. It's what you do, you just look at it. Then you watch what the demeanor of the game is going to be, how it's going to start out, who is going to run what plays to start the game and go from there."
Before Boston took a 3-0 series lead Saturday night, Los Angeles reserve guard Jordan Farmar said he and his teammates would still abstain from entertaining the idea of a Finals rematch just yet.
"We have a team in front of us whose very good, very capable of beating us," Farmar said. "A perfect lesson before I got here, they were up 3-1 against this Phoenix Suns team [in 2006] and they came back and lost that series so take that as a lesson and concentrate on our focus to Phoenix right now until this series is over."
Dave McMenamin covers the Lakers for ESPNLosAngeles.com
ESPNLosAngeles.com
Dave McMenamin spent five seasons as a staff writer for NBA.com in New York and Los Angeles before joining ESPNLosAngeles.com to cover the Lakers and the NBA.
ROAD TO REPEAT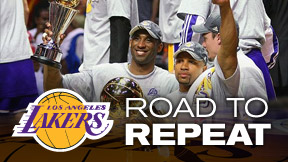 PHOTO GALLERY
STORIES AND COLUMNS
24/7/365: ALL ABOUT KOBE
LAND O' LAKERS BLOG
OWNER JERRY BUSS
710 ESPN PODCASTS