Bynum: I'm going to play until I can't
Updated:
May 24, 2010, 8:12 PM ET
By
Dave McMenamin
| ESPNLosAngeles.com
PHOENIX -- After taking a night to think about it, Los Angeles Lakers head coach Phil Jackson decided he was going to keep playing Andrew Bynum despite the center's knee injury.

#17 C
Los Angeles Lakers
2010 STATS
GM

65

PPG

15.0

RPG

8.3

APG

1.0

FG%

.570

FT%

.739
"I think he's going to be fine," Jackson said before the team's practice Monday. "I've talked to him this morning, he feels like he's OK. I was worried that he was impinging his ability to play by concern about his health or his status and he says he's OK."
Bynum had two points, two rebounds and four fouls in 7½ minutes in the Lakers' 118-109 loss to the Phoenix Suns in Game 3 of the Western Conference finals Sunday, causing Jackson to tell reporters he was considering sitting the 22-year-old Bynum for a game or even longer.
"I've played well on the knee for a while and the pain level is the same, it hasn't increased," said Bynum, who has averaged 7.0 points and 6.5 rebounds in the eight games since suffering a slight tear of the meniscus of his right knee in Game 6 of the first round against Oklahoma City.
"It's just a matter of going out there and playing," Bynum said. "I'm just going to play until I can't."
Bynum said his decision to postpone any surgical procedure until the offseason was based on the recovery time.
"I was quoted five weeks so I don't know," Bynum said. "I don't want to sit out five weeks, then go through the surgery, that's a couple days, plus rehab, and try to come right back for the [NBA] Finals."
Jackson said the team discussed Bynum having a procedure with a quicker recovery time, similar to the one Portland's Brandon Roy had, but decided against it because Bynum's body has responded slowly to rehabilitation in recent years.
ROAD TO REPEAT

ESPNLosAngeles.com chronicled the Lakers during the NBA playoffs with photos and game coverage. The gallery »
"Everything he's done with therapy and procedures that he's done in the past has taken longer [than projected]," Jackson said. "Three or four weeks could have been six or eight weeks and that was too long."
Jackson said he reviewed tape from Sunday's game that convinced him Bynum could still be effective in the conference finals.
"There was a play where [Goran] Dragic takes the ball to the basket and made a 3-point basket on it and Drew went over and picked up his third foul, I think it was, and he came down on that knee specifically and was able to hold his own and came out of it without any problems and that was a concern," Jackson said. "I wanted to talk to him about it this morning; he said he was fine."
Jackson said watching the game again answered questions he had about Bynum's ability to run the floor and blamed Bynum's limited gait on the brace he's wearing.
"[It's] possible because of the little change that they made in the brace he wears so it doesn't give him full extension now, so he's running at a limited extension," Jackson said. "That still may be an issue. It's not really about the knee; it's about that impingement perhaps that holds him back from running full out. I think he's going to be OK."
Dave McMenamin covers the Lakers for ESPNLosAngeles.com.
ESPN.com
Cavs and NBA writer for ESPN.com
Covered the Lakers and NBA for ESPNLosAngeles.com from 2009-14 and the NBA for NBA.com from 2005-09
Syracuse University graduate
ROAD TO REPEAT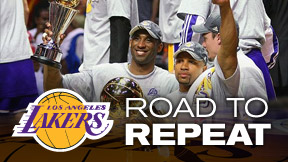 PHOTO GALLERY
STORIES AND COLUMNS
24/7/365: ALL ABOUT KOBE
LAND O' LAKERS BLOG
OWNER JERRY BUSS
710 ESPN PODCASTS