Lakers positive about title chances
Updated:
June 14, 2010, 4:04 AM ET
By
Dave McMenamin
| ESPNLosAngeles.com
BOSTON -- If the Lakers are privately pensive about the predicament they find themselves in -- needing to win two straight games at home to capture the championship -- after Sunday's 92-86 Game 5 loss to the Celtics, they sure did a good job of masking it with their public proclamations.
The Lakers will play an elimination game for the first time all playoffs Tuesday in Game 6 at Staples Center and the defending champs exuded confidence about their chances.
"I thought we had a spirited locker room at the end of our session there," Lakers coach Phil Jackson said. "We're upbeat about going into this game."
Los Angeles faces long odds. The NBA Finals have been tied after four games 25 times and the team that has gone on to win Game 5 has won the series 19 of those 25 times (76 percent).
Several Lakers leaned on their homecourt advantage as a reason to have resolve.
"It's not over," Lamar Odom said. "It's not over. We're going back home, the energy is going to be ours.
"We love playing in Staples. Even though we can win on the road, it's our turn to go home.
"It's tough to say, but I think the home team always has the advantage. The energy switches a little bit, it helps you, laying in your own bed, so on and so on.
More on the Lakers

For more news and notes on the Lakers, check out the Land O' Lakers blog from the Kamenetzky brothers. Blog
"We'll respond. Our energy is still up as a team, our confidence is still there and this series is not over & It's nothing to be concerned about; it's going home to play a basketball game."
Said Pau Gasol: "Now we move back to L.A. and we're excited about that and we're confident."
The last time the Lakers played in an elimination game was Game 7 of the conference semifinals against Houston last year. They won that game, also at home, by 19 points.
"Just man up and play," Kobe Bryant said. "What the hell is the big deal? I don't see it as a big deal. If I have to say something to them, then we don't deserve to be champions. We're down 3-2, go home, win one game, go on to the next one. Simple as that."
Added Jackson: "Now we're going back to home court to win it, that's the way it's supposed to be, isn't it?"
The Lakers are 9-1 at home this postseason, with the one loss coming to the Celtics in Game 2.
Bryant's big scoring night
Bryant scored 38 points Sunday, the highest scoring total of any player during the 2010 Finals, and passed many playoff scoring milestones in doing so.
Bryant moved into the top 10 in all-time career Finals scoring, boosting his all-time total to 888 points in the championship round and passing Shaquille O'Neal (10th in Finals points with 865). He also became the fourth player in NBA history to reach 5,000 career post-season points, with his 5,003 ranking behind only Michael Jordan (5,987), Kareem Abdul-Jabbar (5,762) and O'Neal (5,248).
"He's the kind of guy you ride a hot hand, that's for sure," Jackson said. "We were waiting for him to do that."
Bryant did most of his damage in the third quarter when he scored 19 points and went 7-for-9 from the field, 3-for-3 on 3-pointers and 2-for-3 from the free throw line. He scored all of the 19 points consecutively to start the quarter, extending his personal scoring streak to 23 straight points for the Lakers from the late second quarter through the first seven minutes of the third after getting his ankle re-taped at halftime.
He's the third player since 2000 to score at least 20 straight points for his team in a playoff game (Tracy McGrady -- 20 in 2001, LeBron James -- 25 in 2007). Bryant also became the second player in NBA history to score at least 600 points in three separate postseasons (the other is Michael Jordan).It was his 78th career 30-point playoff game (second all-time) and 14th career 30-point NBA Finals game (third-most since the NBA-ABA merger).
"When Kob' gets hot like that, then he's hot like that," Odom said. "You can't deny it."
IT'S L.A., AND IT'S LIVE

For more coverage of the complete Los Angeles sports scene, visit ESPNLA.com. »
Bynum's comeback
Andrew Bynum returned from getting his meniscus-torn right knee drained for the second time in two weeks Friday to play 32 minutes, but his final line of six points and one rebound was not much more impressive than the two points and three rebounds he totaled in Game 4 before tweaking his knee and leaving the game after playing just 12 minutes.
"I'm alright," Bynum said. "My knee is alright."
Bynum recorded all six of his points and grabbed his lone rebound in the first quarter, when he played nine minutes, shot 3-for-5 from the field and helped the Lakers keep it close, trailing 22-20 heading into the second.
"It's frustrating," said Bynum. "Especially times like now. I was a little disappointed, but I'm going to be playing in Game 6. We are going to attack. We have to force a Game 7."
Bynum will just have one day of rest in between Game 5 and Game 6 and the Lakers have a cross-country flight they have to endure during it. Still, Jackson was optimistic about how his 7-footer would fare.
Said Jackson: "More than anything else, Andrew was out of rhythm in the game. I think he'll feel much more comfortable getting back and playing & We anticipate that he'll have some opportunity to kind of get himself out there, shoot the ball a little bit and give us more than just a big body in the sixth game."
They said it
"(Boston) loses more games in the fourth quarter than any team in the league. They know how to lose games, and they're showing us that now." -- Jackson, during the fourth quarter Sunday, into the wireless microphone he was wearing as a part of ABC's broadcast of Game 5. Celtics forward Kevin Garnett was asked about Jackson's comment and said, "[I have] no reaction at all. I'm looking forward to Game 6. I couldn't care less what Phil Jackson is talking about."
This and that
Odom said a small glass vodka bottle was thrown onto the court and landed near him when Bryant was shooting free throws with 1:30 remaining in the fourth quarter. The public address announcer stopped the game to ask the crowd to refrain from throwing anything else onto the hardwood ... The Celtics are 11-0 all-time when leading NBA Finals series 3-2 and 34-1 in all best-of-seven series with the one loss coming to the Magic in last year's conference semifinals ... The Celtics controlled the glass 35-34 in Game 5. In every game of the series, the team that finished with the rebounding edge has won.
ESPN Stats & Information contributed to this report. Dave McMenamin covers the Lakers for ESPNLosAngeles.com. Follow him on Twitter. http://twitter.com/mcten
ESPNLosAngeles.com
Lakers and NBA writer for ESPNLosAngeles.com since 2009
Began covering the NBA for NBA.com in 2005-06
Syracuse University graduate
The NBA Finals On ESPN.com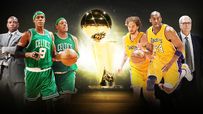 Follow ESPN's NBA coverage on Twitter
LATEST FINALS CONTENT
SERIES PREVIEWS
PLAYOFF FEATURES
FINALS PAGES
VIDEO
AUDIO