Kobe Bryant has a bad day
Updated:
December 22, 2010, 7:41 AM ET
By
Dave McMenamin
| ESPNLosAngeles.com
LOS ANGELES -- Maybe Kobe Bryant simply woke up on the wrong side of the bed, because Tuesday amounted to a very bad day for the Los Angeles Lakers star.
TrueHoop: Lakers Looking for Answers

Who needs a trio of superstars to beat the Lakers when you've got Earl Boykins? The Bucks exposed the Lakers' issues just in time for the Heat to come to town, writes J.A. Adande. Blog
• ESPNLos Angeles.com: Lakers Blog
It started before noon when Bryant was late for the team's morning shootaround after an accident while driving to the Lakers' practice facility through uncommon Southern California rain.
"We had kind of a disjointed day today," Lakers coach Phil Jackson said. "We didn't have a full group [at shootaround]. Kobe had an accident or whatever, so he wasn't on time, he was a half-hour late. ... [It was a] fender bender."
Things only got worse come game time when the Lakers were outscored 26-13 in the fourth quarter en route to a 98-79 loss to the Milwaukee Bucks, who were without two of their top players in Brandon Jennings and Corey Maggette.
The 19-point loss was the largest margin of defeat for the Lakers all season, and it came against a Milwaukee team with a sub-.500 record (11-16 after Tuesday's win).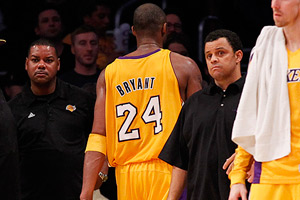 AP Photo/Danny MoloshokKobe Bryant capped an altogether bad day with an ejection from the Lakers' 98-79 loss to the Bucks.
Bryant wasn't even on the court to see the end of it after he was ejected with 2:07 left in the fourth quarter and his team down by 15. He was whistled for two consecutive technical fouls for arguing an offensive foul call that went against him on a drive against the Bucks' Andrew Bogut.
It was the first time Bryant had picked up two technical fouls in a game since March 26, 2008. The NBA tightened its technical foul rule prior to this season, encouraging referees to call them more liberally to clean up the game.
Bryant has been a perennial offender of the rule, edging his season total precariously close to the 16 mark that carries with it a one-game suspension the past several seasons, but he's kept his temper in check this year. The two technicals Tuesday doubled his season total from two to four.
"It's frustration," Jackson said. "Just being frustrated."
The Lakers will have the day off Wednesday and two days of practice before hosting the Miami Heat on Christmas Day.
Dave McMenamin covers the Lakers for ESPNLosAngeles.com. Follow him on Twitter.
ESPN.com
Cavs and NBA writer for ESPN.com
Covered the Lakers and NBA for ESPNLosAngeles.com from 2009-14 and the NBA for NBA.com from 2005-09
Syracuse University graduate
LAKERS VS. HEAT, CHRISTMAS DAY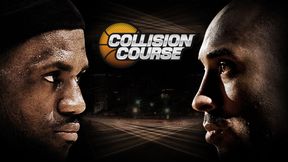 Adidas Youth L.a. Lakers Kobe Bryant #24 Purple Replica Jersey Shop »