Commentary
Randy Foye steps up when needed
Clippers guard has been key in the absence of Gordon, who should be returning soon
Updated:
February 26, 2011, 11:09 AM ET
By
Pedro Moura
| Special to ESPNLosAngeles.com
LOS ANGELES -- It's not easy replacing Eric Gordon, the Los Angeles Clippers' most potent scorer.
But somebody has had to do it for the last month, with Gordon ailing because of a lingering right wrist injury, and that somebody has been -- pretty consistently -- Randy Foye.
[+] Enlarge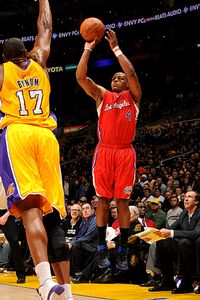 Noah Graham/NBAE via Getty ImagesRandy Foye of the Clippers had a season-high-tying 24 points against the Lakers on Friday.
Foye, a fifth-year pro who signed a two-year deal with the Clippers in the offseason after they missed out in the LeBron James sweepstakes, has stepped up nicely in Gordon's absence to contribute as the Clippers' No. 2 scorer behind rookie Blake Griffin.
During the 16-game period that Gordon has been out, spanning exactly one month to Friday, Foye has averaged 16.3 points and 3.8 assists in normal starter's minutes. And, in Friday's 108-95 loss to the Los Angeles Lakers at Staples Center, Foye tied Kobe Bryant with a game-high 24 points -- including 5-for-8 shooting from 3-point range -- in keeping the Clippers in the game until the third quarter.
"Randy's done a tremendous job coming in and scoring when we needed someone to come in and fill that scoring void from a starter in Eric getting hurt," said Griffin, who finished with 22 points and 10 rebounds. "And it's not just down on the offensive end -- he's done a lot of things for us."
A sampling of those things: Foye kept up step-for-step with Bryant on the defensive end for the first half and also played some point guard in the second quarter when Clippers coach Vinny Del Negro wanted a different look. Plus, Foye's 24 points Friday, which tied a season high, came in only 27 minutes, as he played just the first 38 seconds of the fourth quarter before being pulled by Del Negro in what was then a 20-point game.
"I'm just trying to continue to get my shots in the flow of the offense," Foye said. "In the first half, I wasn't doing anything extra -- just, when the ball came to me and I was open, I took shots."
No, Foye's no Gordon, surely. When the Indiana product and third-year emerging star went down with the wrist injury, he had put up nine straight games of at least 23 points. Few players in the league could match such feats. But as a starter, Foye's steady hand helped keep the Clippers afloat during the beastly 11-game road trip that ended with Friday's game.
"It's like this: We're a team, and one of our soldiers went out," Foye said, mentioning Thursday's deal that sent Baron Davis to the Cleveland Cavaliers for Mo Williams and Jamario Moon. "I had to come in and pick him up.
More On The Clippers

For more news, notes and analysis of L.A., check out the Clippers Report. Blog


"Baron's out; Eric Bledsoe's been picking him up. That's our main thing in here, we're trying to build a team, build a foundation so it's not just surrounded around one person or two people."
Bledsoe said he has learned that Foye can often be a veritable go-to guy as a backcourt mate -- "especially when he gets it going like he did tonight."
"Randy's just doing what he does best," said Bledsoe, who had eight assists Friday, including two to Foye for 3-pointers. "Randy's a scorer, and that's what he came here to do.
"He's just trying to pick up the scoring slack that we need, and he's doing his best."
Now, the Clippers (21-38) do expect Gordon back sometime soon. He started shooting the ball Friday in what Del Negro termed a positive development, and the coach wouldn't rule out his star 2-guard being ready to play Monday when the Clippers face the Sacramento Kings.
The challenge for Foye when Gordon does return will be transitioning back to limited minutes and fewer shots. And that really will be a challenge. Foye's numbers for games in which he was a reserve pale in comparison to those in which he started, with nearly every single statistical category going way down, even in per-minute terms, when he's coming off the bench.
IT'S L.A., AND IT'S LIVE

For more coverage of the complete Los Angeles sports scene, visit ESPNLA.com. »
He has a clear plan to avoid getting caught in a state of flux.
"My main thing for me is just to be aggressive, no matter if I'm starting or if I'm the last man off the bench," Foye said Friday. "Whenever I get in the game, any open shots or any chance to create plays for others, just be aggressive."
If Foye does indeed continue to produce at his starter rate while coming off the bench, the Clippers will gain quite a bit of offense for the rest of the season. On a 48-minute basis, he has averaged about five more points as a starter and shot almost 30 percent better from the field. His assists, rebounds and steals are all up, too.
Said Griffin: "I think, hopefully, this will help us down the line, getting him more experience and playing time and having him jell with everybody else."