Commentary
They love him infinity
Reeves Nelson has a cult following because of his tenacious play and mix of body art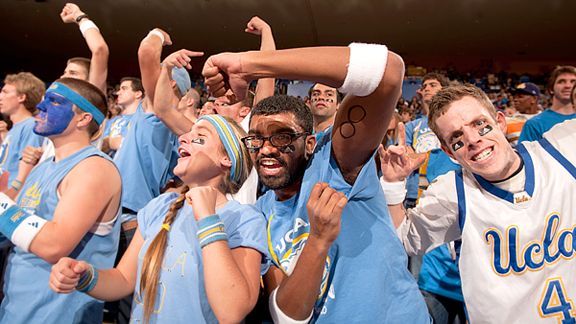 Courtesy UCLAIt usually takes years to win over "The Den." Not for Reeves Nelson.
He had them with his first dive for a loose ball. The gnarly shiner and bloodshot right eye he picked up earlier this season when a Kansas player poked him in the eye sped the development of the love affair up.
The eclectic tattoo collection on his forearms, shoulders and chest cemented things.
The UCLA student section has fallen for freshman center Reeves Nelson in a head-over-heels, face-painting, tattoo-copying, instant-cult-hero kind of way.
"Oh man, the crowd definitely loves him," sophomore guard Malcolm Lee said. "The other night I saw people drawing that infinity [symbol] tattoo he has on his arm on themselves.
"I think it's because he's just real aggressive. He's not scared of getting hit or hitting other people. That's big for us because our shots can go in or out, but his brutality and aggression is always there, night in and night out."
Usually it takes years to win over "The Den" so thoroughly. But in an up-and-mostly-down season when not much has gone as expected for the Bruins (7-9, 2-2), Nelson's consistency, attitude and passion for the game have made him a real crowd-pleaser.
He stands just 6-foot-8, short for a center in the Pacific-10 Conference. But Nelson more than makes up for it with hustle, strength and fearlessness.
At times, he seems like a rugby player trapped inside a basketball uniform.
He talks like it, too.
"I'm never going to be afraid of anyone, especially on the basketball court," he said. "That's just how I've been brought up. I respect everyone, but fear no one."
[+] Enlarge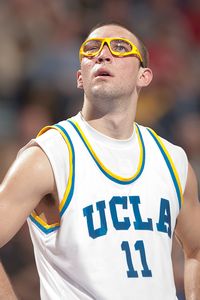 Courtesy UCLAUCLA center Reeves Nelson
Not that many of his new fans needed any extra convincing.
Nelson instantly looked the part of the college basketball cult hero. Brawny with broad shoulders. A cool infinity symbol tattoo on the inside of his left arm. A rugged style of play that has teammates nicknaming him "Rage."
It's all so perfect you half-expect "Welcome to the Jungle" to come blaring over the loudspeakers at Pauley Pavilion when he's introduced in the starting lineup.
"He's an animal," senior guard Michael Roll said. "He's always in the mix of things, which is what we really need. That physical presence and tough play.
"He's kind of picking up where some of our seniors left off last year. He reminds me a lot of Alfred [Aboya], who was always in there, always mixing it up, always tough and strong.
"He might be a little undersized [for a center], but he makes up for it with how hard he plays."
He also has a pretty deft touch around the basket, and an underrated post game.
Nelson leads the Pacific-10 in field goal percentage (62.9 percent). He's averaging 10.3 points and 5.8 rebounds a game in 22.3 minutes.
All of which is promising for the future, but that's not what has endeared him to the Bruins' raucous student section.
That character was forged early, Nelson said.
"I was 11 ½ pounds at birth. So I was always bigger for my age," he said. "And ever since I was 9 years old, I would hang out with kids that were juniors and seniors in high school, where if you didn't put up you got shut up."
It's not surprising, then, that he was also a pretty good football player at Modesto Christian High School.
What is surprising is that his other tattoos honor his mother, Sheila, and sister, Alexa.
"I've got two doves [tattooed] on my chest for my mom and sister," he said. "Even though I may look like a big mean guy, I'm really just like a mama's boy."
Nelson looked more like a mama's boy up until a few months ago. All of his tattoos have been done in the past seven months.
"I've wanted them since I was 15, but my dad said I couldn't live in his house if I had one, so I had to wait," he said. "I came down here June 20, and got the first one at this place in Venice Beach in early July."
His first tattoo was his mother's name on his left wrist. Next he got his sister's name on his right wrist.
Then came the infinity symbol on the inside of his biceps, a yin-yang symbol on his left shoulder and a Bible verse on his chest. Nelson intends to get more, but has to wait until he can save enough money to pay for them.
Whatever he does next, here's guessing it'll be well-received by "The Den."
In a season in which there hasn't yet been much to cheer about, Nelson has been all the "Rage."
Ramona Shelburne is a columnist and covers UCLA for ESPNLosAngeles.com
ESPN.com
Senior writer for ESPN.com
Spent seven years at the Los Angeles Daily News
MORE MEN'S COLLEGE BASKETBALL HEADLINES