Commentary
Matt Barkley powers USC to win
QB puts together his most complete game in 49-36 win at Hawaii; defense struggles
Updated:
September 3, 2010, 1:54 PM ET
By
Mark Saxon
| ESPNLosAngeles.com
HONOLULU -- People looking for definitive answers about the USC football team won't get much to chew on from Thursday night's season-opening 49-36 win at Hawaii. At best, you get a hint of what this team can accomplish under coach Lane Kiffin and a notion of what it could be in for.
If you pay close attention, you can hear whispers of its promise and also rustlings of its downfall.
The nation -- or at least the part that was working the night shift -- learned what all the hype was about with Matt Barkley. The Trojans' sophomore quarterback, who came out of Orange County billed as an immediate Heisman Trophy candidate and automatic NFL stud, finally looked like both Thursday. He put together his most complete game as a college player.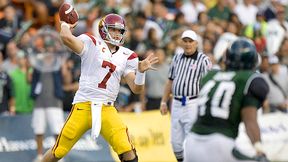 AP Photo/Eugene TannerMatt Barkley threw five touchdown passes in a win at Hawaii, including four in the first half.
"I told you guys, I've grown a lot since last year, and to have it finally show in a game like this is very satisfying," Barkley said. "I knew how prepared we were from all this offseason work, all the work we've put in. I knew we were going to do great tonight."
The game didn't end until around midnight on the West Coast, but anyone who stayed up for it got a glimpse into what a quarterback talent the Trojans could have on their hands through their probationary years. Kiffin can probably thank Pete Carroll for living with Barkley's lumps as a freshman so he could deliver some to defenses as a sophomore.
Too bad for Barkley that he might never play in a bowl game more meaningful than the Emerald Bowl. The Trojans are banned from a bowl game both this year and next, after which Barkley likely will be playing for a paycheck -- at least if he keeps playing this way.
He looked as poised as a fifth-year senior, as aware of where the moving pieces belonged as an offensive coordinator. He passed for five touchdowns, equaling a USC record, on a night the Trojans needed plenty of action because their defense wasn't shutting down much of anything.
We learned senior receiver Ronald Johnson probably will be the focal point of this offense and, if things go well for this team, could become a factor for the Heisman. We learned junior tailback Marc Tyler was smart to wait so long for his chance.
We also learned this team hasn't tamed all its problems with unruliness, no matter how often Kiffin says the word "discipline." The Trojans were perpetually putting themselves in bad spots with penalties.
We learned that maybe they should have not worried so much about injuries and practiced a little tackling this fall. Hawaii can flummox opponents with its wide-open offense, but a lot of Thursday's problems stemmed from a failure to wrap up, the desire to make the highlight hit instead of just taking a ball carrier to the ground.
"We did end up winning the game, which was good," Kiffin said. "As you can see, we've got some depth issues and concerns. We've got a lot of work to do. That was obvious."
More From ESPNLosAngeles.com

Analysis, grades ... everything you need to know about the UCLA-Kansas State matchup can be found right here. USC Center
The problems appear fixable and, because of USC's soft early schedule, nobody is necessarily going to notice if they aren't. What they'll remember about Thursday is that Barkley started looking like a player who is capable of leading a dynamic offense. It has been a while since this unit consistently sparked much excitement. In fact, it has been since Reggie Bush, the guy who got them in all this trouble with the NCAA, moved along.
A year ago, Barkley was the first true freshman to start an opener for USC. As fall camp wound down this year, Barkley talked about how much more at ease he felt as a sophomore running the Trojans' offense. He looked mighty at ease tossing four touchdown passes in the first half. He completed his first seven passes.
It would have been 12 straight, but Johnson dropped a ball that Barkley stuffed between the "8" and the "3" on his jersey. Barkley's first bad pass sailed over Brice Butler's head more than midway through the second quarter.
He also showed the kind of poise that will win him converts in USC's huddle. When USC was beginning to look a tad rattled, as Hawaii's run-and-shoot offense scored 10 unanswered points to cut the lead to 20-13, Barkley grabbed the steering wheel. He ran the two-minute offense expertly, taking advantage of some confusion in Hawaii's defense near the goal line to score an easy touchdown. He recognized single coverage on Johnson on the outside and threw it to him for a walk-in score.
It was the best half of Barkley's career, and it came at a good time for his team. The USC defense didn't look nearly as tough and nasty as everybody said it would. Kiffin curtailed tackling in fall camp, worried about a lack of depth stemming from the NCAA's sanctions.
Hawaii lost starting quarterback Bryant Moniz to an injury with 2:38 left in the third quarter and managed to outscore USC in the fourth quarter, two touchdowns to one. In fairness, Barkley was on the sideline most of that time, replaced by Mitch Mustain, who ran the second-team offense. Right now, Barkley is looking like this team's best asset.
Mark Saxon covers USC football for ESPNLosAngeles.com. Follow him on Twitter.
ESPNLosAngeles.com
Mark Saxon is a staff writer for ESPNLosAngeles.com. He spent six years at the Orange County Register, and began his career at the Oakland Tribune, where he started an 11-year journey covering Major League Baseball. He has also covered colleges, including USC football and UCLA basketball.
Nike Usc Trojans Mini Rubber Football Shop »
MORE COLLEGE FOOTBALL HEADLINES