Commentary
Lane Kiffin finding the fast lane bumpy
The USC coach lowers the shoulder into each challenge. But will he triumph?
Updated:
December 3, 2010, 1:51 PM ET
By
Mark Saxon
| ESPNLosAngeles.com
LOS ANGELES -- He was hired in his mid-30s. People said he was too young to be the head coach of a storied program.
The son of an NFL coaching legend, people said he owed it all to his family connections.
He landed in a treacherous situation, a team starting to crawl out of the crater of major NCAA sanctions.
[+] Enlarge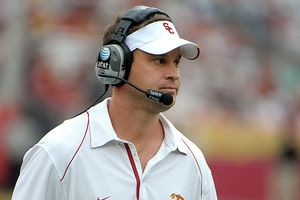 Kirby Lee/Image of Sport/US PresswireSuccess can be measured by circumstance. USC athletic director Pat Haden didn't hire Lane Kiffin but fully supports him.
Mike Shula's story at Alabama looks like the worst-case scenario for Lane Kiffin, even if Alabama's model might be the best-case scenario for USC. Within seven years of being placed on probation, the Crimson Tide won a national championship, proving sanctions don't have to bury a program for generations.
By then, Alabama had fired Shula and replaced him with Nick Saban. Since then, the Tide has rolled. Could Kiffin be set up to fail, the guy left to pick up the pieces from a mess he didn't created and gone by the time the school returns to glory?
"I don't worry about that," Kiffin said. "Every situation is different."
He's right, of course. The Tide had another brush with the NCAA under Shula, this one involving textbooks, and had to vacate more wins. Kiffin thus far has avoided further NCAA prying, though USC declared freshman tailback Dillon Baxter ineligible for one game and had him pony up $5 for taking a campus golf-cart ride from an agent.
Athletic director Pat Haden didn't hire Kiffin. That's another dangerous position to be in. Haden, however, says he has no plans to re-evaluate the football staff anytime soon.
Haden called his own plays as a quarterback and he likes how Kiffin runs the USC offense. He also thinks he has done well guiding this team through the distractions and disadvantages of the sanctions. Haden said the Trojans played one game, at Stanford, with 41 healthy scholarship players. In another, they had 55.
In The Booth

USC and UCLA have two the highest profile and most accomplished coordinators in college football. Here's a look at USC's legend:
MONTE KIFFIN
When your resume is as long as Monte Kiffin's, it's hard to pleasantly surprise your new employer.
After USC hired Lane Kiffin to replace Pete Carroll back in January, many USC fans were more excited about the addition of his dad. Monte Kiffin had developed a reputation as a defensive guru after 40 years in the coaching business, including 13 with the Tampa Bay Buccaneers.
In his first season guiding the defense at USC, the Trojans are 112th nationally in pass defense, 67th in scoring defense and 49th in rushing defense. It hasn't exactly been the rousing turnaround people were expecting.
Monte Kiffin, 70, said he still loves his job.
"I wish we could have played better," he said. "It's a great bunch of guys. We've gotten better every week, but we're still not good enough. We'd like to go back and replay some situations, you know?"
Way back in February, Monte Kiffin worried about the youth and inexperience of his group, particularly the linebackers and defensive backs. His concerns proved well founded, USC's defense was prone to missed tackles and blown assignments. Before the Notre Dame game, he asked all the seniors to stand up during a defensive meeting.
"Four guys stood up," he said. "That's not very many, you know."
There have been signs of progress. In the last game, against Notre Dame, the Trojans forced freshman quarterback Tommy Rees into four turnovers. The Fighting Irish did all of their scoring, 20 points, in five minutes of game time.
"We still definitely should have played better, there's no doubt about," Monte said.
-Mark Saxon
"I'm all in," Haden said. "I think he's going to be a terrific coach for years. We're certainly going to have challenges, but I think he's going to be a brilliant coach here."
The tone around practice has changed dramatically from the carefree atmosphere under Pete Carroll. That's no accident. By the end of last season, many people thought things had grown too lax under Carroll, players were no longer playing for the team but for their own agendas.
Since camp opened in August, Kiffin has rarely cracked a smile. He grinds his teeth through interviews. The voice most commonly heard around practice is the barking baritone of defensive coordinator Ed Orgeron. Kiffin glides around with a playsheet in hand, virtually silent.
He has mercilessly criticized players for lacking discipline or toughness or for their mistakes in the clutch. He has suspended a half-dozen for off-field mistakes. One freshman, receiver Markeith Ambles, left the team. The Trojans started 4-0 against an easy stretch of opponents and have lost five of the eight games since, three of them in the waning minutes.
"It hasn't been very fun," Kiffin said. "Anytime the standards you put on yourselves or that other people around here have are so high, it isn't much fun losing five games. That's not what I came here to do. It's not been a fun style either, with so many heartbreaking losses."
The more Kiffin suffers, the more the rest of the country seems to rejoice. He has kept a low profile at USC, avoiding inflammatory comments about other coaches or provocative recruiting techniques, but he remains a lightning rod for pot shots.
Tennessee basketball coach Bruce Pearl, in his own NCAA-administered hot water, addressed the school's Quarterback Club recently and said, "I've made mistakes. I clearly did, but I was hoping some other dumbass would get on the front page and take me off the hook. I miss Lane Kiffin."
ESPN.com columnist Pat Forde kept Kiffin on his "Overemployed Coach of the Year" list for the second season in a row.
"After reducing former giant USC to 7-5 and becoming the first Trojans coach to lose to Notre Dame since 2001, Kiffy's career head-coaching record is now a robust 19-26," Forde wrote.
People who have known Kiffin for years were stumped over his behavior last year. Among other things, he accused Florida's Urban Meyer of cheating and reportedly told a recruit that he would end up "pumping gas for a living" if he chose South Carolina. To put it kindly, Kiffin is a polarizing figure. On one pole is the 50-square-mile radius around USC's campus. On the other is the rest of America.
"He's like Rex Ryan up in New York. You either love him or hate him, depending which side you're on," said former USC quarterback John David Booty. "I think he's an awesome coach. He knows his X's and O's as well as anybody. I felt we went into every game prepared and ready and knew what to expect.
Stamp your Passport

You've been to rivalry games and know the significance and the passion. Now you can chronicle the experience with ESPN Passport, a free resource to keep your personal sports history. Log all the venues and games you've been to, including any of the UCLA-USC games of the past decade (see below), then see how your attendance record stacks up against others. Click here to learn more about Passport … then declare you were there!
"He's a fiery guy who competes and wants to win. A lot of guys keep that bottled in. With him, it constantly rises to the surface. I know it's brought some attention to him, negative and positive."
That season of flamboyance at Tennessee was more out of character than his quiet demeanor at USC, people say. Those who don't like Kiffin consider him cold. Those who like him consider him "business-like." His attention to detail and his love for the game are rarely questioned.
"When you coach at big-time programs, people are going to try to take shots at you. It comes with it," said ex-Trojans receiver Keary Colbert, now the tight ends coach.
Monte Kiffin, the Trojans' defensive guru and Lane's dad, said his son "bounces in" every Sunday morning, even after tough losses like Saturday's against Notre Dame. Monte said his son has taken this season harder than he did while going 7-6 at Tennessee because of the relative states of the programs. USC went 9-4 and beat Boston College in the Emerald Bowl last season. In the final season under Phillip Fulmer, the Volunteers were 5-7.
"He's really kept the team together. These players really haven't quit," Monte said. "We're still real competitive, we just needed to win a few more than we did."
More On USC

For more news and notes on the Trojans, check out ESPNLosAngeles.com's blog. Blog
There are so many directions this program can take, but if Kiffin holds it together, it appears to be pointing up. With quarterback Matt Barkley and 16 offensive and defensive starters potentially returning next season, the Trojans would figure to improve. Most USC fans would gladly accept a down 2010 if a return to glory is around the corner. The Trojans are ineligible for a bowl game this season and next, presuming an NCAA committee denies their appeal at the end of January.
Kiffin's attitude goes from glum to perky when he switches topics from the present to the future.
"We wanted to win a lot more games this year and finish well, but the future is completely different," Kiffin said. "We have an extremely exciting future. We're playing with a lot of young players. There were some guys we redshirted this year who could have played. It wasn't about winning this year. We're taking a long view with steps for the future of our program. Recruiting has been phenomenal."
To say USC is at a crossroads seems to understate things. It's approaching a three-way junction of freeways and the Trojans have to pick a lane.
Mark Saxon covers USC football for ESPNLosAngeles.com. Follow him on Twitter. Follow him on Twitter.
ESPNLosAngeles.com
Mark Saxon is a staff writer for ESPNLosAngeles.com. He spent six years at the Orange County Register, and began his career at the Oakland Tribune, where he started an 11-year journey covering Major League Baseball. He has also covered colleges, including USC football and UCLA basketball.