Commentary
Tough times for optimist Rick Neuheisel
UCLA has disappointed again, and no one is more disappointed than the coach
Updated:
December 3, 2010, 1:20 PM ET
By
Peter Yoon
| ESPNLosAngeles.com
The eternal optimist finally met his match.
UCLA Bruins coach Rick Neuheisel, a man who has preached relentless optimism the entire season even when there seemed to be little reason for it, had been done in by a loss to Arizona State that eliminated the Bruins (4-7) from postseason contention.
[+] Enlarge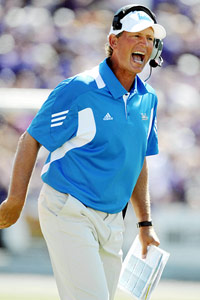 John Rieger/US PresswireRick Neuheisel's optimism faded after a loss to Arizona State eliminated UCLA from the postseason.
No amount of spin could cover up a season that had spun out of control. The scoreboard said the Bruins did not improve this season, and that reality finally had Neuheisel uttering words he'd rarely used.
"There is no other way to categorize it other than disappointing at this point," Neuheisel said. "To not be in postseason, to not be taking the next step forward off of the bowl win a year ago, that's unfortunately disappointing."
It was a far cry from a man who even after blowout losses against Stanford, California and Oregon steadfastly promised that the Bruins would find a way to fix things, a man who insisted that things were never as bad as they looked.
Early on, Neuheisel would address reporters after every practice, and almost every day, his opening line would be, "It was a good practice." At many news conferences, he harped on the positive and was always looking forward. It appeared to be cliché coach-speak at first, until you figured out he was serious.
"Oh, it's definitely real," quarterback Richard Brehaut said. "You'll always see him after a win or a loss ready to go and on to the next one. I think that's something that is a great trait that he has. He's never down and he's never down on us."
But the rose-colored glasses finally lost their tint when UCLA lost to Arizona State last week. This is Neuheisel's 11th season as a head coach, only the third in which he won't take his team to a bowl game.
In The Booth

USC and UCLA have two of the highest-profile and most accomplished coordinators in college football. Here's a look at UCLA's legend:
NORM CHOW
Norm Chow isn't feeling much like a guru these days.
Chow, the UCLA offensive coordinator, who is known as one of the top offensive minds in the game, presides over an offense that ranks No. 116 out of 120 in the nation in passing offense and 119th in passing efficiency.
This is a guy who directed high-scoring offenses at Brigham Young and USC and produced Heisman Trophy-winning quarterbacks Ty Detmer, Carson Palmer and Matt Leinart, but has managed to put up only 20.7 points a game this season.
"It's tough," Chow said when asked to assess the year. "But every season is tough."
Chow has been targeted as a potential fall guy for the Bruins' disappointing season, but he's under contract for two more years and a 34-point game last week showed the Bruins can move the ball.
He's coaching a new offense -- the Pistol -- for the first time and said it's shown some promise as the running game has been revitalized.
"We're close," Chow said. "We played some people close and some blew us up, but we need to stay healthy and we can get there."
Chow said he would like to come back but would understand if coach Rick Neuheisel wants to go in another direction.
"He has to do what he has to do," Chow said. "We're big guys. We know how to handle this stuff, and it's been disappointing. I think we're better than 4-7. So he has to make some decisions."
-- Peter Yoon
"Each of those three is immensely difficult," Neuheisel said. "Feeling like you're getting over the hump a year ago, to take a step back is also difficult. So this is trying."
Even amid the early optimism, Neuheisel, to his credit, managed to temper it when things went well. After a supposedly signature victory at Texas this season, Neuheisel said only that "time will tell" how significant it was.
Turns out it wasn't so significant. Texas is 5-7 and not going to a bowl game. None of UCLA's four victories so far this season came against a team with a winning record. Neuheisel's coaching record at UCLA is 15-21, and of those 15 victories, only two came against a team that finished with a winning record.
Those numbers get people wondering whether Neuheisel is indeed cut out to lead the Bruins. He has the vote of confidence of the administration and it's unlikely he will be fired, but you can bet he will begin next season on the hot seat and might not survive if the Bruins don't show improvement.
"Rick never wavered in his determination to get the best out of our team and he and his coaching staff have remained positive all year long, despite the setbacks," UCLA Athletic Director Dan Guerrero said. "*As always, we will work with Rick to evaluate the program at season's end, identify those things we did well and build on them and assess those things that require adjustment and improve upon them."
Neuheisel gets a pass because some of the things that went wrong this season were out of his control. Key injuries and other forms of attrition sapped the roster and forced him into using players who might not have been ready.
The makeshift offensive line featured a ragtag group of seniors who spent their first three or four years on the sidelines. The defensive front seven has had three true freshmen starting and only one player -- linebacker Akeem Ayers -- who'd started a game before this season.
There also was a new offense to learn when Neuheisel decided to bring in the Pistol. Growing pains ensued and were not made any easier when quarterback Kevin Prince couldn't stay healthy and Brehaut had to learn on the job. He also has a handful of very promising young players who could help turn things around.
Neuheisel is good for UCLA. He's an alum and he's a recognizable figure in the college football world with a history of success. He's a tireless recruiter who has landed top classes the past two years. And, he's a good face for the program because he's an excellent communicator and good with the media.
Plus, it turns out he's a pretty good coach. A lack of experienced talent hurt, but Neuheisel never lost his team. Fans might have given up, but the players continued to believe in their leader. After a 35-0 blowout loss to Stanford, Neuheisel rallied the team to three consecutive victories.
Things started heading south again after California and Oregon trounced UCLA by a combined score of 95-20, but the Bruins again rallied with a near-miss against Arizona and a victory over Oregon State.
"The thing I'll always remember about Rick Neuheisel is he always believed in us," senior offensive lineman Micah Kia said. "It's definitely not easy to keep that mindset in a season like this. He was tested, but seeing his example kept us going. If that's not the sign of a good coach, I don't know what is."
Neuheisel drew criticism this season for yelling at quarterbacks on the sideline, making promises like a politician after home games and the perception that his program was out of control because several players were suspended for violating team rules.
Stamp Your Passport

You have been to rivalry games, and know the significance and the passion. Now you can chronicle the experience with ESPN Passport, a free resource to keep your personal sports history. Log all the venues and games you've been to, including any of the UCLA-USC games of the past decade (see below), then see how your attendance record stacks up against those of others. Click here to learn more about Passport … then declare you were there!
Sure, some of his decisions deserve scrutiny -- bringing in the Pistol offense, starting Prince when he wasn't ready and a reluctance to use younger players earlier in the season are a few. But if Neuheisel is to be criticized for anything, it's for his team's failure to show improvement.
Neuheisel said a period of in-depth analysis is coming after the season. He's going to look at everything in the program to see what went wrong and how to fix it. He committed to neither offensive coordinator Norm Chow nor defensive coordinator Chuck Bullough.
"There is plenty of blame to go around," Neuheisel said. "None of us can avoid having part of it be associated to us, starting with me. But you have to start with the notion that there is an answer."
And there he is, the eternal optimist climbing back out of his shell, seeing hope where there doesn't seem to be much.
"For those of us who like challenges, this is a great one," Neuheisel said. "And I'm as committed as I've ever been and got more energy and resolve than I've ever had and I'm anxious to get going. And those who will come along for the ride will be rewarded because it's going to be a great, great finish."
Peter Yoon covers UCLA for ESPNLosAngeles.com. Follow him on Twitter.
ESPNLosAngeles.com
Has covered sports in Southern California for 15 years
Previously a staff writer for the Los Angeles Times from 1995-2008.
Covers UCLA for ESPNLosAngeles.com