Heisman trust calls reports inaccurate
Updated:
September 8, 2010, 10:03 AM ET
ESPN.com news services
The Heisman Trophy Trust is denying a Yahoo Sports report that the trust is expected to strip former USC running back Reggie Bush of his 2005 Heisman Trophy and leave the award vacant.
"I can tell you the Heisman Trophy Trust has made no decision regarding the Reggie Bush situation," Robert Whalen, executive director of the Heisman Trophy Trust, told The Associated Press on Tuesday.
Statue of Limitations

Taking Reggie Bush's 2005 Heisman Trophy won't solve college football's problems or make players less likely to accept illicit payments, writes Jemele Hill. Story
Two sources close to the trust told Yahoo Sports that the organization is completing its investigation and will agree with the NCAA's finding that Bush accepted improper benefits while at USC and was ineligible during the 2005 season, according to the report. The NCAA cited USC for "lack of institutional control" and handed the Trojans four years' probation, a two-year bowl ban and a reduction in football scholarships.
The president of the Heisman Trophy Trust, William J. Dockery, reiterated that the reports were inaccurate.
"The status of the USC/Bush matter remains unchanged. Any reports to the contrary are inaccurate," Dockery said.
ESPN's Chris Fowler told "SportsCenter" that although members of the eight-person trust have had informal conversations among themselves about what to do about Bush's Heisman, "they certainly have not made any decision" about rescinding it.
"They haven't made a decision. No announcement is imminent," Fowler said Tuesday. "They have not had any formal meetings about this."
Dockery has said the Heisman Trophy Trust meets on the second Tuesday of every month.
Bush would become the first player in the 75-year history of the Heisman Trophy to have the award taken away.
"It is what it is," USC coach Lane Kiffin said after the team's practice on Tuesday. "Just like I tell our players, we worry about what we can control. We can't control what the decisions are gonna be of other people towards Reggie or his Heisman. It is a report. We've been told nothing by the Heisman Trust about them taking it back so we'll worry about it when it happens, if it does. And even if it does, we still can't control it. Our team doesn't even talk about it. We're worried about this opponent coming up and having a good week of practice."
[+] Enlarge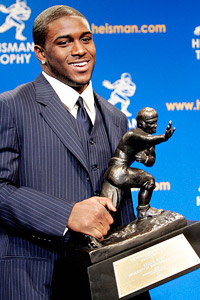 Stephen Chernin/Getty ImagesThe Heisman Trophy Trust will reportedly strip Reggie Bush of the Heisman Trophy he won in a landslide in 2005.
In July, USC president C.L. Max Nikias ordered the school's athletic department to return its copy of Bush's 2005 Heisman to the Heisman Trophy Trust. Nikias also ordered the school to remove nearly all references to Bush and former basketball player O.J. Mayo, including murals, as part of the NCAA's directive to disassociate the school from the athletes.
As that time, Bush had not been asked to return his copy and the Heisman Trophy Trust said it had not yet decided whether Bush would be stripped of the award.
Bush met with Heisman representatives last month at the New York law offices of Emmet, Marvin & Martin, the sources said, according to the Yahoo report.
The sources declined to discuss the details of that meeting, according to the report.
Bush now plays for the Super Bowl champion New Orleans Saints, who said Tuesday that they would have no comment on the report.
Typically, the Saints have declined comment on Bush's NCAA violations because they have no bearing on his pro career.
Team headquarters also were closed to reporters on Tuesday.
Bush's Los Angeles-based attorney, Shawn Chapman Holley, did not immediately respond to a request for comment from the AP.
Last week, Texas coach Mack Brown said former Longhorns quarterback Vince Young, who finished second in the 2005 Heisman voting to Bush, should be given the award if Bush is stripped. Young led the Longhorns past USC to the BCS national championship that year, after Bush was awarded the Heisman in a landslide.
Tuesday, Young's mother said she has no interest in her son being awarded the Heisman now, KRIV-TV in Houston reported.
"We're not interested in having no honor and no glory out of somebody else they are trying to tear down, no," Felicia Young said, according to the report. "I say to Reggie Bush today 'You keep your head up.' "
The NCAA ruled that Bush received lavish gifts from two fledgling sports marketers hoping to sign him. The men paid for everything from hotel stays and a rent-free home where Bush's family apparently lived to a limousine and a new suit when he accepted his Heisman in New York in December 2005.
In July, when USC said it would give back its copy of the 2005 trophy, the Heisman Trophy Trust said it had no timetable on a decision and would make no additional statements on the matter.
"The Trust will be considering the issues raised in the USC/Reggie Bush matter, and after reaching a decision will publish it, but due to the complex issues involved and the Trust's desire to reach an appropriate decision, no definitive timetable has been established," the trust said. "Until the matter has been fully considered and a decision is reached, the Trust has no further comment."
Information from The Associated Press was used in this report.
MORE COLLEGE FOOTBALL HEADLINES