Commentary
Polar opposites
Updated:
January 7, 2010, 5:24 PM ET
By
Robyn Norwood
| ESPNLosAngeles
Here's how you tell Ducks rookie Dan Sexton from his twin brother, Joe, a pro snowboarding daredevil.
Only one of them wears a helmet.
No matter how many airborne flips and twists Joe does or how many times he rides a stair rail over snow-covered concrete steps, his long hair flies free unless it's tucked under a ski cap.
Short-haired Dan, always protected by pads and a helmet, keeps his skates mostly on the ice.
They are the yin to each other's yang, left-handed Joe and right-handed Dan, twins who separated at birth and went opposite directions.
"They're definitely fraternal," said John Sexton, the father of the twins from Apple Valley, Minn.
Dan has been one of the brightest lights in a dreary Ducks season, a 5-foot-10, 170-pound rookie who has burst onto the scene at 22 with six goals and 11 points in his first 15 NHL games.

#42 RW
Anaheim Ducks
2010 STATS
GM

16

G

6

A

5

PTS

11

+/-

-1

PIM

2
Joe, who long since abandoned competitions for making videos and collecting sponsorships, is a free-spirited young man who is stunned at his brother's sudden leap into the NHL, where Dan will make a prorated salary of $500,000, the NHL minimum.
"If I can make enough to pay the rent, I get to travel for free and do what I love for a living," said Joe, who saw Dan play in Anaheim after a video shoot at Bear Mountain and listened to his games over the Internet when he was on location in Newfoundland.
"He has so much passion. It's a dream come true for him, and I'm super-proud."
The Ducks don't think Dan is a flash in the pan.
"I think the thing is, he continues to get chances," Ducks coach Randy Carlyle said. "He's deceptive from a standpoint of he doesn't slow down when he has the puck. A lot of players have to slow down to maintain possession of the puck. He doesn't have to. He seems to be able to accelerate with the puck."
Never drafted -- and once cut from his junior team -- Dan was playing at Bowling Green State University in Ohio when David McNab, the Ducks' senior vice president of hockey operations, sought him out after a game.
"He told Dan, 'You're going to play in the NHL, and I just hope it's in Anaheim,'" John Sexton said.
The speedy, earnest kid never stopped getting better, and he proved McNab right.
"Even three or four years ago, I'd consider myself someone who got a lot of points but wasn't someone -- even myself, I didn't think I was that good that I would make it to the next level," Dan said. "But each year, I kind of got better and better and I kept progressing instead of stopping, like some people do.
"I was a late bloomer. Like my dad told me. 'You probably won't be done growing till you're like 18, 19, 20.' At 19 or 20, I stopped growing upwards and I started adding muscle. Once I started doing that, I went from 145 pounds my first year of juniors to like 160. I put on 25, 30 pounds of muscle. I'm still small, but I can kind of hold my own. It got a lot easier for me, and I feel like I got a lot faster. My body just developed, and I think that was huge, because I think that was the last piece of the puzzle for me."
After starting the season in Bakersfield and earning a promotion to another minor league team in Manitoba, Dan landed under the bright lights in Anaheim after Teemu Selanne broke his left hand.
Dan's signature moment came last month in his third NHL game, when he scored two goals in the third period to help the Ducks to a come-from-behind overtime win over Dallas.
[+] Enlarge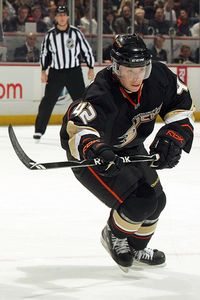 Victor Decolongon/Getty ImagesDan Sexton has 11 points in 16 games this season for the Ducks.
"We started hearing in Squirt he was too small for the next level; same in Peewee, Bantam, high school," his father said. "It's inspirational for any kid who's told they're too fat, too slow, whatever. Why let somebody else define what you can do?"
Quickly and inevitably, Dan's NHL teammates tagged him with the nickname "Big Sexy," but he only shrugs. Throw a "y" on part of a name and you have a hockey nickname, and he's been getting the "Sexy" bit since he was 12 or 13. Joe, somehow, remains simply Joe, or Joey, among his snowboarding friends.
Sharing a nickname would be too much. Growing up, the two defined themselves mostly by being different from each other.
"I played hockey till, I don't know, what do you call it, Squirt?" Joe said. "I hated putting on all the pads."
Dan, meanwhile, hardly ever stepped on a board.
"When we were really young, I went snowboarding with him on hills around our house, but nothing serious," Dan said. "I like watching him do it, but I feel like it would be frustrating because I see him do it all the time and he makes it look so easy. When I got out there, I know I wouldn't be nearly as good, and it would just make me mad, I bet."
Their competitiveness spills over to video games when they are together. Mostly, each one blazes his own trail through the snow or ice.
"He always wanted to be different from me and I wanted to be different from him," Dan said.
"We've always been around each other at home, but as far as school, we were really different. We'd try to not be in the same classes. There were people in high school who probably couldn't even figure out how we were brothers. He had his friends and I had mine. If I was just an outsider in the school, I wouldn't even think we knew each other, to be honest.
"It really works out well for us, because there's no jealousy and no competing with your twin for anything."
Born on the same day, their lives went different directions.
"He works really hard for like six months, makes a video, and then the next six months he takes it easy and skateboards and has friends at his place, has fun with his buddies and lives a pretty nice life," Dan said. "He doesn't have to work out or anything like that.
"He does a ton of traveling and a lot of work in the freezing cold, but he loves it."
All without a helmet.
In the NHL, they're required. In pro snowboarding, it's somehow part of the culture not to wear one.
"The stuff he does, if he falls, I don't know if it matters if he had a helmet or not," Dan said.
The twins' parents, John and Janet, watch their very different sons from afar.
"I think there's mutual respect. I think they do push each other," their father said. "Each one looks at what the other does and thinks it's cool."
(For a look at Joe Sexton on a snowboard: http://www.youtube.com/watch?v=pLQm9_7E2g4)
Robyn Norwood is a freelance writer based in Los Angeles
Contributor, espnW.com
Robyn Norwood, the only woman to serve as president of the U.S. Basketball Writers Association, was a sportswriter for the Los Angeles Times for more than two decades. She has covered 11 Final Fours, two Olympics and the Super Bowl and visited almost every podunk college town in America.
MORE LOS ANGELES HEADLINES