Brooks: Durant deserves calls
LOS ANGELES -- Oklahoma City Thunder coach Scott Brooks has heard what Los Angeles Lakers coach Phil Jackson said about his star small forward Kevin Durant.
He's heard about what Durant said back to Jackson. And he's heard what everyone else has said during the last week about how many times Durant gets to the free throw line and whether he deserves such respect from the officials.
He's heard about it, he just doesn't want to talk about it.
"I have read about it," Brooks said before the Thunder opened their first-round playoff series against the Lakers at Staples Center on Sunday. "But not one guy in our organization, players or coaches, we haven't even talked about it. We understand that you have to play.
"There's nothing that you can say in the paper that should affect you. Mind games to me are overrated."
Without prompting though, he continued, proceeding to defend Durant, the youngest player to win an NBA scoring title.
"What Kevin has gotten this year, he's deserved," Brooks said. "He works extremely hard. We expect him to do great things offensively. If he gets to the free throw line it's because he got fouled. It's not because Kevin is an All-Star."
New territory
Players often will reach for a game from high school or college that was "big" and talk about how that experience will help prepare them for the intensity of their first NBA playoffs. Durant didn't bother.
"I've never been in something this intense," he said. "You could say the college tournament but it's nowhere near as intense as this."
His plan to get past the butterflies?
"We play hard, and you can make up for a lot of things by playing hard," Durant said. "Of course we're not a perfect team, we can't just turn it on and off, we have to come in every day and work hard.
"We don't have guys like Kobe Bryant that can just go off for 30 points in the fourth quarter to win the game or hit a fade-away 3-pointer and win a game. We don't have people like that.
"It's all about playing within each other and playing for each other and going out and having fun."
Reminded that as the NBA scoring champ who averaged 30.1 points a game, he would be cast as that guy, Durant shook his head.
"I'm not there," he said. "I wish, that's where I'm trying to get to, but I'm not there yet."
Kristic available
Center Nenad Krstic said he feels fine after sitting out the final three games of the regular season to rest a bruised knee.
"Physically I'll be fine," Krstic said. "I don't have any pain right now, but I haven't played a game for like 10 days so I think I'm going to be fine but you never know. You can't really simulate the game in practice."
Ramona Shelburne is a writer and columnist for ESPNLosAngeles.com.
ESPN.com
Senior writer for ESPN.com
Spent seven years at the Los Angeles Daily News
ROAD TO REPEAT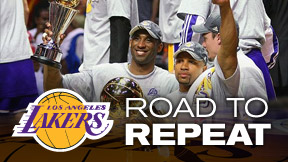 PHOTO GALLERY
STORIES AND COLUMNS
24/7/365: ALL ABOUT KOBE
LAND O' LAKERS BLOG
OWNER JERRY BUSS
710 ESPN PODCASTS