Bryant still struggling with shot
Updated:
April 19, 2010, 2:02 AM ET
By
Dave McMenamin
| ESPNLosAngeles.com
The good news for the Lakers is Kobe Bryant is back in the starting lineup after missing four of the last five games resting various injuries.
The bad news for the Lakers is that Bryant is still in the same shooting slump that prompted him to rest in the first place.
Bryant shot just 6-for-19 (31.6 percent) from the field Sunday in Los Angeles' 87-79 win over Oklahoma City, extending his shooting miscues over his last four games to an alarming 27-for-89 (30.3 percent). Perhaps more disturbing was his 7-for-12 total from the free throw line, his third not-so-charitable experience at the charity stripe in his last five games played, including a 2-for-6 mark against Atlanta and a 1-for-3 total against Portland. The Blazers game featured his infamously empty 0-for-2 trip to the line in the final minute of a game in which the Lakers trailed by one.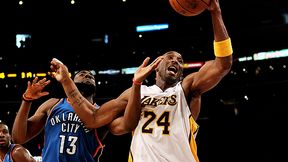 Stephen Dunn/Getty ImagesKobe Bryant is still trying to find his shot, but the Lakers are not worried.
"I just have less margin for error with the finger," Bryant said. "It's not a problem. You just got to make adjustments with it. You got to change your stroke a little bit. The times when it comes off the wrong way, I can kind of adjust it. I got to find a new finger -- maybe the middle finger -- to adjust it."
Bryant arrived at Staples Center Sunday morning and practiced extra shooting with Lakers special assistant coach Chuck Person 2½ hours before tipoff. It paid off early on, with Bryant starting 3-for-5 from the field in the first quarter, but he went just 3-for-14 from there on, suggesting that tired legs could have played a factor as the game wore on as much as his fractured right index finger.
Lakers head coach Phil Jackson said that Bryant's free throw shooting has been a "consternation" to the 12-time All-Star, but overall did not seem too concerned with Bryant's current accuracy problems.
"I think it's a rhythm problem more than anything else, just a lack of playing the last month or so -- lack of consistent play -- so, I think he'll come through," Jackson said.
Bench boost
Lamar Odom did not have the strongest day after fouling out and coughing up three turnovers while registering just seven points and six rebounds in his return to a reserve role with Andrew Bynum back in the starting lineup, but the Lakers' bench still ended up outscoring the Thunder's 16-12.
Outside of Odom, the rest of L.A.'s bench scoring was provided by Jordan Farmar (who scored all five of his points in a personal 5-0 run to push the Lakers' lead back to double digits after the Thunder had cut it to six early on in the fourth quarter) and Shannon Brown, who scored four points and added two rebounds, two assists and a steal in just 13 minutes of playing time.
"That was a big bump for us to have Shannon and Jordan come in and get some action going and some energy in the game," Jackson said.
More on the Lakers

For more news and notes on the Lakers, check out the Land O' Lakers blog from the Kamenetzky brothers. Blog
Transition trouble
Despite the win, the Lakers were utterly dominated in one aspect of the game: fast-break points.
Oklahoma City had 14 points and shot 7-of-9 from the field in transition opportunities, compared to the Lakers' two points on 1-of-2 shooting.
Bryant shouldered some of the blame personally. "I had a few mental lapses there in transition in terms of defensive rotations and getting back, protecting the basket but we did a good job overall," Bryant said.
Jackson conceded that a team as athletic as the Thunder, with a nine-man rotation whose average age is just more than 23-years old, would naturally exploit such an advantage. "There were some problems with our transition defense, but that's going to happen," Jackson said. "This is a young team that can run down the court quickly."
Still, the coach wants to work on stopping the Thunder from accomplishing it so easily by getting back between the man and the basket. Russell Westbrook was particularly adept at it Sunday, scoring 23 points on 10-for-16 shooting, including scoring on three straight runs to the rim at the end of the second quarter to cut a 14-point Lakers lead down to just eight at halftime.
"We're going to have to watch that we take charges and not just stand there and escort [Westbrook] to the basket," Jackson said.
That is, if they can keep up with the 21-year old point guard out of UCLA.
"Way too many easy points at the basket," Bryant said. "[We] got to keep them a perimeter team and not let them get points in the paint. They're really fast, they all run like deer. So if they get a step on us ... I'm not catching Westbrook. You got to have a couple steps on them."
Dave McMenamin covers the Lakers for ESPNLosAngeles.com
ESPNLosAngeles.com
Lakers and NBA writer for ESPNLosAngeles.com since 2009
Began covering the NBA for NBA.com in 2005-06
Syracuse University graduate
ROAD TO REPEAT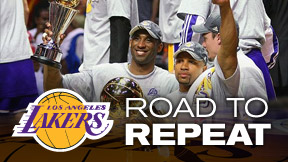 PHOTO GALLERY
STORIES AND COLUMNS
24/7/365: ALL ABOUT KOBE
LAND O' LAKERS BLOG
OWNER JERRY BUSS
710 ESPN PODCASTS