No fine, no foul.
We'll see if there was harm done when the Lakers and Thunder resume their first-round playoff series Tuesday at Staples Center.
That was the word from the NBA league office Monday afternoon regarding the run-in between Lakers center Andrew Bynum and Thunder forward Jeff Green in the first half of Game 1 on Sunday.
No foul was called on the play in which Green crashed into Bynum, causing him to fall. When Bynum got up, he bumped into Green with his shoulder on his way back down the court.
"Nothing coming from that," an NBA spokesman wrote, when asked if the league had reviewed the play.
And so the official nature of the situation was settled. The back and forth between the two young stars still has some life in it.
After Sunday's game, Bynum said: "I kind of got taken out on that same play. I didn't know if he fell into me or he pushed me, but I wasn't going to let that happen. That's just part of being aggressive, part of having a presence out there."
Asked about the play before the Thunder practiced Monday at the Clippers' training facility, Green chuckled: "I really don't know. I tripped into somebody's foot and ran into him. He got up, then he came at me.
"It took everything to not react, to hold back. But he did what he did. No call was made. But that's the nature of playoff basketball. Everything is physical, I expect that. So I laughed about it. It wasn't a big deal."
Told that Bynum thought Green was the aggressor, Green seemed surprised, "That's what he thought? When I tripped I really didn't see him in front of me. So if that's the way he felt..."
Green with options
Green stands 6-foot-9 and is usually classified as a power forward, but in his case, it's pretty much a classification for classification's sake.
In Sunday's Game 1, he defended from at least four positions on the floor, most notably taking turns against both 7-foot Pau Gasol and 6-6 Kobe Bryant.
"Jeff can guard multiple positions," Oklahoma City coach Scott Brooks said. "That's one of the reasons we're much better defensively is because everybody is chipping in, but we also have some interchangeable parts. Jeff can guard 2s and 3s, 4s and 5s. He can even guard 1s. That versatility really helps us out."
Brooks said he expected to use the former Georgetown star in that hybrid role as much as he can during the series to help combat the Lakers' length and skill on offense.
Though it's not easy shifting gears or defending talented offensive players like Bryant, Gasol and Odom, Green said he enjoys the challenge.
Asked how many players in the league have the same versatility, Green said: "Only a handful ... I'm one of them.
"Kobe's one of the best players in the league. Pau Gasol is one of the best players. It's fun for me to one possession guard Pau, one possession guard Lamar, one possession guard Derek Fisher, one possession guard Kobe Bryant.
"It's not fun guarding any of those guys. It's a tough job, especially on Kobe or Gasol, who is 7-2 and can shoot right over the top of you. But I take on the challenge."
Not thunderstruck
The Thunder lost Game 1 and trailed by as many as 17 points in the first half, but Brooks said his young team showed no signs of disappointment going forward in the series against the defending champions.
"There's no moral victories; they won the game and we have to come back and figure out ways to play better," Brooks said.
"But one adjustment we're not going to make is to play harder. We played as hard as we can play. That's a great thing for a coach, to wake up the next morning and know that we left everything on the floor. Unfortunately, it wasn't good enough to win.
"But our guys expect to win. That's what made the jump from [23 wins] last year to [50] this year. They expect to win and I like that. You have to have that swagger in order to compete against the best teams in the league."
Shooting guard Thabo Sefolosha sounded even more positive.
"There's a lot of good we can take out of [the loss]," he said. "We're not just going to try and forget everything about [Sunday's] game. We need to watch the tape, do our homework and come back in Game 2. I feel pretty good and confident for Game 2."
ESPN.com
Senior writer for ESPN.com
Spent seven years at the Los Angeles Daily News
ROAD TO REPEAT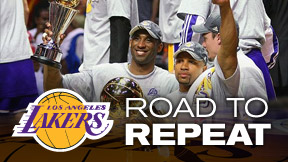 PHOTO GALLERY
STORIES AND COLUMNS
24/7/365: ALL ABOUT KOBE
LAND O' LAKERS BLOG
OWNER JERRY BUSS
710 ESPN PODCASTS