Durant relishes opportunity at home
Updated:
April 23, 2010, 1:51 PM ET
By
Andy Kamenetzky
| ESPNLosAngeles.com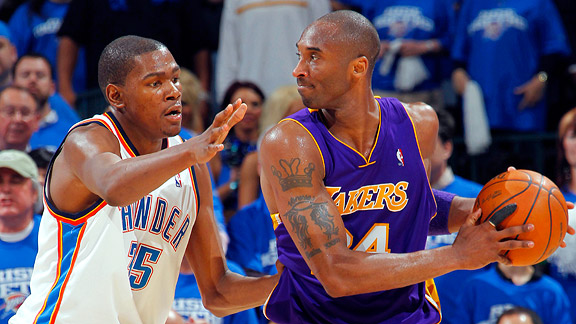 Layne Murdoch/NBAE/Getty ImagesKevin Durant shut down Kobe Bryant in the fourth quarter of Game 3.
Kevin Durant
's first playoff game in front of a home crowd began like anything but a homecoming.
Having spent the series' opening two games as a Staples Center volume shooter, more of the same appeared in store at the Ford Center for the prolific scorer. He finished the first quarter with four misses in as many tries, with just two points to go with two fouls. He picked up a third foul before intermission, and spent the final three minutes of the half sitting on the bench with just eight points on 10 shots. Ron Artest's defense was definitely taking its usual toll.
Durant nonetheless pulled down 11 rebounds before halftime, more than three above his season average. The third quarter featured more shooting woes, but Durant pulled down another five rebounds. He dished out three assists. He set a screen helping Russell Westbrook to the rack for a game-changing dunk late in the quarter.
"That was the loudest I've ever heard a crowd ever get," marveled James Harden. "That Russell dunk was amazing. Guys were really excited after that."
Then, of all things, Durant became the Thunder's defensive stopper.
During the fourth quarter, Thunder coach Scott Brooks opted to put the rangy small forward on none other than Kobe Bryant. By Durant's count, he'd guarded Bryant maybe 10 or 11 possessions during the regular season. He didn't see the assignment coming, but it was taken in stride.
"Coach Ron Adams said, 'It's your turn,' so I just tried to play my hardest."
Durant wasn't the only one thrown for a loop.
"It caught me by surprise," conceded Bryant.
That effort paid huge dividends, as Durant's length was hugely effective against Bryant. The highlight possession saw him stay with Bryant on a drive, then rise to send back a jumper. Bryant shot just 2-for-10 for just four points during the last quarter.
"He wanted to guard Kobe," Brooks said. "I wanted him to guard Kobe. It was a group effort on that decision. Kevin has length. He does a great job. We don't talk about it. He's such a terrific scorer, but he's part of the reason we're such a better defensive team."
"I thought he played really good defense on Kobe," Lakers coach Phil Jackson said. "I thought his defense was kind of the inspirational part [of the win]."
In the meantime, as is often the case, success on one side of the ball often begets the same on the other. Durant shot 4-for-7 from the field and was perfect on four free throw attempts during the fourth quarter, his 12 points icing on a well-earned bite of cake.
"He had an impressive game," Brooks said. "When you don't have a good shooting night going ... I mean, he's the league's leading scorer. But he took it upon himself to make plays for his team."
"It's a chance for me to get better," said Durant. "Every time I step on the floor I want to get better. Playing against the best player in the world is only going to make me better."
For what it's worth, a certain four-time champion saw Durant's performance as an impressive maturation under duress.
"He's just continuing to learn," Bryant said. "Playoff experience is a whole other animal, and you're starting to see him figure things even more in this type of environment. He's a fantastic player already."
Harden surprise X-factor
It's commonly accepted rookies play much better at home. The same is often said about bench players. Thus it's only logical Harden, a reserve guard, would require some home cooking to finally snap a deep slump during his maiden voyage into the playoffs.
How deep? Try 0-fer two games, with five shots missed and a grand total of zero points.
Harden looked like a different player inside the Ford Center, and his impact upon entering the game with 4:56 remaining in the first quarter was immediate. Sixty-eight seconds passed before he set up Westbrook for a dunk, then finally got on the board with a 3-pointer. Soon came another from behind the arc, followed by an exuberant spin in a circle while expressing elation at a groove discovered.
"I was just so excited," Harden said. "It was a sigh of relief that I could finally hit a couple of shots."
This burst laid the foundation for a huge first half: 15 points, three rebounds, two assists and a steal. Plus, a whopping eight trips to the line, tagging fouls on Bryant, Pau Gasol and Lamar Odom in the process. It was no coincidence Harden's energetic entry coincided with the Thunder starting to close in on the Lakers. After spotting the Lakers a 10-0 lead, it was reasonable to wonder if this young team could avoid a blowout third loss. When Harden removed his warm-ups, his team was down 11 points. When the first frame ended, the deficit was just five.
"James Harden is the one that got us going," said Durant. "The reason we won this basketball game."
"I just wanted to be aggressive," Harden said. "Those first two games in L.A. wasn't the way I play. I took some extra shots in practice, then just took it there on the court. My teammates needed me."
Thunder fans reach new levels
For a moment, Brooks appeared to be chiding the 18,332 in attendance for the franchise's first playoff win. After making their presence felt in a deafening way to start the game, they were often quiet until the Thunder's late-third quarter run inspired a new level of noise.
"Well, you know, I was actually disappointed in the crowd," Brooks said. "All year long, I thought they were the best crowd. They gave us so much energy and they were so loud throughout the year."
Then came a grin.
"But now I realized they were sandbagging."
Brooks went on to praise the Thunder faithful for their part in the win.
"You could look at our guys and you could just see they were just proud of what the fans were giving them. It was amazing."
Brooks credits peers for award
Brooks was in a good mood before Game 3, joking about his one-game stint as a broadcaster while injured during his NBA career ("I wasn't very good at it") and the tendency for NBA Coach of the Year winners to lose their jobs relatively soon after receiving the honor. On Wednesday, Brooks became the latest tabbed.
"No questions about getting fired," Brooks said to the surrounding media. "That's like asking somebody who's married, 'The divorce rate is like, one out of every two.'"
More on the Lakers

For more news and notes on the Lakers, check out the Land O' Lakers blog from the Kamenetzky brothers. Blog
Brooks, who then described himself as "happily married for 17 years," made it clear he's not concerned about whatever curse the award may carry.
"My point is, everyday is a great day, and we have to keep getting better and keep helping our team win. I'm not worried about tomorrow."
Brooks was reminded how reluctant he was to criticize players while still in the league. That's since changed upon becoming a coach, but as he noted, his players have made the transition to task master an easy one.
"Our guys, very rarely do I have to get on them about effort, which is great," Brooks said.
Brooks was quick to offer credit to several other for his coaching success, starting with his mother, who raised Brooks and six siblings by herself.
"She's taught me a lot of great, valuable lessons. Things she didn't tell me, I saw her do it. That was a valuable lesson. Sometimes you can tell somebody what to do, but it's more important to show them with your actions. I saw her do it every day."
Brooks' staff also received praise, as well as Thunder fans, who took to the franchise from the minute it arrived in Oklahoma City from Seattle.
"They see the effort that we're giving and they enjoy that," Brooks said. "Even last year, with all the tough losses that we had, they were behind us and supported us. We all know that's not easy to do when your team is 3-29 and things aren't looking very good at that moment. They kept coming out and supporting us. They love our guys, and they should."
ROAD TO REPEAT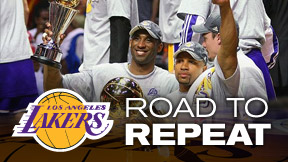 PHOTO GALLERY
STORIES AND COLUMNS
24/7/365: ALL ABOUT KOBE
LAND O' LAKERS BLOG
OWNER JERRY BUSS
710 ESPN PODCASTS