Crenshaw's Thomas commits to USC
Updated:
May 20, 2010, 6:55 PM ET
By
Greg Biggins
| Special to ESPNLosAngeles.com
LOS ANGELES -- USC is really starting to roll on the recruiting trail. After picking up a commitment earlier in the week from one of the elite receivers in the West, Victor Blackwell (Santa Ana, Calif./Mater Dei), the Trojans landed an even bigger fish with the commitment from arguably the top overall prospect in the region.
DeAnthony Thomas (Los Angels/Crenshaw) has been a big USC lean for months and decided to pull the trigger and end the recruiting process late Wednesday night.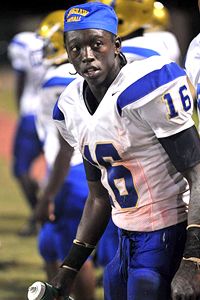 Scott Kurtz DeAnthony Thomas says there's great energy at USC and it reminds him of his team at Crenshaw.
"I'm a Trojan," Thomas said. "For me, it was all about being comfortable there. I always said I didn't want to leave home because I'm so close to my family so I was leaning towards playing for one of the two L.A schools. USC is where I felt I fit in the best, where I had the best relationship with the coaches and they recruited me harder than anyone."
While Thomas was recruited by running backs coach Todd McNair, he has a great relationship with all the USC coaches. He also really liked what coach Lane Kiffin had to say about the direction the program was going in and how Kiffin was going to use him.
"There is a great energy at USC and it reminds me a lot of what we have going on at Crenshaw. I know so many players at SC already and I'm very close with Victor [Blackwell], we're God brothers and have always talked about playing together and now we'll get that chance."
Thomas said the coaches have been recruiting him to play running back, but he wouldn't mind the opportunity to play on both sides of the ball.
"I'm really starting to like defense a lot more," Thomas said. "I played safety last year but after playing corner at the Nike Camp, I think that might be a great fit for me as well. I'll play whatever the coaches want me to play though, I just want to get on the field so whatever gets me on the field the fastest, that's where I want to play.
"I think we're putting together a pretty amazing recruiting class and it really feels like all the top players from Southern California want to come to USC. It's cool, once one player commits, all the other players congratulate him and then we all start talking about how we need to go recruit the other players in our area. It's a lot of fun right now and I'm very excited to be a Trojan."
Greg Biggins is the Director of Recruiting and Nike Camp Player Personnel Director for ESPN RISE.