On the scene: Parade day in L.A.
Updated:
June 21, 2010, 6:16 PM ET
ESPNLosAngeles.com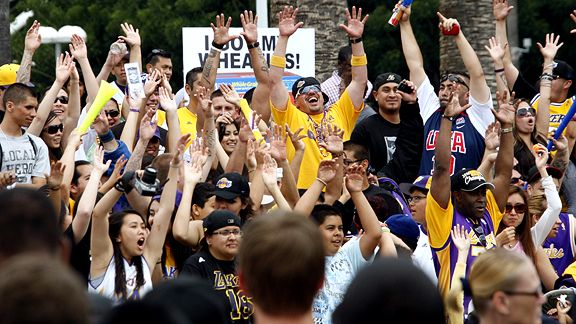 AP Photo/Reed SaxonFans do the wave during the Lakers' championship parade down Figueroa Street in L.A.
Our reporters are filing their observations throughout the day of the Lakers' championship parade. Send us your observations and memories in the comments below.
All times PT
---
"I've been very fortunate; this is my fifth time doing it," Kobe Bryant told 710 ESPN Radio's Steve Mason after the parade.
"This is unbelievable. It's cool for me to see the rest of the guys enjoy it," he said. "It's good to see the fans and interact with them. It's great."
---
[+] Enlarge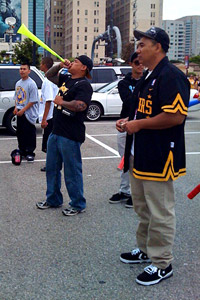 Ramona Shelburne/
ESPNLosAngeles.comFans made some noise along the parade route.
11:57 a.m.: The happiest -- and sleepiest -- Laker at the parade has to be Ron Artest. Since Thursday's Game 7, Artest said he's slept about four hours.
"I had my jersey on for like three days after the game. I didn't want to take it off," Artest said. "I wanted to wear the one that got sprayed up [in the locker room], but it was too wet, so I changed into the jersey I had on in the first quarter.
"This is the one thing I always wanted, but I had so many ups and downs in the league, I almost gave up on it.
"Remember I said a couple years ago that I wanted to take off and just do music? That was not my first dream, you know. But somehow family, faith and just the love of the game I guess. Lamar [Odom], too. I kept pulling toward this dream."
Artest showed up with his wife, Kimsha, and three children. His youngest daughter, Diamond, had decorated a black top hat with yellow, purple and pink feathers.
"Diamond had to put her touch on it with the pink," Kimsha Artest said. "The kids might even be more excited than Ron for this parade."
--Ramona Shelburne
---
11:47 a.m.: Ron Artest on his excitement of winning a title: "I'd almost given up on this dream a while ago."
--Brian Kamenetzky
---
11:47 a.m.: No surprise to see Mitch Kupchak quietly watching the scene from the back of the flatbed carrying the team and coaches. Just sitting on the back rail, observing the results of a season of hard work.
--Brian Kamenetzky
---
[+] Enlarge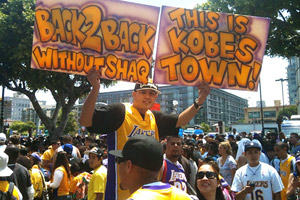 Andy Kamenetzky/ESPNLosAngeles.comA fan hoists a sign referencing former Laker Shaquille O'Neal.
11:30 a.m.: A freshly shorn Derek Fisher (he said he finally shaved his playoff beard before his "Jimmy Kimmel Live!" appearance Friday) came down to the media availability area and said the parade is what makes the championship feel real.
"It's one of the first times that you really understand what you just accomplished when you see yourself in front of hundreds of thousands of people applauding your performance."
--Dave McMenamin
---
11:18 a.m.: Jeanie Buss: "Phil and I have watched the last game at least five times over the weekend."
--Ramona Shelburne
---
11:11 a.m.: And the award for youngest person on a float goes to: Josh Powell's recently newborn son. Few months old, tops.
--Andy Kamenetzky
---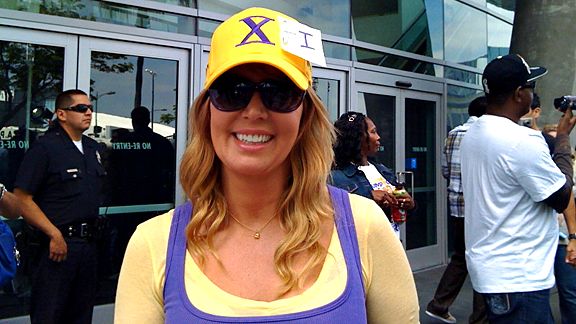 Ramona Shelburne/ESPNLosAngeles.comJeanie Buss modified Phil Jackson's "X" cap from last season.
10:57 a.m.: Jeanie Buss is wearing boyfriend Phil Jackson's yellow "X" cap with a note that reads "+1" attached via safety pin. "This is to honor Phil's 11th," she says. (Jackson was given the cap last season to commemorate his 10th NBA title.)
--Dave McMenamin
---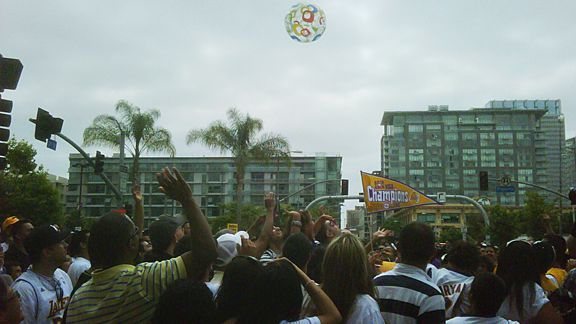 Arash Markazi/ESPNLosAngeles.comFans toss around a beach ball to pass the time as they wait for the parade to start.
10:54 a.m. Just saw a sign reading "thanks 4 carrying us Ron!! #37." Who'd a seen that coming after some of those wonky offensive decisions? Also, if you accidentally bounce a beach ball over the cage barricades, the police will be kind enough to tap it back over.
--Andy Kamenetzky
---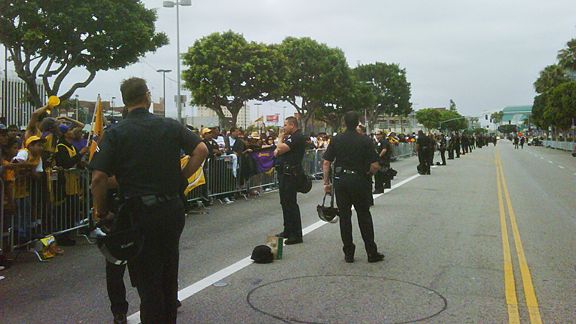 Arash Markazi/ESPNLosAngeles.comThe fans along the Figueroa Street route are eager for this parade to get under way.
10:51 a.m.: Most obscure jersey spotted so far: an authentic, sewn Glen Rice home No. 41 jersey. Hoping we see a Travis Knight or Sedale Threatt at some point.
--Dave McMenamin
---
10:21 a.m.: Vendors are selling vuvuzelas for $5. World Cup fever has hit the parade.
--Dave McMenamin
---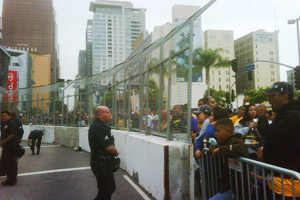 Arash Markazi/ESPNLosAngeles.comMany fans have been waiting since 1 a.m. to get a prime spot for the parade on Figueroa.
9:59 a.m.: Taking the 110 exit off I-10, you can see five helicopters and the Goodyear blimp hovering above L.A. Live. It reminds me of a scene in the newest ESPN "30 for 30" documentary, "June 17, 1994," in which the Southern California skyline was littered with aircraft following O.J. Simpson in a white Ford Bronco that day. With all the Lakers flags on the cars getting off the exit below, this scene is decidedly more chipper.
--Dave McMenamin
---