Commentary
Lee spends her teens in the U.S. Open
Last year Alison Lee, then 14, made the cut and finished 26th, tied with Lorena Ochoa
Updated:
July 13, 2010, 3:00 PM ET
By
Tim Haddock
| Special to ESPNLosAngeles.com
When Alison Lee qualified for the U.S. Women's Open golf tournament last year, she was hoping to take in the sights while she was in Pennsylvania. She wanted to see the Liberty Bell and thought about taking a tour of New York City.
[+] Enlarge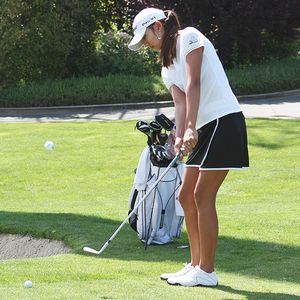 Tim HaddockIn the day of age of gurus, swing doctors, putting specialists and individual coaches, Alison Lee of Santa Clarita leans on her dad.
Her mom figured her daughter would have plenty of time for sightseeing come the weekend.
She didn't expect her daughter to make the cut and play the final two days of the tournament. Why should she? Her daughter was 14 years old and making her first U.S. Open appearance, so she made travel plans for Monday thinking they would spend the weekend touring Philadelphia and New York.
So much for a mother's confidence.
"In her mind, she didn't believe that I could make the cut, and neither did my dad," Lee said. "When I made it, I was shocked and my parents were shocked. It was really fun."
Lee ruined her tourist plans by playing on the final two days of the U.S. Women's Open at Saucon Valley Country Club in Bethlehem, Pa. She shot 1-under par on the final day of the tournament to finish in a tie for 26th.
Not bad for an eighth-grader with neither a coach nor experience in professional golf.
The U.S. Women's Open is back in Pennsylvania and so is Lee. A freshman at Valencia High School in Santa Clarita, Calif., Lee qualified for her second U.S. Open and will be heading to the Oakmont Country Club from July 5 to 11. Her goals are simple: make the cut again and finish better than she did in her first U.S. Open. She said if she can make fewer mistakes and focus a little more, she could crack the top 20.
"It's hard to do with all those great players out there," Lee said.
---
Age is a number
Lee was the youngest player to make the cut in the 2009 U.S. Women's Open.
She is one of 20 teenagers to make the 2010 U.S. Women's Open field through sectional qualifying. Yueer Feng, a 14-year-old from Orlando, Fla., is the youngest player. Two other 14-year-olds, Gabriella Then of Rancho Cucamonga, Calif., and Ariya Jutanugarn of Thailand, are also in the field. Among the other teenagers who qualified are 17-year-old Danielle Kang of Thousand Oaks, Calif., and 17-year-old Jenny Shin of Torrance, Calif.
2010 U.S. WOMEN'S OPEN
Alison Lee, now 15, qualified for her second U.S. Open. Some fast facts on this year's tournament:
DATES
July 5 to 11
LOCATION
Oakmont Country Club, designed by Henry C. Fownes. The 2010 Women's Open will be the 15th USGA championship and second U.S. Women's Open staged on this historic course. The 1992 U.S. Women's Open was won by Patty Sheehan.
ATTENDANCE
More than an estimated 125,000 spectators are expected to attend the U.S. Women's Open throughout the week.
FIELD
Mike Bryan and Mardy Fish vs. Fernando Verdasco and Feliciano Lopez
FORMAT
72-hole stroke play; field will be cut to low 60 and ties plus anyone within 10 strokes of the leader following the completion of the second round.
TELEVISION
The U.S. Women's Open will be broadcast to more than 100 countries including live television coverage on ESPN2 and NBC.
Unlike last year when she had to win a playoff to secure the final spot in her sectional qualifier, Lee finished second and was the top amateur at Mission Viejo Country Club to earn her spot in the 2010 U.S. Open.
Even though she finished comfortably in her qualifier, it was far from easy. She said the course is dubbed "Mission Impossible" because of its length and difficulty. She played three practice rounds at Mission Viejo before her qualifier and never really found her comfort zone on the course.
"When I played the first round there, I shot even par and I was very satisfied with my score," the now 15-year-old Lee said. "When I looked at the scoreboard, I was tied for third. I was excited. I was pretty sure I would make it."
Even par turned out to be a pretty good score. On the second day, Lee struggled. She was 5-over par and falling out of contention on the back nine. It was about that time when her dad, who doubles as her caddie, started giving his daughter his best condolence speech.
"In the second round, I was getting tired and I didn't play as well as I did the first round," Lee said. "Toward the end, I think I was about 5 over, and my dad almost gave up on me. He said, 'Oh no, Alison, it's OK. You can try next year.' It kind of got me upset. I tried working harder. On the last hole, I got birdie and I shot 4-over. I sat there and waited for all the other players to come in."
Only one other player, Tiffany Joh from San Diego, came in with a better two-day score. Shin and Then finished behind Lee for the other two qualifying spots.
"We're more surprised when [Lee] doesn't do awesome. What surprises me is the ease at what she does those things," said Craig Cliver, the head golf professional at Valencia Country Club. "She's got a lot of natural ability. When she gets on the golf course, Alison is between the ropes. She has a very efficient golf swing, lots of rotation. I don't think she has any flaws. She's got a pure golf swing. She had a pure golf swing when she was 11."
---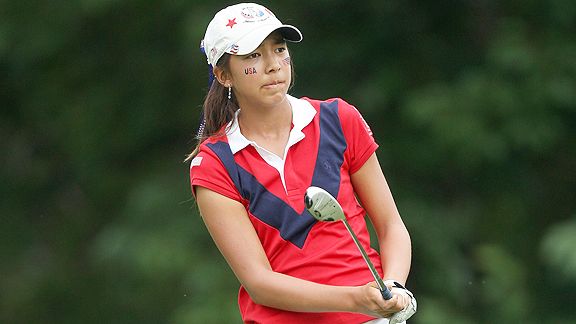 David Cannon/Getty ImagesAlison Lee shot a 1-under par in the final round of the 2009 U.S. Women's Open.
No coach
Lee practices at Valencia Country Club on a regular basis, but neither she nor her family are members. They are guests of Cliver, who has known Lee since she began playing in junior tournaments at the age of 8.
Lee doesn't have an individual coach, either. Her dad offers advice and instruction when necessary, but she has had little formal training.
"It's hard to say if she would be better if she had more coaching," said Andrew Raevouri, the Valencia High School girls' golf coach. "It's a wonderful swing, a simple swing. It works for her. It today's world, she's the exception to the rule. Why fight success?"
She doesn't have a booming drive. She averaged about 235 yards off the tee during the 2009 U.S. Open. She spends more time on the practice greens, chipping and putting, than she does on the driving range. For the short stints that she has employed golf coaches, she said she didn't like the way they wanted to change her swing.
"When I was younger, I had my own swing," Lee said. "The coaches I had had different swing styles and different ways to teach. My dad had a different style to teach. After a while, I decided to stick with my dad and he worked on my swing. I'm happy with it now."
IT'S L.A., AND IT'S LIVE

For more coverage of the complete Los Angeles sports scene, visit ESPNLA.com. »
It's hard to argue with her decision to not have a coach. Her performance in last year's U.S. Open is testament to how well she can adjust and refine her game.
She was 7-over par after the first two rounds of the U.S. Open and made the cut by three strokes. Her worst round came on the third day when she shot 5-over with five bogeys and one double bogey. The 18th hole, a 444-yard par-4, gave her fits through the first three days of the tournament. She bogeyed the hole on each of the first two days and recorded a double bogey on the third day.
On the final day of the tournament, she shot 1-under, her best round of the tournament. She was one of 13 players to shoot under par on the final day. She had two birdies and one bogey, finishing strong with a birdie on the long, par-3 17th hole and par on the 18th hole.
"The last day, the course conditions were a little bit easier," Lee said. "They moved up the tee box on a lot of the holes. The first three days, I remember 17 and 18, I never got par. I always got bogey or double bogey. On the 17th hole, they moved the tee box to the very front."
Lee finished in a tie for 26th place with six other players, including Lorena Ochoa, the top-ranked player in the world at the time, and Juli Inkster, a two-time U.S. Women's Open champion.
"It's completely different," Lee said. "It was amazing to just be there hitting range balls right next to Lorena Ochoa. I just couldn't stop giggling and smiling. We were in the breakfast room, my mom would say, 'Oh my God, look, that's Lorena Ochoa.' And she kind of looked back and I'm like, 'I think she heard you, Mom.'"
Lee finished second among the amateurs.
"Having the ropes up and having a gallery watching you and clapping every time, I can remember when I was 9 and 10, I used to be a part of the gallery watching them play," Lee said. "To be inside the ropes and on the fairway actually playing with the pros, it was awesome to experience. It's something I can't explain."
---
Playing with the pros
In her preparation for the U.S. Open, Lee was scheduled to play a practice round with Christina Kim. It was the day before the opening round of the tournament. Lee and her dad decided it would be best to play only nine holes and rest before the first round.
Lee was looking forward to playing with Kim, but Kim didn't join her until the eighth hole. Lee just finished playing the hole and Kim told her she wanted to play the ninth hole and the back nine.
"

It was very, very impressive. She has a mature demeanor. Times are different. Kids are learning at such a young age.

"

-- Golfer Christina Kim regarding Alison Lee's performance at the 2009 U.S. Open
"It was a tricky hole with water in the front," Lee said. "She wanted to play that hole one more time. That's the last hole I played, and that's the first hole she played. I played one hole with her."
As a 17-year-old, Kim was the youngest player to make the cut in the 2001 U.S. Women's Open at Pine Needles in North Carolina. She can relate to what it's like to be a young player like Lee and playing on such a huge stage as the U.S. Open.
"It was very, very impressive," Kim said about briefly watching Lee play. "She has a mature demeanor. Times are different. Kids are learning at such a young age."
Lee said she wants to spend more time with the pros this time around.
"I don't know anything about the course yet," Lee said. "I haven't really heard about the course. I really don't know what it looks like. I know the conditions are going to be tough, just like last year, just like every year. It's going to be extra long. It's going to be difficult. That's what it's for, the U.S. Open."
Tim Haddock is a freelance journalist who writes for nascar.com and is author of the blog haddockinthepaddock.com. You can follow him on Twitter.