Commentary
A Coliseum of dirt
The L.A. Memorial Coliseum returns to its motocross roots in X Games 16
Updated:
July 28, 2010, 2:27 AM ET
By
Brian Kamenetzky
| ESPNLosAngeles.com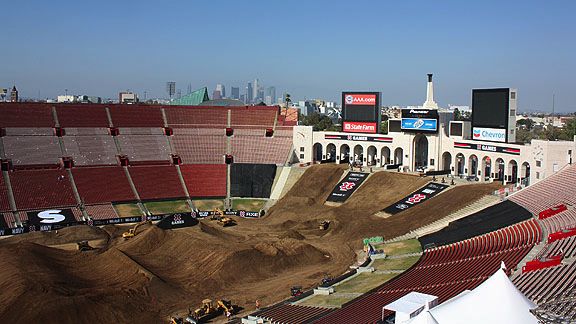 Brian Kamenetzky/ESPNLosAngeles.com Tons of dirt litter the L.A. Coliseum as it prepares to host rally cars and motorcycles this weekend.
The pope is used to a certain measure of protection. His security detail is hard core. He frequently drives around encased in bulletproof glass. After all, ours is a dangerous world.
Plaques honoring historic visits from popes of yore, however, usually can get by without any unusual fortification.
Usually.
This week, the bronze likeness of Pope John Paul II at the L.A. Memorial Coliseum commemorating his 1987 visit wears a skirt of steel trench plate, concrete and padding as final preparations are made to transform the Coliseum into an X Games centerpiece. In fact, the village of luminaries comprising the Memorial Court of Honor along the stadium's iconic peristyle columns is seeing a change in the surroundings. Everything, it seems, is wrapped in steel. Where once His Holiness and friends looked east toward the Jack and Jill statues and west to the long expanse of green grass and cardinal USC end zones, now all they see is dirt.
Tons of it. And berms, ramps and whoops.
The engines have returned.
The Coliseum traces to the beginning of supercross as a sporting discipline. In 1972, the inaugural Super Bowl of Motocross (nobody had changed the name yet) was held there, and was successful enough to warrant repeat engagements in '73 and '74 and serve as a springboard for a championship series. It remained a mainstay on the (now) supercross circuit until the early '90s, hosting fewer events after but still some of the sport's biggest (including a victory for eight-time X Games medalist Brian Deegan in an AMA event in '97 made controversial when he ghost-rode his bike -- meaning he wasn't on it -- over the finish line).
[+] Enlarge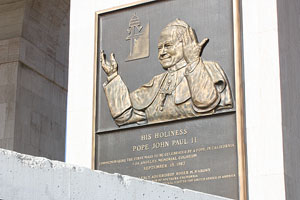 Brian Kamenetzky/ESPNLosAngeles.comPopes are used to being protected. Plaques of popes are not. This plaque at the L.A. Coliseum is being secured for good reason -- motocross.
Supercross disappeared from the Coliseum after '98. Then, when the X Games came to L.A. in 2003, Deegan and a 19-year-old Travis Pastrana engaged in one of the event's more memorable freestyle moto competitions, as they traded off-axis 360s and Pastrana took gold.
At X Games 16, the Coliseum is shaking off the motorsports rust in a big way. Moto X Freestyle and Moto X Super X (formerly Moto X Racing and the X Games' version of supercross, staged in men's, women's and adaptive categories) move up the 110 from the Home Depot Center in Carson, joined by Rally Car Racing and the debut of Rally Car SuperRally.
"There's a lot of history there," says Deegan, who has competed in just about every discipline available on a dirt bike, from racing to freestyle to Step Up, and was part of the action in 2003 when X Games last graced L.A.'s venerable stadium. "I'm excited to be back."
So are course builders and designers, reviving the feature making races at the Coliseum so special: the peristyles (hence the protection for the pope's plaque and his bronzed brethren). As has been tradition, racers -- whether handling two wheels or four -- will shoot up and down 120 feet from the stadium floor and through the peristyles. The starting gate for the Moto X Super X race is dead center in front of them, plunging riders immediately down the dirt into the bowl. That's a first.
The peristyles will play a huge role in the reconfigured rally events as well, particularly the new SuperRally race, featuring four cars on the track at once. Drivers will have two lanes they can choose from in and out of the peristyles, but math isn't exactly on their side. The peristyles are only 13 feet wide. Cars are what, 6 feet? Give or take? Did I mention there would be four of them?
"There's going to be carnage," says veteran rally driver Tanner Foust, pleased to hear the pope, Billy Graham and Cardinal James Francis McIntyre are among the religious figures honored around the columns. "I'll take all the blessings I can get."
Deegan, himself a rally driver these days, was stoked to see the peristyles incorporated into the course.
"It's cool that they're using them for the rally car," he said. "It'll make for good pictures and good TV."
[+] Enlarge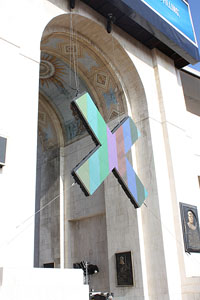 Brian Kamenetzky/ESPNLosAngeles.com A giant iridescent sign greets X Games fans as they enter the L.A. Coliseum.
And it makes for incredibly long hours for the people making it all happen. The X Games crew gained access to the stadium around midnight July 20. Working around the clock, about 24 hours later the field was covered in protective plastic and a "pad" of dirt about a foot deep. It's a well-organized circus. You've got your dirt movers, your dirt builders, a scaffold vendor, folks laying cable and placing protective barriers, cranes rolling in and -- oh, by the way -- the Big Air ramp being installed at the opposite end of the venue. All in time for practices to start Monday and Tuesday.
What seems like a large swath of space to work with is in the final result a use of square footage economical enough to bring a New York apartment dweller to tears. Fans entering the Coliseum on Thursday will see the track for Moto X Super X competition (built to be both exciting and rideable by three classes of riders, no easy task), featuring a tunnel under the Mega Ramp. Tucked in with it is a juiced-up freestyle course from designer Dane Herron featuring five ramps offering a wider variety of lines for riders than in years past, plus a huge wall feature (set against the back of the Big Air ramp), a smaller wall and a rainbow rail, all intended to bring a larger dose of creativity to this year's event.
When the two-wheel crew is done, they'll tear down all but Big Air and by Saturday will have rebuilt everything for rally. They get their own tunnel under the Mega Ramp, twice as wide.
The goal is to stage an event pushing the boundaries of the sports involved while at once getting back to their roots in Los Angeles. It doesn't seem so long ago since supercross left the Coliseum, but only one athlete in this year's X Games -- adaptive rider Chris Ridgeway -- has ever raced there. Freestyle at X Games went to Home Depot Center for most of a decade.
Now it's all back, bringing rally along.
Think they can make a fan of the pope?
Brian Kamenetzky is a writer for ESPNLosAngeles.com and the co-author of the Land O' Lakers blog.
ALSO SEE

Everything you need to know about X Games 16.
---
Results
---
Daily Coverage
---
Photos
---
BMX Video Highlights
Moto X Video Highlights
Skateboarding Video Highlights
Rally Video Highlights
---
12 skaters. 12 videos. Their vision. Their way. All for X Games gold. This is Real Street.
A new medal event for X Games 16, Real Street is the first contest of its kind. Twelve of the top individual pros in street skating each filmed 60-second video parts on street terrain for X, and all 12 video parts aired on the final day of the X16 telecast. A panel of pros -- Pat Duffy, Ed Templeton, Jamie Thomas and Geoff Rowley -- chose the winning part and awarded $50,000 and an X Games gold medal to Nick Trapasso. You, the fans, picked Zered Bassett as the fan favorite.
---
X16 Previews
---
Past X Games
---
30 For 30 X Games Special
---
More Action Sports
Be sure to check out ESPN.com/Action for all the latest in Skateboarding, Surfing, Snowboarding, Freeskiing, FMX and BMX.
X Games home | Action Sports home