Commentary
Defensive ploys could lift Sparks
Containing (or limiting) Storm MVP-candidate Lauren Jackson a tall tree to climb
Updated:
August 27, 2010, 8:36 PM ET
By
D.J. Foster
| Special to ESPNLosAngeles.com
After dropping Game 1 of the Western Conference semifinals 79-66 to the Seattle Storm, the Los Angeles Sparks now find themselves facing an elimination game on Saturday at Staples Center. What can they do to keep their season alive?
Swing first
[+] Enlarge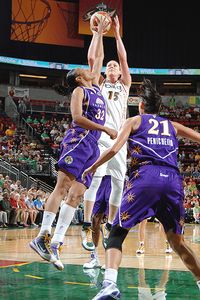 Terrence Vaccaro/NBAE/Getty ImagesThe Storm's Lauren Jackson was tough to contain for the Sparks in Game 1. She had 17 points and nine rebounds.
Despite being at home, the Sparks are heavy underdogs going into Game 2 of the best-of-three series. Seattle has compiled one of the best seasons in WNBA history and is statistically head and shoulders above the rest of the league in nearly every major category. The Sparks and Storm rivalry has played out this year like a lopsided prizefight, with the Storm taking six games in a row on the year. But if this is indeed a fight, it's important to remember that no matter what's happened in the earlier rounds, you always have a puncher's chance. Seattle is methodical on both ends of the court and would love nothing more than to run their offensive sets uninterrupted all evening long. If the Sparks can knock them off their track with a variety of different defensive looks and lots of pressure, they may be able to jump out to an early lead and get a much needed swing in momentum.
Can't switch
Most defensive schemes in the WNBA can work just fine with switching principles due to the general lack of size differential between the players. Unfortunately for the Sparks, that doesn't fly against the Storm because they employ three frontline players who are an absolute handful to guard in the post. In Game 1 the Sparks switched on a lot of off-ball screens which created easy interior looks for the Seattle bigs with the diminutive L.A. guards hopelessly trying to fend them off. The Sparks can trap, go zone, play straight up, collapse, double team and use everything else in the book defensively, but they just can't afford to switch on screens and let players like Swin Cash kill them, either with the ball or on the offensive boards. Finding an answer to slow down Cash may be one of the more difficult tasks Sparks head coach Jennifer Gillom is charged with. The forward has led Seattle in scoring the last four times these teams have met in the playoffs.
Fire with fire

Thompson

Milton-Jones
Without the calm command and scoring prowess of veterans Tina Thompson and DeLisha Milton-Jones, the Sparks would have never made the playoffs. While they'll need lots of help to beat Seattle, particularly from their wings, the vast majority of the offensive chances should run through them for reasons other than them being the best scorers on the floor. For as great as Seattle's Lauren Jackson is offensively, she lacks the lateral movement to stay in front of people defensively after the multiple injuries she's suffered. If the Sparks can create the space required for Thompson and Milton-Jones to operate, facing up and attacking Jackson off the dribble could be a very effective plan of attack. By going right at Jackson, there's a chance she'll pick up some fouls compensating for her lack of foot speed. After all, no matter how good the MVP candidate is, and boy is she good, no one can score from the bench.
Limit turnovers
IT'S L.A., AND IT'S LIVE

For more coverage of the complete Los Angeles sports scene, visit ESPNLA.com. »
The Sparks were suffocated by Seattle's halfcourt pressure defense in Game 1. There was minimal ball movement because Seattle's defense was rarely forced to help and recover and could instead focus on playing passing lanes. This presents an interesting dilemma. The Sparks' guards have to be more aggressive and take more chances in order to get the Seattle defense to scramble, which in turn should create better ball movement and better shot opportunities. However at the same time they must remain under control -- Seattle scored 19 points off Sparks turnovers in Game 1, including quite a few easy buckets in transition. The Sparks would be wise to follow the advice of John Wooden: "Be quick, but don't be in a hurry."
Early Work
Seattle's centers and forwards scored 59 of the team's 79 points in their Game 1 victory. The Sparks face a personnel problem more than a strategic one they just simply don't have the size to contest shots against one of the league's biggest and best frontcourts. Lauren Jackson is much taller and stronger than anyone the Sparks can throw at her, and she seems to be well aware of it. Once Jackson catches the ball in the post with deep position it's almost an automatic two points or a trip to the line. What the Sparks bigs will have to do is work much earlier in the clock defensively by keeping Jackson away from the block before the Storm initiate their halfcourt offense. Jackson has a nice turnaround jumper from mid-range. But if you're picking your poison, you'd much rather take your chances with her from 17 feet as opposed to the middle of the paint. To accomplish that, the Sparks will need to deny her space and push her away from the post as much as possible. It's a tall task, but working hard on the defensive end early could pay dividends.
WNBA Playoffs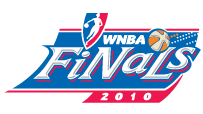 WNBA Finals
•
Voepel: Second title even sweeter for Storm
•
Voepel: Storm's Cash is money on 3-pointers
•
Voepel: Millers making most of Dream reunion
•
Voepel: Can Dream avoid sweep in Finals?
•
WNBA Finals Live: Game 3
•
Voepel: Jackson leads Storm to 2-0 start
•
Voepel: Atlanta will stick to game plan
•
WNBA Finals Live, Game 2
•
Voepel: Bird does it again to lift Seattle
•
Voepel: Little comes up big for Storm
•
Voepel: Can Atlanta's lineup solve Seattle?
•
Voepel: Wright complements Bird in backcourt
•
WNBA Finals Live: Game 1
•
Voepel: Cash helps carry Storm to finals
•
Voepel: Bales back, in best shape of career
•
Voepel: Head-to-head finals breakdown
•
Voepel: Athletic Atlanta to test Storm
Video
•
Storm win franchise's second WNBA title
•
Seattle takes 2-0 lead with 87-84 win
•
Monday's player interviews from KeyArena
•
Carolyn Peck breaks down Seattle's 79-77 win
•
Saturday's player interviews from KeyArena
Results
•
Complete schedule
WNBA.com
•
Complete playoff coverage