Commentary
Coach tries to get pulse of Chaparral
Pumas are one of several storylines forming for Inland Empire football teams this fall
Updated:
August 31, 2010, 8:22 PM ET
By
Dan Arritt
| Special to ESPNLosAngeles.com
Beneath the green, platinum and midnight blue uniforms of the Chaparral High football team is a personality waiting to be discovered.
Will the Pumas be tough? Emotional? Confident? Or will they succumb to the expectations bridged from last season, when they serpentined to their first Southern Section title in school history.
It's one of the biggest questions of the preseason for coach Tom Leach, who is trying to discover what makes this particular team tick. So important is the answer, he will often let his assistant coaches run practice, just so he can watch and listen.
"Sometimes, I just need to back off and identify the heartbeat of my team," said Leach, who is 43-12 heading into his fifth season at Chaparral.
There's no doubt the adrenaline is flowing as the Pumas steam toward their season opener Sept. 10 against visiting Oceanside, the defending Division I state bowl champion.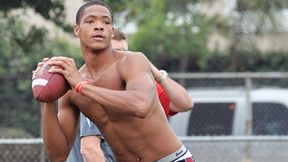 Courtesy of Joseph WheatCentennial quarterback Michael Eubank expects to field several college scholarship offers this season.
The Pumas won their final seven games last season, knocking off two-time defending champion Corona Centennial in the Inland Division semifinals and winning another rematch against Southwestern League rival Vista Murrieta in the championship game.
Chaparral returns a solid nucleus of players, including one of the highest rated wide receivers in the state, 6-foot-5 senior Antoine Arnold, who caught 79 passes for a Southern Section-leading 1,536 yards and scored 17 touchdowns.
"He's a great player and a great kid too," Leach said. "He just has this charisma about him."
The Pumas also return their best defensive player, safety Darius Guillory, the co-defensive player of the year in the Inland Division last season.
As usual, the IE is stacked with college prospects, and much of the talent seems to be at the offensive skill positions.
Vista Murrieta quarterback Derrick Brown, a three-year starter who shared Inland Division offensive player of the year honors with Arnold last season, has committed to Utah, and Norco running back Kelsey Young has committed to Stanford.
Arlington running back Superiorr Reid, Centennial quarterback Michael Eubank and Rancho Verde tight end Junior Pomee are also fielding offers.
Once again, Chaparral figures to get its biggest challenge from Vista Murrieta and Centennial.
The Huskies will get the first crack, traveling to Chaparral for a nonleague game Sept. 24.
Vista Murrieta won't have to wait long to face the Pumas either, hosting Chaparral in their league opener Oct. 15.
In between, Chaparral also has a date with defending Pac-5 Division champion Servite on Oct. 2 at Santa Ana Stadium.
"That's what I believe in, going through a lot of good programs every Friday night," he said. "No matter who we play or what's at stake, play good teams and get the most out of the experience."
Sportsmanship issues
Though impressive in its march to the championship, Chaparral earned as much attention last season for the way it handled victory.
As the final seconds ticked down in a penalty-filled 47-23 victory at Murrieta Valley in mid-October, the Pumas were directed by Leach to point to the scoreboard, his response to a number of "cheap shots" by the Nighthawks during the game.
More on High Schools

For more news, notes and analysis of the SoCal preps scene, check out our coverage.
Blog » Preps page »
The gesture earned Chaparral an unsportsmanlike conduct penalty, and school officials suspended Leach for the next game against Vista Murrieta. The Pumas lost that game, costing them a league title, and Leach refused to speak with the local media for the next two months.
Chaparral came back to defeat the Broncos, 13-7, in the Inland Division championship game at Vista Murrieta, but the postgame celebration was tainted when a player from Chaparral made an obscene gesture while lying on Vista Murrieta's painted logo at midfield.
The player apologized via the media, but the mea culpa did little to salvage Chaparral's reputation. Understandably, the Pumas were being compared to a high school version of the Oakland Raiders.
"The stigma, or that label, is OK as long as it's associated with winning," Leach said.
Leach and his staff are making a better effort to communicate the values of good sportsmanship. Still, the memories will probably still be fresh for Murrieta Valley and Vista Murrieta when the teams meet again this fall.
Rancho Verde tries to overcome
Rancho Verde will be opening its season with heavy hearts following the death this summer of linebacker Emil Smith.
Smith, who had committed to Boise State in June, was killed July 18 along with his brother, Dimitri Garcia, when the vehicle Garcia was driving crashed into oncoming traffic in Hemet.
League movements
The road to the section finals will be considerably tougher for the Desert Valley and Baseline leagues.
Members of the Baseline League have moved from the Central Division to the Inland Division, meaning they'll have to get through powerhouses such as Chaparral, Centennial and Vista Murrieta to win a section title.
Upland finished fourth in the Baseline League last season, earned a wild-card bid into the Central Division playoffs and then proceeded to march to a championship. The Highlanders return a solid group of players this season, and bolstered their stock with the addition of Dontra Abron, the leading rusher at Alta Loma last season, and Christian Powell, the leading tackler.
After dominating the Eastern Division the past 10 years, the DVL took the Baseline's spot in the Central Division. A DVL team had reached the Eastern Division final seven times in the past 10 years, winning in 2000, '01 and '09.
Travel concerns
How hard is it to find an opponent to travel out to the Coachella Valley in September?
DVL rivals Palm Springs and Palm Desert were so desperate to find an opponent for their season openers Sept. 3 that they agreed to play each other at Palm Desert in what will be considered a nonleague game.
They will meet later in the season during league play.
Bray gets his turn
After 25 years as an assistant, Rick Bray is finally getting his chance to be a head coach.
Bray has taken over at Colton, where he spent 21 of the past 25 years working as a jack-of-all-trades assistant to Harold Strauss.
Strauss hardly left the cupboards bare for Bray. The Yellowjackets return 13 starters, including linebacker Devan Hussey, the San Andreas League defense player of the year last season, linebacker Rodney Hardrick and quarterback Jordan Mixon.
Dan Arritt is a contributor to the high schools blog for ESPNLosAngeles.com, concentrating on the Inland Empire.