Commentary
Kevin Connolly gets new taste of sports
Actor is a lover of sports and plays a sports writer in the new movie "Secretariat"
Updated:
October 6, 2010, 10:11 PM ET
By
Arash Markazi
| ESPNLosAngeles.com
ARCADIA, Calif. -- It's a scene straight out of "Entourage." Kevin Connolly, who plays "E" on the hit HBO show, is sitting at a bar, drink in hand, waiting for his guest to arrive as he fidgets with his iPad.
I'd like to think Connolly is working to find Vincent Chase's next big script or sending a profanity-laced e-mail at Ari Gold, but I must remind myself that's Eric Murphy and the person I'm about to meet is Connolly.
In real life, Connolly doesn't spend his days reading scripts or tracking down strung-out clients. He devotes much of his time keeping up with sports news, and at the moment is looking at ESPN.com. In fact, the first half of our interview is spent with Connolly asking me questions about sports and what it's like covering games for a living.
Connolly isn't about to trade in business meetings at STK or Katsuya for the press meal at Staples Center, but he admits playing sports writer Bill Nack in the movie "Secretariat," which comes out Friday, opened his eyes to a new side of sports he never knew before.
[+] Enlarge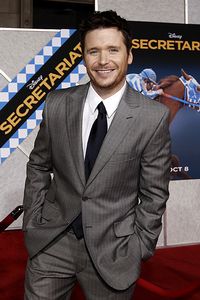 AP Photo/Matt SaylesKevin Connolly says the New York Islanders are his No. 1 passion in sports, but he is fond of the Lakers too.
"I've never been a sports reporter before so this was great," Connolly said. "I did host the Jim Rome show with Jerry Ferrara for three hours when he was on vacation. Three hours is a long time. Think about how long that is. It was tricky, but it was a great experience."
During my meeting with Connolly we also discussed how he ended up announcing the New York Islanders' top pick at this year's NHL draft, what it's like sitting courtside at a Lakers game with Leonardo DiCaprio and who have been his favorite sports cameos on "Entourage."
Markazi: I know you're a big sports fan, but were you big a horse racing fan before making this movie?
Connolly: I grew up in Long Island and going to Belmont. My dad was a big horse guy so we would always do the OTB, off-track betting, but it was fun nonetheless. It was something I grew up watching and always liked.
Markazi: What was it about this role and this movie that made you want to be a part of it?
Connolly: The script read so well. Randall Wallace is such a great director that you knew that end of it was going to be good. So you got Randall Wallace directing it and Diane Lane starring in it so you knew the pedigree was good and that's the best place to start as an actor. If you know the filmmaker is good and the leading actor is a movie star like Diane Lane, you know you're part of something great.
Markazi: You got a chance to spend a lot of time with Bill Nack during the filming of the movie because he was a consultant on the film and wrote the book which the movie is based upon. How was your relationship with him?
Connolly: He was great. The thing I most liked about Bill was that he was a consultant, but he didn't tell me to do exactly what he did, he allowed me to be myself as well and he did that with everyone. He didn't make it about him. He was just trying to re-create the world at that time. He was great to talk to.
Markazi: You sat in on the Islanders' draft this year in Los Angeles and actually announced their first pick. What was that like?
Connolly: That's my No. 1 team. I'm a big Islanders fan. I actually announced their pick. I think people were a little confused, but it wasn't like I went up there with jean shorts and a T-shirt on. I was a wearing a suit. I dressed the part. I looked as good as anyone else, but it took people a second to get that it was me announcing the pick. I have friends in the league and they all called me afterwards. I've been very supportive of the Islanders. I'm at every home opener. I've done a bunch of stuff on "Entourage" to show I'm a fan. I either have a hat or an Islanders shirt. I do as much shameless promoting of my team as I can. It's funny, Bill Nack used to write for Sports Illustrated but before then he worked at Newsday and did Islanders stories. Growing up, Newsday was the paper that was delivered to my doorstep every day.
Markazi: There have been a lot of sports cameos on "Entourage" over the years. Which ones stick out to you and are the most memorable?
Connolly: LeBron [James] is the one that sticks out for me. The show hits home with athletes because they relate to it so it's massively popular in the sports world. We had Drew Brees this year. Drew Brees is a guy who won the Super Bowl MVP and he walks into the makeup trailer and he sits next to me and says, "What's up Kev?" and I look around and I'm like "What's up Drew?" He just sat down and was as big a fan of the show and as happy to be meeting us as we were to meet him. Adrian Peterson also came on and he's a large man. His handshake is annoying though. Does he do that on purpose? Is he just so tired of shaking hands that he wants to break every hand he shakes? I give him a fist pound or a high five now. LeBron is always the one that sticks out.
Markazi: Are there any drawbacks to the athlete cameos?
Connolly: The one thing when they come in, they get a taste of what it's really like. It ain't all joints and Jacuzzis and naked girls. After a while these guys are like, "Get me ... out of here." Even LeBron was starting to get antsy by the end of the day. They don't realize it's a long day and it's more work than they were expecting.
Markazi: You sit courtside at a bunch of Lakers games with your old friends Leonardo DiCaprio and Tobey Maguire, what is that like? Any crazy stories to share?
IT'S L.A., AND IT'S LIVE

For more coverage of the complete Los Angeles sports scene, visit ESPNLA.com. »
Connolly: It's pretty incredible to sit so close at some of those games where the stakes are so high. You don't realize sometimes that they [the players] can hear you. You want to believe that they can't hear you and then you say something and they look at you and they say something to you. They're just people too, but you forget that when the game is going on. The first time that happened me, Leo and Tobey were lipping off and you realize that maybe you're saying things you shouldn't. I'm like, "He heard that?" and Leo's like, "Yeah, he heard that. He's standing three feet away from you. He's not deaf. Of course he heard you." It really is an incredible experience.
Markazi: What's your favorite moment at a Lakers game?
Connolly: Well, I've been there for some amazing Kobe Bryant shots, but I've had some personal moments too. I've had a couple players tell me to "shut the [expletive] up" during the game. I don't want to say who it was but c'mon. You think the fans in Philly aren't saying anything? But they talk back because we're actors and they know who we are, but it's almost our duty as fans. You're supposed to be loud.
Markazi: You mentioned you're an Islanders fan, but who are some of your other teams?
Connolly: I grew up in New York and I grew up rooting for the Islanders and Yankees. I also liked the Dolphins. I never really watched basketball until I got out here. I grew up in a hockey and baseball house. The Lakers are the one thing in L.A. everyone loves. When it's in your own backyard it's hard not to get sucked in. The playoffs are the one time of the year when you're in a 7-11 and the guy behind the counter and the guy in line are talking about the game or you start talking to the guy next to you at the red light because he has one of those flags on his car. It's the one thing that brings the city together and it's fun to be a part of. To hate on that is crazy. I will say this about my Lakers fandom: I became a fan before they signed Shaq. I was a fan while they were rebuilding. I was at the Forum and watching Nick Van Exel and Eddie Jones. I was there for the rebuilding process. And even though I'm a huge Islanders fan, I go to a bunch of Kings games too. I just love hockey.
Markazi: You were reading up on the Miami Heat, which seem to be the top story in sports right now. What's your take on that team?
Connolly: LeBron is putting a heavy burden on himself. He thought he had to win in Cleveland. The other thing that happened with LeBron going to Miami is Kobe Bryant's fan base doubled in a day after "The Decision." Isn't it amazing that people are now rooting for Kobe to be the guy to destroy LeBron and tear down this evil empire? Miami is a turned ankle from one of the big three from being a regular team. They are one injury away. Anything can happen. But can you imagine if it's the Lakers and the Heat in the Finals how big that would be? It would be nuts.
Markazi: So you're picking the Lakers to beat the Heat in the Finals?
Connolly: That would be great. All I know is Kobe would never have done what LeBron did. It's odd that he went to the Heat. Is it a better place to live? Maybe he likes South Beach. But now you almost want to see these superteams. You want to see Carmelo Anthony and Chris Paul go to New York. How great would that be? Let's start building a bunch of superteams. I'll tell you what, the Knicks with Amare Stoudemire, Melo and Paul would be better than the Heat I think. Can you imagine how great the Garden would be if that happened? I still don't get why LeBron wouldn't want to go to New York. If he had won a championship in New York it would have been better. I don't know. It's going to be great to watch what happens this season though.
Arash Markazi is a reporter and columnist for ESPNLosAngeles.com. Follow him on Twitter.
ESPNLosAngeles.com
Former columnist and writer after five years with Sports Illustrated
Markazi has also written for Slam, King, Vibe and Playboy
On board of directors for Jim Murray Memorial Foundation.