Commentary
A 'Classic' for many reasons
Garfield-Roosevelt draws 20,000 fans every year and the rivalry remains deep-rooted
Updated:
November 4, 2010, 6:41 PM ET
By
Mario Villegas
| Special to ESPNLosAngeles.com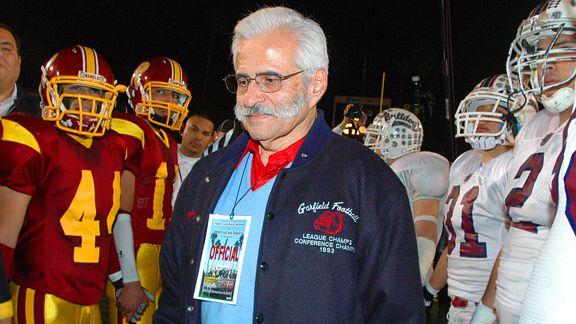 Mario Villegas/Special to ESPNLA.comHrair Shekerjian will witness his 60th Garfield-Roosevelt game on Friday night.
LOS ANGELES -- There are many high school football games being played this week that will determine league titles and draw large crowds.
And then there's the Garfield-Roosevelt game.
The two rival schools that are only a few miles apart on the east side of Los Angeles will square off for the 76th time Friday night before a capacity crowd of 20,000 at East Los Angeles College.
Known as the East Los Angeles Classic since 1972, the annual game between the longtime rivals has attracted 20,000 or more since the 1960s. Organizers promote it as the largest game west of the Mississippi River.
East Los Angeles Classic
Teams
Garfield Bulldogs (4-4, 4-0)
Roosevelt Rough Riders (5-3, 2-2)
Coaches
Garfield: Lorenzo Hernandez (10th year)
Roosevelt: Javier Cid (5th year)
Series History
76th meeting:
Roosevelt leads, 40-29-6
Last Meeting: 2009, Roosevelt won, 28-16
First Meeting: 1926, Roosevelt won, 26-3
Longest win streak: 7 by Garfield, 1991-1997
Last shutout: 2003, Roosevelt 33-0
Annoyed by references to the game as the "Chili Bowl" or the "Taco Bowl," former Roosevelt coach Al Chavez, late former Garfield coach Vic Loya and late Garfield teacher Ted Davis successfully petitioned to legally name the game the East Los Angeles Classic.
Another crowd of at least 20,000 is expected to attend Friday to see whether Garfield (4-4, 4-0 league) will remain unbeaten in the Eastern League, or Roosevelt (5-3, 2-2) will stay in title contention. Roosevelt, the two-time defending Eastern League champion, leads the all-time series, 40-29-6.
Besides taking in the game, fans will also be there to see old friends and make new friendships.
As veteran Los Angeles television news reporter Henry Alfaro narrates in "Symbol of Heart, the official documentary of the East Los Angeles Classic," the game is more than just a football game: "It represents generations of neighborhood friends growing up together. And for one night in autumn, the communities of Boyle Heights and East L.A. come together to cry, laugh and cheer. But more importantly, they come here to be united."
Hrair Shekerjian, a 1955 Garfield graduate, will see the Bulldogs play Roosevelt for the 60th time Friday.
"I was a ninth-grader at Kern Junior High School in 1951 [since renamed Griffith Middle School], when I saw my first Garfield-Roosevelt game, and I haven't missed one since," said Shekerjian, a retired college counselor who for 35 years kept statistics at Garfield games.
"It's always a great game, always a great crowd, and it should be fun, again."
Garfield-Roosevelt, Roosevelt-Garfield is a series that dates to 1926 and is one of many longtime rivalries between two Los Angeles area high schools. Some of the other top rivalries include Banning-Carson, Bell-Huntington Park, Belmont-Marshall, Alhambra-Keppel and Muir-Pasadena, who play in the annual Turkey Tussle at the Rose Bowl.
But none generate the interest that Garfield-Roosevelt does.
"We were really very envious of Garfield and Roosevelt," said Garfield coach Lorenzo Hernandez, recalling the days he played for Eastern League rival Huntington Park. "There's all the attention and all the media coverage, and so many things that comes with the game. We used to wonder, 'Why don't they come out and cover us like that?'"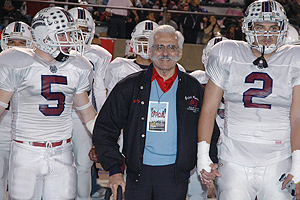 Mario Villegas/Special to ESPNLA.comHrair Shekerjian, a 1955 Garfield graduate, was a stat keeper for Garfield for 35 years.
If losing isn't bad enough, Hernandez has to go home and face his wife, Martha, who is a Garfield graduate.
"She doesn't pay much attention to the games on our schedule, except for the Roosevelt game," the coach said. "She always says, 'You're going to win the Classic, right?'"
Shekerjian has been asked over the years why 20,000 turn out every year.
"I remember Jerry Weiner, a publicist with the City Section Athletics' Office, always wanted to know what the mystique about the game was," he said. "The turnout is really quite a phenomena."
Shekerjian taught at Roosevelt for two years before joining the faculty at Garfield in 1960.
"The two schools were so much alike in many ways," he said. "The students, the faculty and staff were very similar. It's two different schools in one community."
In an odd twist, both schools celebrate their homecoming the night of the game, and alumni groups from both schools put on after-game parties at nearby restaurants. The Garfield Alumni holds a "Fifth Quarter Dance" at the Quiet Cannon in Montebello. Roosevelt alumni will gather this year at Rudy's Bar and Diner in East L.A.
Al Padilla, a 1948 graduate of Roosevelt, has a long history with the game. He taught and coached at both schools, leaving the Roosevelt "B" team coaching post to become the head coach at Garfield in 1960.
"There's so much intermarriage between the alumni from each school," Padilla said. "That's why on the night of the game there's husbands and wives sitting on opposite sides, instead of together. Meanwhile, the kids are playing down on the field."
"

She doesn't pay much attention to the games on our schedule, except for the Roosevelt game. She always says, 'You're going to win the Classic, right?'

"

-- Garfield coach Lorenzo Hernandez, whose wife is a Garfield graduate
Padilla, whose "B" team lost only one game in his five years as coach, has always joked that he was called the Benedict Arnold of the east side. In his final season at Roosevelt, Padilla coached a small, but fast, quick and elusive running back by the name of Mike Garrett.
Before leaving for USC, where he would win the Heisman Trophy and then go on to NFL stardom, Garrett scored five touchdowns against Padilla's Bulldogs in the 1961 game to lead Roosevelt to a 36-6 victory.
"He started with me," Padilla recalled. "I taught him how to put on a uniform. Three years later, he single-handedly beat us. But he's a great role model for all the minority kids in East L.A."
Recalling the moment in the documentary, Garrett gets emotional when he says, "All I ever wanted to do was play in the Roosevelt-Garfield game."
He has never forgiven Padilla for leaving Roosevelt.
"All I know is that the S.O.B. left Roosevelt for Garfield," Garrett once said.
Roosevelt opened in 1923 and Garfield in 1925. The teams met for the first time in 1926 and played up until 1938. The series ended that year because Roosevelt was moved to the Southern League. The Rough Riders returned to the Eastern League in 1949, and in 1951, Garfield and Roosevelt played in the newly built stadium at East L.A. College. They played there from 1953 to 1999.
Attendance grew steadily and the crowds exceeded 20,000 in 1969.
"That was the first year they actually packed the stadium," said Randy Rodriguez, a linebacker for Roosevelt who would later become coach at the school. "We came out of the locker room and it was drizzling, and there were people sitting in areas where there were no seats. There must have been 25,000 people there."
The stadium was filled to capacity during the 1970s and 1980s and many were turned away at the gate. Besides the limited seating, administrators from both schools had grown tired of the rising costs of putting on the game, mostly from the civic center fees that are charged by City of Monterey Park.
After plans to move the game to the Rose Bowl failed, the schools were lured to the Coliseum in 2000. An announced crowd of 33,000 took in the first game, but the turnout seemed much smaller in the cavernous stadium.
Despite the increase in attendance, the move to the Coliseum was controversial and criticized by many who argued that the game had moved too far away from the east side.
More on High Schools

For more news, notes and analysis of the SoCal preps scene, check out our coverage.
Blog » Preps page »
With the game no longer uniting the community, the schools moved back to East L.A. in 2004 and have played there since.
Roosevelt coach Javier Cid, who played for the Rough Riders in 1983 and 1984, said playing before 20,000 fans helped him plan his future.
"Being able to play and do well in that type of a game made me believe that I could go beyond that, it really did," he said. "I felt I could play at the next level, and I gave it a shot."
After graduating from Roosevelt and playing two years at East L.A. College, Cid received a football scholarship from the University of the Pacific.
"Playing in front of an audience like that and playing well gives you confidence to do other things in life," he said. "I always tell my players that this is not the end, it's the beginning of being able to do bigger and better things."
Mario Villegas is a freelance writer based in Los Angeles. He has covered every East Los Angeles Classic since 1986 except one, and attended many other games during his youth.