Commentary
L.A. athletes of the year candidates
Updated:
December 30, 2010, 12:35 PM ET
By
Arash Markazi
| ESPNLosAngeles.com
Outside of another Los Angeles Lakers championship parade down Figueroa Street, 2010 wasn't exactly a banner year for Los Angeles sports. Still, these eight athletes made things exciting, even when their teams didn't.
Here are our candidates for Los Angeles athlete of the year. Click here to cast your vote and rank the city's best. (Note: Only one player from each team was eligible for this list. After all, we couldn't have it simply comprised of the Lakers' roster.)
---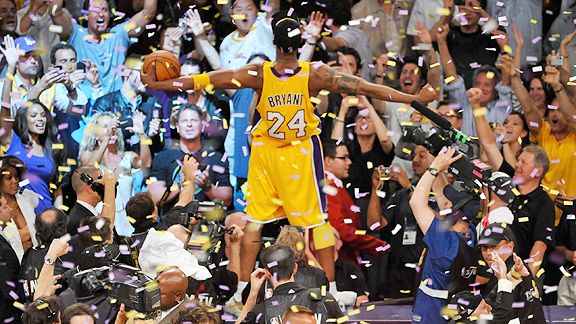 Garrett W. Ellwood/NBAE/Getty ImagesKobe Bryant celebrates after Game 7 of the NBA Finals on June 17.
As much as Bryant wanted to show that playing the Boston Celtics in the NBA Finals wasn't anything special, his emotions after winning his fifth championship told a different story.
"I know every series that the Lakers have played in," the Finals MVP said after the Lakers beat the Celtics in a grueling seven-game showdown. "I know every Celtics series, I know every statistic. It meant the world to me, as well, but I couldn't focus on that. I had to focus on playing."
During a season highlighted by his last-second heroics, Bryant also became the youngest player to reach 25,000 career points, surpassing Wilt Chamberlain. He also passed Jerry West to become the all-time leading scorer in Lakers franchise history.
---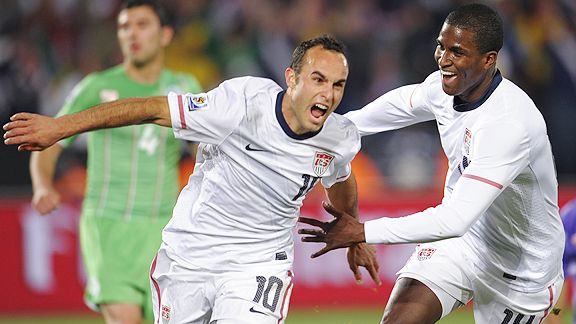 Timothy A. Clary/AFP/Getty ImagesLandon Donovan celebrates his World Cup goal against Algeria with Edson Buddle.
The most decorated American soccer player had perhaps his most memorable year. He went on loan to the English Premier League club Everton from January to March and played in 13 games, scoring two goals. When he returned to the MLS, Donovan scored seven goals and had a team-high 16 assists, leading the Los Angeles Galaxy to the best record in the league. He also scored the 100th goal of his MLS career and became the all-time leading scorer in Galaxy history.
Donovan's most memorable moment, however, was at the World Cup in South Africa when he scored one of the most dramatic goals in U.S. soccer history. He knocked in the winning goal off a rebound in the 91st minute to defeat Algeria 1-0 and win the group for the American side; it was the first time since 1930 the U.S. won its group. He scored three goals during the tournament to become the highest-scoring American male in World Cup history.
---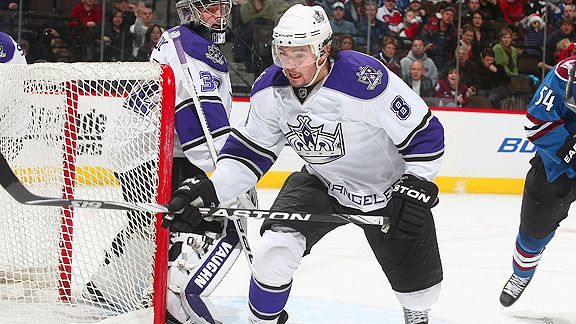 Michael Martin/NHLI/Getty ImagesDrew Doughty was a finalist for the Norris Trophy as the league's top defenseman.
Doughty finished third in the NHL in scoring among defensemen and was named a finalist for the Norris Trophy as the league's top defenseman, becoming the second-youngest nominee for the award behind Bobby Orr. Doughty's improved play helped the Los Angeles Kings qualify for the playoffs for the first time since 2002.
At the 2010 Winter Olympics, Doughty was one of the top defenders for Canada and was on the ice when Sidney Crosby scored his game-winning goal to defeat the United States in overtime in the gold-medal game.
---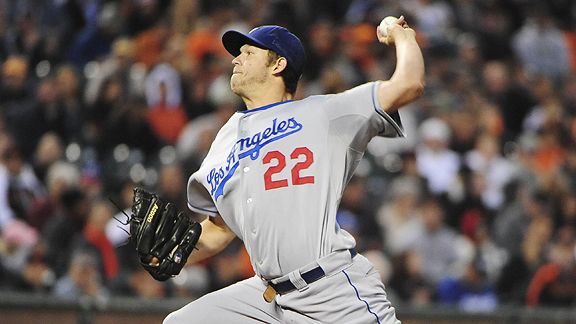 Kyle Terada/US PresswireClayton Kershaw threw his first career complete game shutout Sept. 14.
Kershaw threw his first career complete-game shutout Sept. 14 as the Los Angeles Dodgers beat the San Francisco Giants 1-0. Kershaw finished the season with a record of 13-10 and a 2.91 ERA in 32 starts, pitching a career-best 204.1 innings and recording 212 strikeouts.
His breakout moment came when he went up against Colorado Rockies ace Ubaldo Jimenez, who was as dominant as any pitcher through the first half of the 2010 season. Jimenez compiled a 15-1 record with an ERA of 1.83 leading up to the All-Star break, and that lone loss came to Kershaw. The 22-year-old lefty led the Dodgers to a 2-0 win on May 9, throwing eight shutout innings, giving up two hits and posting nine strikeouts.
---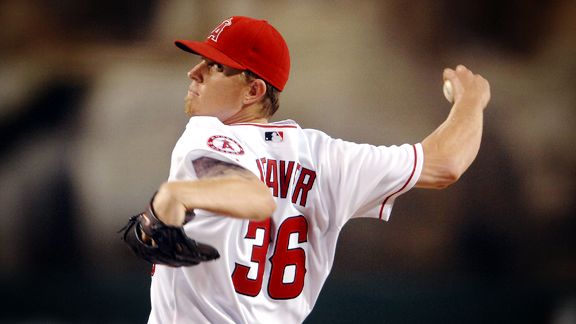 John Cordes/Icon SMIJered Weaver had a stellar season despite his team's offensive woes.
Weaver led the major leagues in strikeouts with 233 and posted career bests in innings pitched (224.1, third-best in the AL), ERA (3.01) and WHIP (1.07). His season strikeout total was the highest by an Angels pitcher since Nolan Ryan notched 260 in 1978.
Weaver, who was selected to his first All-Star Game, posted a 13-12 record largely because of the Angels' poor run support, but he was still able to finish fifth in the AL Cy Young voting.
---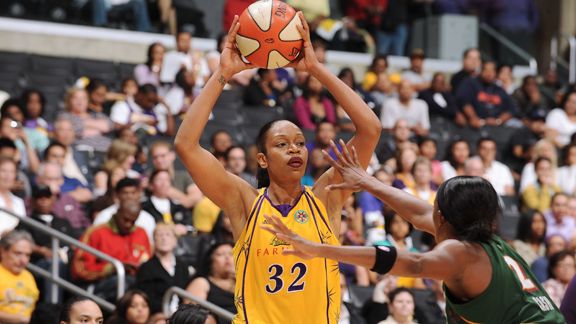 Andrew D. Bernstein/NBAE/Getty ImagesTina Thompson became the WNBA's all-time leading scorer.
Tina Thompson, forward, Sparks
Thompson became the WNBA's all-time leading scorer, passing her longtime friend and former teammate Lisa Leslie in August. Leslie retired after the 2009 season and Candace Parker missed most of the 2010 season because of shoulder surgery, but Thompson (team-high 16.6 points, 6.2 rebounds) led the Los Angeles Sparks to the Western Conference semifinals, where they lost to the eventual WNBA champion Seattle Storm.
---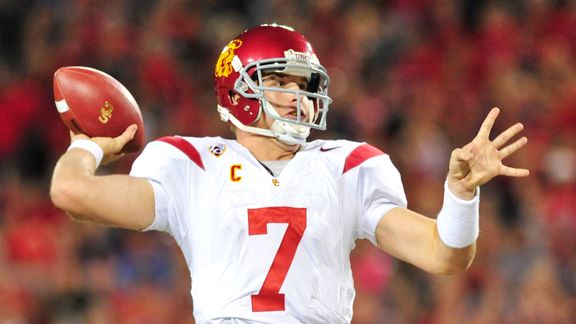 Chris Morrison/US PresswireMatt Barkley had a breakout season for USC.
Despite being unable to play in a bowl game, Barkley had a breakout season for the USC Trojans; the sophomore threw for 2,791 yards and 26 touchdowns and posted a 141.18 quarterback rating. He opened the season against Hawaii by passing for five touchdowns and 257 yards in a 49-36 win on the road and closed out the season with a 28-14 win against crosstown rival UCLA at the Rose Bowl.
---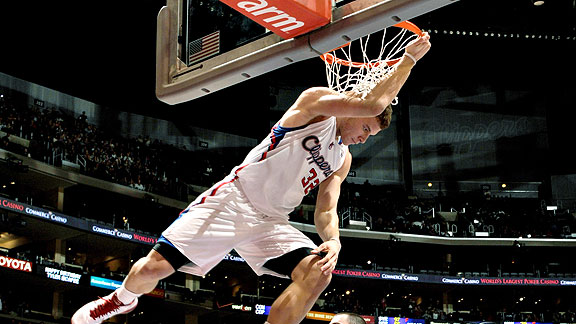 Andrew D. Bernstein/NBAE/Getty ImagesBlake Griffin has made a name for himself with his play -- and his dunks.
After missing his rookie season because of surgery on his broken left kneecap, Griffin has more than made up for lost time this season. He posted 20 points and 14 rebounds in his regular-season debut, and less than a month later he recorded a Los Angeles Clippers rookie record 44 points, 15 rebounds and seven assists against the New York Knicks. Griffin's dunks have become nightly must-see viewing, and he has been the one bright spot on a Clippers team that started the season 5-21 and 0-11 on the road.
Who's your L.A. athlete of the year? Click here to cast your vote.
Arash Markazi is a columnist and writer for ESPNLosAngeles.com. Follow him on Twitter.
ESPNLosAngeles.com
Former columnist and writer after five years with Sports Illustrated
Markazi has also written for Slam, King, Vibe and Playboy
On board of directors for Jim Murray Memorial Foundation.
HINDSIGHT IS 2010: YEAR IN REVIEW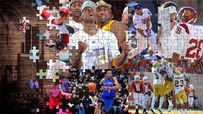 ESPNLA.com salutes the year that was, remembering the stories and images that mattered in Los Angeles.
YEAR-END FEATURES
THE YEAR IN PHOTOS