Commentary
Raiders' resurgence a team effort
Updated:
November 21, 2010, 3:25 AM ET
By
Arash Markazi
| ESPNLosAngeles.com
OAKLAND -- Rolando McClain sits at a table in the corner of Lucky Supermarket in Oakland. With bouquets of flowers to his left and protein bars to his right, the Oakland Raiders rookie linebacker stands to look at more than 100 fans wearing silver and black who have lined up to get his autograph Tuesday afternoon. The line, which includes a fan in a gorilla costume and one in a pirate outfit, stretches past six aisles and down the frozen food section, where the store's regular costumers must weave their way through the Raider Nation to do their grocery shopping.
[+] Enlarge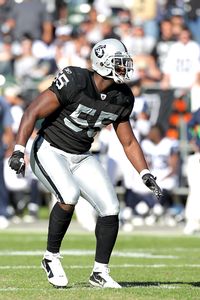 AP Photo/Greg TrottRolando McClain issued a challenge to Raiders fans because "I knew we were about to do something big."
Two weeks earlier McClain, who was accustomed to playing in front of sellout crowds on a weekly basis at Alabama, had issued a challenge to the fans in Oakland to finally sell out a home game. He made sure his challenge would be publicized by refusing to speak to the media until every seat was filled at the Oakland-Alameda County Coliseum.
"If the fans come out and we can sell out a damn game, I'll talk to the media," McClain said at the time. "Until then ... I need full fan support."
Surely it was a joke. The Raiders had gone 11 straight games without a sellout. Even after their 59-24 win over the Denver Broncos at Mile High, the Raiders were only able to attract 35,721 fans for their 33-3 win over the Seattle Seahawks on Halloween. You'd think more fans than that would want to show up simply to show off their costumes.
The turnout was almost as brutal as their Oct. 3 game against the Houston Texans, when 32,218 came out to see the Raiders lose 31-24. It was the franchise's lowest attendance since 1967 (not counting games played by replacement players) and the smallest in the NFL in more than five years.
But as McClain signed a Pepsi can with his picture on it Tuesday, he said he was serious about his challenge. "I didn't think we were going to sell out the next game but I knew we were about to do something big and I wanted the fans to come out and support us and they did."
If the Raiders are to turn a 2-4 start into their first playoff berth in eight years, their 23-20 overtime win over the Kansas City Chiefs two weeks ago in front of a sellout home crowd will be viewed as the turning point. It was the first time most of the players on the Raiders' roster had experienced what it was like to play in front of a crowd more known for the "Black Hole" than black outs.
"Even though I played at Alabama for three years and we always had a sellout, I've never experienced anything like that," McClain said of Oakland's first sellout of the season. "It was unbelievable. It was something new and it felt great. I just hope these fans continue to come out and support us and we have sellouts, because we're going to continue to play well."
The drawback of being a rookie on most NFL teams is you have no idea what it's like to play in the league. You have no understanding for the recent history of the team you were drafted by and no idea how your team was run before you got there. This is viewed as a major plus in Oakland, where changing the team's culture began with ridding the locker room of bad influences and infusing young players from winning programs.
Rookies -- such as McClain, who is third on the team in tackles, wide receiver Jacoby Ford, who had six catches for 148 yards and returned a kickoff 94 yards for a touchdown against the Chiefs, and starting offensive tackle Jared Veldheer -- have breathed new life into the team.
The Raiders view them as symbols of change rather than inexperienced players. The coaches and veterans embrace the rookies' ignorance of a streak of futility that stretches to when many of the players on the current roster were still in high school.
"If you haven't been through it, it's not really in your mind," said second-year wide receiver Louis Murphy, who won two national championships at Florida. "A lot of guys haven't been here for the drought. It's a good feeling when other guys come here from winning programs and we put that chemistry together."
Cable's their guy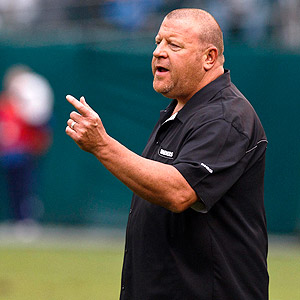 Jason O. Watson/US PresswireTom Cable is the longest-tenured Raiders coach since Jon Gruden left in 2001.
When Tom Cable was fired as Idaho's coach in 2003 after an 11-35 record in four seasons at his alma mater, he sat down and wrote a letter to himself. It was a to-do list written by a humbled, 39-year-old coach to his future self, whenever he got the chance to be a head coach again. It was littered with things he would have done differently but the first sentence, which he read again when he was named the Raiders' head coach two years ago, still resonates today.
"Just be yourself," Cable said.
It may seem simplistic but it was a far cry from the coach Cable was in college. Cable looked up to disciplinarians such as Bill Parcells, read books about Vince Lombardi and studied the likes of Bill Belichick and Mike Shanahan. As much as Cable wanted to emulate their styles and duplicate their results, he was never going to be a great coach until he followed his own advice.
"I'm very comfortable now," Cable said. "You have to kind of find your way through it a little bit. I understand what it takes to succeed. The opportunity has been given to me to try and get this thing going, so we just stay the course and keep working toward what we believe in."
Perhaps the most amazing number in the Raiders' resurgence is 37 -- the number of games Cable has spent as coach since taking over after Lane Kiffin's firing four games into the 2008 season. Cable is the longest-tenured Raiders coach since Jon Gruden left in 2001.
While Bill Callahan, Norv Turner, Art Shell and Kiffin have come and gone, Cable, who was Kiffin's offensive line coach, was the only head coach able to convince Al Davis he deserved more than two years to turn around the team. Well, that and Davis was probably unable to find anyone else willing to take the job, forcing him to be patient with Cable who, despite a 9-19 record before this season, was finally beginning to make some headway with the team.
Before the season began, Cable made it a point to have dinner with every player on the roster. He wanted to know about their lives, their families and their backgrounds.
"We didn't really talk about football," Raiders defensive tackle Tommy Kelly said. "He was asking how your family is doing and how you're doing. He was just trying to get to know his players and that goes a long way."
During the dinners, Cable asked each player what his favorite movie was, and has incorporated them in game film this season. So while the Raiders are preparing to go up to Pittsburgh this week to play the Steelers, they fully expect to see a scene from Cable's favorite film, "Miracle," the story of the 1980 U.S. men's hockey team that overcame odds to win Olympic gold.
Other than Sebastian Janikowski and Shane Lechler, the Raiders' kicker and punter since they were drafted in 2000, offensive lineman Langston Walker is the only other Raiders player who was with the team since the last time it went to the Super Bowl. It was a fact that hadn't occurred to Walker until a team meeting before the season opener.
"Coach Cable basically had all three of us stand up," Walker said. "He's like, 'Who was on this team the last time it went to the playoffs?' And it was just us three. I didn't really think of it like that, but as soon as he did it I was like, 'Wow, it's been a long time.'"
The symbolism of the three veterans standing up in a meeting room of 53 players, the motivational clips from "Patton," "Braveheart" and "Goodfellas" spliced into game film and the life talks over dinner have all endeared Cable to his players and made them believe he is the coach to lead the Raiders back to the playoffs.
"A lot of times teams reflect their coaches," Walker said. "And this team is starting to reflect Coach Cable.''
Believing in each other
[+] Enlarge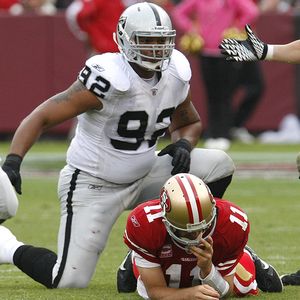 AP Photo/Paul SakumaRichard Seymour has been a positive influence for the Raiders.
When the Dallas Cowboys traded for Charles Haley in 1991, taking the disgruntled pass rusher from the San Francisco 49ers, Al Davis called Cowboys owner Jerry Jones.
"Congratulations Jerry, you just won the Super Bowl," Davis said.
Haley was a back-to-back Super Bowl champion heading to the youngest team in the NFL. He was the final piece to a Cowboys team that won three Super Bowls in four years.
No one called Davis last year when the Raiders traded their 2011 first-round draft pick to the New England Patriots for Richard Seymour, a three-time Super Bowl winning pass rusher. Sure, Davis and the Raiders were called many things after the trade, but none of them were of the congratulatory variety. Yet no move, outside of the release of former No. 1 pick JaMarcus Russell in May, has paid bigger dividends on the field and in the locker room.
Seymour, who has five sacks and 39 tackles this season, became the most respected player on the team and raised the expectations of everyone around him. He gathered his teammates when they were down 10-0 to the Chiefs two weeks ago and reminded them that they would be defined by moments like this. Would they be known as fighters or quitters when they were faced with adversity? It was the kind of moment and the kind of speech the Raiders weren't used to and the result -- an interception on the ensuing drive and a 23-20 win -- is something the Raiders are still getting used to.
"Coming in I didn't have any expectations," Seymour said. "It was a new situation. I was feeling my way around, just taking the time to know my teammates, the coaching staff and the philosophy, and working my way to where I could be effective. & But the best teams in the league can win in November and December. That's when teams separate themselves.''
It's the kind of mindset and philosophy only a player like Seymour can bring to a team that started the season 2-4 for the eighth straight time. The past seven seasons resulted in at least 11 losses. This time around the Raiders won three straight games for the first time and find themselves atop the AFC West.
Cable and the players in the Raiders' locker room say they never felt they were heading toward a familiar free fall this season. There was a different feeling in training camp that extended into the season. They were in all but one game they played and felt they were a play or two away from being atop the division a couple weeks earlier. Instead of pointing fingers after games, the Raiders worked with each other in practice and in the film room to correct their mistakes. The rebuilding project has been as much about getting back to fundamentals as anything else.
"When they started to buy into communicating with each other in the very beginning it seemed to permeate and go all through camp," Cable said. "We had learned to appreciate each other and respect each other's opinion. That's hard to do sometimes at this level. "But when you get them willing to talk to each other and learn about each other, it kind of makes you understand where a guy's coming from sometimes. Once we started communicating then we gave ourselves a chance."
The Raiders have given themselves a chance to win the AFC West and get back to the playoffs for the first time in eight years. It's a sight almost as unbelievable as a sold out Oakland-Alameda County Coliseum on a Sunday afternoon.
Arash Markazi is a columnist and writer for ESPNLosAngeles.com. Follow him on Twitter.
ESPNLosAngeles.com
Former columnist and writer after five years with Sports Illustrated
Markazi has also written for Slam, King, Vibe and Playboy
On board of directors for Jim Murray Memorial Foundation.