AEG reveals L.A. NFL stadium designs
Updated:
December 16, 2010, 5:59 PM ET
By
Arash Markazi
| ESPNLosAngeles.com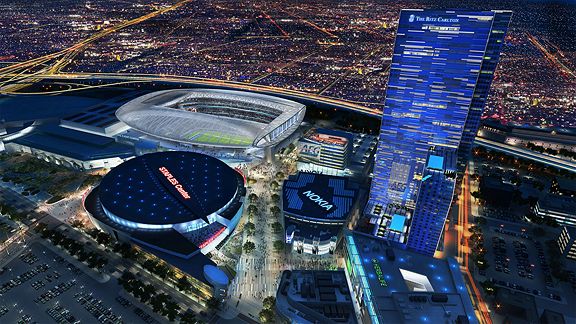 Rendering by Gensler ArchitectureGensler Architecture submitted their rendering of what the downtown NFL stadium would look like, one of three finalists AEG is considering to design the billion-dollar facility.
LOS ANGELES -- A week after Tim Leiweke, president and CEO of AEG, formally laid out a timeline and proposal to build a $1 billion football stadium and events center in downtown Los Angeles, AEG revealed architectural renderings of the proposed venue from three design firms.
The three firms were picked from an original field of nine and AEG will choose a design and work on the entitlement process with the City of Los Angeles within 30 days.
AEG has hired ICON Venue Group, a project management firm that worked on Denver's Invesco Field, to act as AEG's representative in the process after working with the group to build the 02 Arena in London.
Tim Romani, president of ICON Venue Group, said Wednesday the project would be built within AEG's $1 billion budget and on the proposed site, which is where the Los Angeles Convention Center's West Hall currently sits. The plan is to first tear down the West Hall, build a $350 million replacement and then begin construction on a 75,000-seat retractable roof stadium. If all goes as planned, construction on the new stadium would begin by 2012 with the stadium ready to be opened in time for the 2015 NFL season. AEG is also hoping the new stadium will host the Super Bowl in 2016, which would be the 50th anniversary of the first Super Bowl, which was held at the nearby Los Angeles Memorial Coliseum.
Each design firm's vision for the stadium was as distinct as their backgrounds. The first firm, Gensler, has never designed an NFL stadium but worked with AEG on the Staples Center as well as the L.A. Live campus, designing the new 54-story JW Marriott and Ritz Carlton hybrid tower across from Staples Center. The second firm, HNTB, designed Invesco Field but almost as importantly in the eyes of AEG, HNTB is also working on the Las Vegas Convention Center renovation and expansion. Leiweke said last week that as much as he wants the NFL to return to Los Angeles, increasing Los Angeles' convention and tourism business is even more important to him. The third firm, HKS, has the most experience in designing NFL stadiums, having designed the new Cowboys Stadium in Arlington, Texas, and Lucas Oil Stadium in Indianapolis, the host sites of the next two Super Bowls.
"I'm blown away by the amazing creativity and different approaches," said Ted Tanner, executive vice president of AEG Real Estate Development. "That's what's so exciting about this process."
IT'S L.A., AND IT'S LIVE

For more coverage of the complete Los Angeles sports scene, visit ESPNLA.com. »
Tanner reiterated Leiweke's stance last week that AEG is hoping to reach an agreement with the city, an agreement with the NFL and at least an understanding of the team that will be moving to Los Angeles within the next three months. Although no NFL team can move to Los Angeles until the league's current labor dispute is resolved and it will be at least a year before the league can approve a transfer, Tanner said AEG would begin construction if they received strong enough indications a team would move to the new stadium.
"That's the intent," Tanner said. "Conversations would continue."
If construction on the new downtown stadium begins, it seems the countdown to the return of the NFL to Los Angeles can commence as well. While AEG will not be able to officially announce which NFL team will be playing in their new stadium, all indications are the stadium will not be built without at least some assurance that an NFL team will be playing in it once it opens. Asked if a stadium would be built without an NFL team, Tanner said, "I don't think so."
Arash Markazi is a columnist and writer for ESPNLosAngeles.com. Follow him on Twitter.
ESPNLosAngeles.com
Former columnist and writer after five years with Sports Illustrated
Markazi has also written for Slam, King, Vibe and Playboy
On board of directors for Jim Murray Memorial Foundation.