Commentary
A 16-year rocky relationship
Why no NFL team in L.A.? It's a study of power brokers and bureaucratic morass
Updated:
February 5, 2011, 2:55 PM ET
By
Arash Markazi
| ESPNLosAngeles.com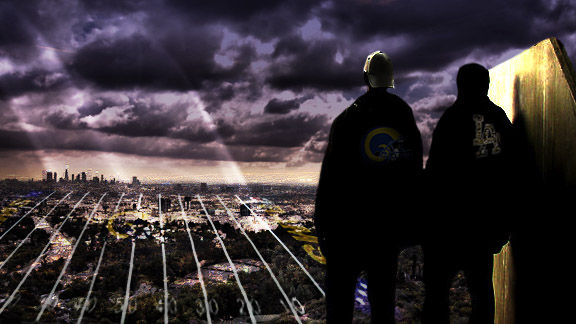 Mike Cellucci/ESPN.com
L
OS ANGELES -- When the NFL finally does make its long-awaited return to Los Angeles, there will be a winning team and a losing team long before Los Angeles' new football team ever plays its first game in its new stadium. It's the one constant theme that hasn't changed during the city's disjointed, disorganized and disorderly attempt at attracting an NFL team back to the city since the Raiders and Rams left in 1995. There have always been competing groups and proposals, none anyone can agree on, and therefore none that have resulted in a team or a stadium.
In a city in which everyone wants a piece of the action, the insistence of developers and politicians to cling to their perceived piece of the action has left Los Angeles with no action to speak of on Sundays in the fall.
Los Angeles' pursuit of an NFL team has resembled an ongoing, never-ending, filibustering campaign between a myriad of candidates from various locales over the years. Instead of a unified group with a singular vision joined together by the common goal of bringing an NFL team to Los Angeles, the league has come to view L.A. as an endless caucus of talking heads with enough hollow promises to fill two decades worth of campaign speeches and enough meaningless artist renderings to fill a museum.
The debate rages on to this day with, again, two competing groups from two competing sites (one led by billionaire Ed Roski in the City of Industry and the other by his old friend and business partner, Philip Anschutz, in downtown Los Angeles), each claiming it should be the future home of the NFL in Los Angeles.
The stadium predicament is one of the biggest reasons the most popular professional sports league in the country hasn't had a team in the second biggest media market in the country for the past 16 years. But it is far from the only reason Los Angeles has been an afterthought for a league that has successfully proven you don't necessarily need to be in big markets to become the biggest juggernaut in professional sports.
---
---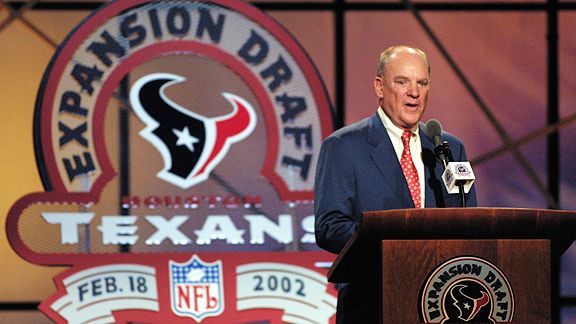 Ronald Martinez/Getty ImagesL.A.'s NFL expansion hopes were squashed when Bob McNair and Houston were awarded a franchise.
HOUSTON, WE HAVE A PROBLEM
Blame it on Enron.
Of all the things that the disgraced Houston-based energy company has been blamed for in the aftermath of one of the largest and most complex scandals and bankruptcies in U.S. history, playing a role in costing Los Angeles an NFL team has never been one of them. In hindsight, however, it's one of the more interesting footnotes to L.A.'s laundry list of bad-beat stories when it comes to the NFL.
When Houston billionaire Bob McNair swooped in 12 years ago and made the NFL an offer it couldn't refuse, claiming the league's 32nd franchise after the NFL had already earmarked the expansion team for Los Angeles, he did so with a fortune he made through a business deal with the company that would two years later become the symbol for corporate fraud and corruption.
Early in 1999, McNair sold his cogeneration company, Cogen Technologies, to Enron for $1.5 billion in cash and stock and immediately sold the stock at its peak, long before Enron's bankruptcy in 2001. After initially being passed over by the league to bring an expansion team to Houston in March, he used the money he made from the sale to blow away NFL owners when he met with them again in October.
Empire building

Since the Rams and Raiders each played their last game as a Los Angeles team in 1994, 21 stadiums have been built for 22 teams:
Year Stadium
Franchise
1995 Edward Jones Dome
St. Louis Rams
1995 EverBank Field
Jacksonville Jaguars
1996 Bank of America
Carolina Panthers
1997 FedEx Field
Washington Redskins
1998 Raymond James
Tampa Bay Buccaneers
1998 M&T Bank
Baltimore Ravens
1999 LP Field
Tennessee Titans
1999 Cleveland Browns
Cleveland Browns
2000 Paul Brown Stadium
Cincinnati Bengals
2001 Heinz Field
Pittsburgh Steelers
2001 Invesco Field, Mile High
Denver Broncos
2002 Ford Field
Detroit Lions
2002 Qwest Field
Seattle Seahawks
2002 Gillette Stadium
New England Patriots
2002 Reliant Stadium
Houston Texans
2003 Soldier Field
Chicago Bears
2003 Lincoln Financial Field
Philadelphia Eagles
2006 Univ. of Phoenix
Arizona Cardinals
2008 Lucas Oil Stadium
Indianapolis Colts
2009 Cowboys Stadium
Dallas Cowboys
2010 New Meadowlands
NY Giants & NY Jets
When Los Angeles was initially awarded the NFL's 32nd franchise in March it was contingent upon meeting certain league demands, including coming up with a solid financing plan, settling on one ownership group and one stadium site within six months. Los Angeles swung and missed on all three fronts.
Visits to Los Angeles over the next two months by NFL executives only confirmed what they had feared from the league's offices in New York: Things were an absolute mess. There were competing ownerships groups from competing sites and none of them could be bothered with actually coming up with a feasible financing plan as each tried to undercut the other's proposal. Growing increasingly wary of the politics and lack of progress in Los Angeles, the league informed McNair that Houston was back in the picture. This time, McNair made sure he wouldn't return home empty-handed.
No one, certainly not the two Los Angeles ownership groups (again, there are always two) in attendance at the owners meetings in Atlanta on Oct. 5, 1999, to decide on the fate of the expansion franchise, could have foreseen the bid McNair was about to make.
McNair offered a staggering expansion fee of $700 million and outlined the building of Reliant Stadium, a $350 million state-of-the-art football palace that would feature a retractable roof, the first in league history. To put the financial commitment into context, five months earlier Daniel Snyder headed a group that bought the Washington Redskins, Jack Kent Cooke Stadium and the team's training facility for $800 million, a record price for any sports franchise at the time. Six years earlier the expansion fee for the Carolina Panthers and Jacksonville Jaguars was $140 million.
Los Angeles' counter? Entertainment executive Michael Ovitz and grocery magnate Ron Burkle offered an expansion fee of $400 million and a proposed stadium on the parking lot of Hollywood Park. Billionaire developers Ed Roski and Eli Broad offered an expansion fee of $500 million and a redesigned Los Angeles Memorial Coliseum, a venue the league had long ago dismissed and never really considered when it was presented again in a last-ditch effort.
Game. Set. Match. Los Angeles had essentially lost its third NFL team in five years.
The only reason there was even a game to speak of in the first place was the NFL's desire to be back in Los Angeles, a feeling that seemed to fade away as quickly as other late 1990s fads such as the Spice Girls and "Dawson's Creek." When Houston won the last expansion franchise the league was planning to offer for the foreseeable future, Los Angeles was destined to serve as nothing more than leverage for teams looking for their cities to build them new stadiums. The Cincinnati Bengals, Arizona Cardinals, Tampa Bay Buccaneers, Seattle Seahawks and Indianapolis Colts are just a sampling of teams that thought to have leveraged a move to Los Angeles in order to get new stadiums. Seattle famously shipped some of its equipment to the Rams' old facility in Anaheim and closed its offices in Kirkland, Wash., one offseason before billionaire Paul Allen bought the team from Ken Behring and built Qwest Field in 2002.
Since the Raiders and Rams played their last games in Los Angeles and Anaheim on Christmas Eve 1994, 21 new stadiums have been built for 22 teams. The feeling in some circles is that Los Angeles might be rewarded for its indirect participation in this unprecedented stadium boon when the other 10 teams are taken care of. Even then, some feel Los Angeles might still be used to drive up the price tag for the next expansion city.
"After Des Moines gets an NFL franchise they may think of L.A.," said former California Gov. Gray Davis on his perception of of the league. "After they've ransomed money from every other city, they might come back to L.A. If we won't pay a ransom to get an NFL team, they can't go to the next city to demand a ransom so we have to be the last city on their list."
Los Angeles went from a priority as the No. 2 media market in the country to the butt of league jokes after the laughable meetings that October day in Atlanta, perhaps the last day Los Angeles was ever really close to seeing the NFL return. The city was given an expansion team and instead of rallying around one person to hold the ball high and tight and cross the goal line, L.A.'s players tried to rip the ball from each other, hoping to claim the glory for themselves, before eventually fumbling it away to McNair, who scored an easy touchdown for Houston.
While McNair's plan had the financing in place and the backing of the city (including the all-important public financing Los Angeles could never offer), Ovitz, a marketing genius who was the clubhouse favorite among league owners, was barely familiar with the Hollywood Park site. The founder of Creative Arts Agency, Ovitz's NFL dream began at the Coliseum then shifted toward a mission-themed stadium and entertainment complex called the "Hacienda" in Carson. Then the league advised him to scrap those plans and join the Coliseum efforts. He did so, but in competition with, not in partnership with, the Roski-Broad group. Then a week before the owners meetings in Atlanta, according to media outlets at the time, the league advised Ovitz to scrap his Coliseum plans and pick up the options on the Hollywood Park land vacated by billionaire Marvin Davis, who dropped his plans to build a stadium on the site and own a team almost as abruptly as he announced them. That this hastily put together proposal in Inglewood was the runner-up to Houston's bid only highlights how far Los Angeles had fallen out of favor with the league by the end of this ordeal.
Ovitz, Hollywood's ultimate dealmaker, the mastermind behind landmark mergers such as Matsushita Electric's acquisition of MCA/Universal and Sony's acquisition of Columbia Pictures, was never able to broker the one deal that meant the most to him.
"This has been a long, arduous ordeal," Ovitz said to news agencies at the time. "I started at the Coliseum, they asked me to go to Carson and I did, they asked me to go back to the Coliseum and I did, then they asked me to go to Hollywood Park. I've done everything they asked. I played by their rules."
In the end, Houston, not Los Angeles, would open the 2002 NFL season in its new stadium, with the Houston Texans playing the Dallas Cowboys on "Sunday Night Football." Two years later Houston, not Los Angeles, would host Super Bowl XXXVIII. While Janet Jackson and Justin Timberlake were engaged in their "wardrobe malfunction" during halftime of the game at Reliant Stadium, the first Lingerie Bowl pay-per-view event was taking place in Los Angeles at the Coliseum. The city and the dilapidated stadium, needless to say, continued to be the butt of jokes long after losing their expansion team.
---
---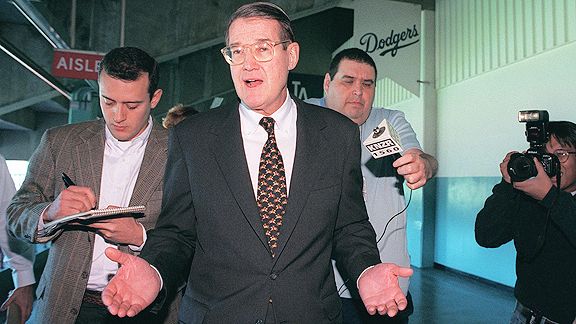 AP Photo/Mark J. TerrillPeter O'Malley had a plan to build an NFL stadium at Chavez Ravine. That too fell apart.
THE LOS ANGELES FOOTBALL DODGERS
T
he NFL has returned to every city it has vacated in the modern era (Oakland, Baltimore, St. Louis, Cleveland and Houston) except Los Angeles, which has been without an NFL team longer than any of its predecessors. For all the fans the Raiders accumulated during their 13-year stint in Los Angeles, it has been 16 years since they moved back home to Oakland.
The last city to lose an NFL team and never get one again was Brooklyn, when the Brooklyn Tigers (previously known as the Brooklyn Dodgers from 1930 to 1943) folded in 1945. The team played its home games at Ebbets Field and on Oct. 22, 1939, made NFL history when the Brooklyn Dodgers played the Philadelphia Eagles at Ebbets Field in the first NFL game shown on television. The Dodgers beat the Eagles that day 23-14.
"

It was politics that changed the destiny of the sports structure in Los Angeles. Peter [O'Malley] wanted to help bring an NFL team to Los Angeles and if that would have happened I believe he would have maintained ownership of the Dodgers. The NFL liked and respected everything about Peter and Dodger Stadium and rightfully so.

"

-- Fred Claire, the former exec. vice president and general manager
of the Dodgers
Coincidentally, one of Los Angeles' best chances to attract a team back to the city would have included the Dodgers making a return to the NFL. Less than a month after the Raiders joined the Rams as former Los Angeles residents, leaving the city without professional football for the first time since 1946, Dodgers owner Peter O'Malley agreed to build an NFL stadium and operate the expansion team at the request of Los Angeles mayor Richard Riordan.
Chavez Ravine was the perfect site, O'Malley was the perfect owner and the project, most importantly, had the backing of the city and the league, which was hoping to put a team back in Los Angeles by 1998 if everything went according to plan. The timing for the city in retrospect was also perfect, as Cleveland still had the old Browns and Houston still had the Oilers when these talks began. Los Angeles would have been essentially alone in its expansion bid.
A year later, after O'Malley had already spent $1 million on the project and accumulated partners and allies, Riordan pulled the plug. It was simply a political decision. Staples Center was nowhere near a reality in 1996 and in order to win over certain politicians with ties to the Coliseum, most notably Councilmen Mark Ridley-Thomas and the late John Ferraro, Riordan promised to rally the city's support behind the Coliseum as the only viable site for an NFL team in Los Angeles even though the league had already said it wasn't an option when the Raiders left. USC graduates Ridley-Thomas and Ferraro recruited Roski, a fellow Trojan who was developing Staples Center, to help them develop the new Coliseum after they worked together to make Staples Center a reality. It was the ultimate quid pro quo.
"Mark said during the negotiations, 'We're going to get this done, but you guys have to come down and help us out at the Coliseum when we're done,'" said John Semcken, Roski's partner who would become the vice president of the New Coliseum Partners. "They made it clear, if we helped them, they would help us, and Ed shook his hand and that's all the agreement he needed. It was obviously much, much harder than we thought it was going to be."
Staples Center was eventually built but the political battles waged to make it happen possibly cost Los Angeles an NFL team and the Dodgers their beloved owner. Four months after O'Malley was told to drop his NFL plans and support the Coliseum, he announced he was selling the team and Dodger Stadium, eventually agreeing to a deal with Rupert Murdoch's Fox Entertainment Group. The NFL and the new football stadium were going to help O'Malley diversify his revenue stream and allow him and the Dodgers to keep up with the likes of the New York Yankees. Once that dream was taken away, he did what he thought was best for himself and the team and sold to the highest bidder.
"If Peter had continued to receive the backing of the mayor [Riordan] and city officials to pursue his dream of an NFL franchise, it's very likely Los Angeles would have an NFL team today and the O'Malleys would still own the Dodgers," said Fred Claire, the former executive vice president and general manager of the Dodgers, who wrote about the turn of events that forever changed the sports scene in Los Angeles in his book, "Fred Claire: My 30 Years in Dodger Blue."
"It was politics that changed the destiny of the sports structure in Los Angeles," he said. "Peter wanted to help bring an NFL team to Los Angeles and if that would have happened I believe he would have maintained ownership of the Dodgers. The NFL liked and respected everything about Peter and Dodger Stadium, and rightfully so."
Fifteen years later, the Dodgers are left with the Frank and Jamie McCourt divorce mess, Los Angeles is still without an NFL team, and, well, at least Staples Center looks nice.
---
---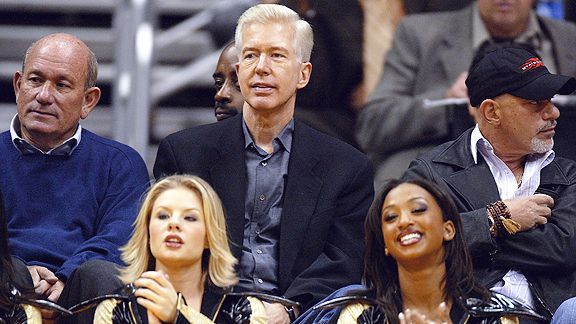 Vince Bucci/Getty ImagesFormer California Gov. Gray Davis was adamant about not spending state money on a stadium.
I LOVE YOU, I LOVE YOU NOT
Coliseum general manager Pat Lynch still has the picture up in his office. The oversized photo shows former NFL commissioner Paul Tagliabue standing in front of the statues on the paristyle end of the Coliseum with Ridley-Thomas and Riordan by his side, proclaiming the NFL is coming back to Los Angeles and to the Coliseum. It was taken April 20, 1999, a month after the NFL awarded Los Angeles an expansion franchise.
"We had worked that pretty hard," Lynch said. "The NFL owners did a bus tour of the area and USC. They invested a lot of time and effort into that. It looked like it was going to happen."
The photo illustrates perhaps the high-water mark of the love-hate relationship between the league and the Coliseum since the Raiders became the third professional football team (following the Chargers and Rams) to leave the Coliseum. When the Raiders abandoned the Coliseum in 1995, the league vowed never to return to the site again. It was an understandable stance. Not only was the Coliseum, built in 1923, outdated but its surrounding area wasn't considered fan friendly. In fact, the league didn't host a night game at the Coliseum during the Raiders' last 10 seasons in Los Angeles, forcing the Raiders to play 19 straight "Monday Night Football" games on the road. The league then changed its stance in 1996, saying the Coliseum was a viable site, after a presentation from Ridley-Thomas and other city officials at an owners meeting in New Orleans. A year later, however, they would have a reversal of their reversal and say the Coliseum had too many obstacles to be seriously considered.
"

We really were tone-deaf to the fact that the NFL was just unwilling [to] consider [the Coliseum] as a viable site for an NFL team.

"

-- Antonio Villaraigosa,
mayor of Los Angeles
"We really were tone-deaf to the fact that the NFL was just unwilling [to] consider [the Coliseum] as a viable site for an NFL team," said Los Angeles mayor Antonio Villaraigosa in an interview with ESPN's "Outside the Lines" in December.
The problem was the league never stayed uncommitted to the Coliseum for too long. If the league and the city had taken a hint that this flip-flopping was only a sign of things to come, then perhaps it could have saved everyone involved millions of dollars and 10 years worth of false starts, but it didn't matter. City officials insisted on the publicly owned Coliseum as the only site for an NFL team, killing off any potential challengers in the area, including short-lived bids by R.D. Hubbard at Hollywood Park, retired Arco president Lodwrick Cook in South Park, Roski and Anschutz near Staples Center and Frank McCourt at Dodger Stadium. Similarly doomed proposals in Pasadena, Anaheim, Carson and Irwindale were scrapped almost as quickly as they were announced.
"I think it was a mistake for the league not to make it happen at the Coliseum," Ridley-Thomas said. "They thought to do so but there was a lack of commitment at the time from California Gov. Gray Davis, who took a pass on making an investment in Exposition Park, which he could have done because it's a public asset."
Davis did more than simply take a pass on making an investment in Exposition Park and the Coliseum; he really took a pass on endorsing Los Angeles as a viable NFL market when Tagliabue called him during the summer of 1999 when talks with the Coliseum had hit a standstill.
"I said, 'Well, two things Mr. Commissioner, I grew up on the East Coast and I remember my family would go to Giants games, but it's a very different tradition out here,'" Davis recalls. "'There are so many other options for people in California. Unlike the East Coast, where I grew up in New York City where people live and die to go see the Jets and the Giants, out here it's almost always sunny, you can go to the beach, you can go to the mountains, you can go out running and hiking, you can do whatever you want 365 days a year. So there's less collective interest in going to a sporting event. You can participate in one, so why bother watching one?' "
The conversation went from the NFL commissioner calling California's governor to gauge Los Angeles' interest in an NFL team to a couple of East Coasters talking about the clichéd apathy of the L.A. sports fan.
"He says, 'We just took a poll and 60 percent of the people in L.A. County think the football teams never left.' This is almost five years after the Raiders and Rams left and people still think they're playing football in L.A.," Davis said. "The NFL is a big deal in the East and Midwest and part of the South. It is not a big deal in L.A."
Needless to say, Davis wasn't about to spend any public money to help Los Angeles get an NFL team, which, in his mind, wasn't a big deal to its citizens in the first place. (At least those that even knew their teams had left.) After sending his friend and investment banker Bill Chadwick to break the impasse between the NFL and the L.A. group, Davis pulled the state out of the negotiating process, convinced Los Angeles was being used as leverage to drive up the price tag for Houston. He released a statement on Aug. 5, 1999, saying "The NFL has to appreciate that there are a number of higher priorities for the use of public funds in California than attracting an NFL team."
Knowing the Coliseum's proposal wasn't going to work without some form of public funding, that same day, the league announced it had abandoned its exclusive focus on the Coliseum as the potential home of a new franchise. Most involved in the process agree that was the day Los Angeles' dream of getting an expansion team died. Sure, it would be two more months before it became official, but after working on the Coliseum for the past four years, no other site, especially a last-ditch effort at Hollywood Park, was going to beat an already superior Houston proposal with just two months to prepare.
IT'S L.A., AND IT'S LIVE

For more coverage of the complete Los Angeles sports scene, visit ESPNLA.com. »
The Coliseum's last serious flirtation with the league came in 2006 when the NFL was looking at the Coliseum, the Rose Bowl and a proposed stadium on the parking lot of Angel Stadium, to be the home of a relocated team or two and part of the Super Bowl hosting rotation. Talks were mostly of the hypothetical variety (no teams were actually involved) and it seemed like a last-ditch effort by Tagliabue to have a hand in putting a team in Los Angeles before stepping down as the commissioner. Considering the proposal called for the league to foot the bill for stadium costs, which exceeded $800 million, the optimism shared by the Coliseum Commission and the City Council seemed unfounded. Villaraigosa and members of the Los Angeles City Council at one point even wore T-shirts proclaiming "Coliseum 2010" while clutching footballs at a media event/pep rally, complete with a marching band. When the owners looked at the Coliseum proposal at the end of 2006 they passed, marking the last substantial talks between the two star-crossed sides.
"We went as far as we could go with it and made the presentation to the owners and the owners said thanks, but no thanks," Lynch said. "This went against the wishes of Commissioner Tagliabue, who really wanted a team here. They said it wasn't worth it and they ceased the effort. There wasn't an ownership group at the time willing to pay for a team to go to L.A. We were just doing a generic deal that would have worked for a team."
A year later, on Nov. 27, 2007, Villaraigosa finally gave up on the city's decadelong insistence on the Coliseum as the only viable venue for an NFL team in Los Angeles. He released a statement which said, "While I remain committed to bringing a professional team to Los Angeles, it is time to read the scoreboard: the Coliseum is no longer a viable option for the NFL." The Coliseum shut the door on the NFL soon after on Feb. 14. 2008, inking a 25-year lease with USC, extendable to 47 years, which gives USC veto power over an NFL team returning to the Coliseum. USC would exercise that option if it was ever forced to. One of the main reasons for the agreement in the first place was to switch the Coliseum's focus from attracting an NFL team to incrementally improving the current stadium and taking care of its 88-year tenant, not potentially leaving the Trojans homeless during a massive two- to three-year reconstruction.
"It seems reasonable to assert that [the Coliseum] ship has sailed, but having said that I believe that was a missed opportunity for the NFL," Ridley-Thomas said. "If there's some notion that's being entertained currently related to a public investment or public financing of a stadium in this region, they missed their opportunity."
---
---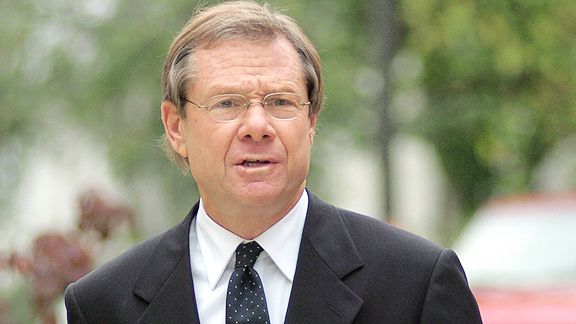 AP Photo/Matthew S. GunbyMichael Ovitz, who brokered huge deals in his career, could not convince the NFL to return to L.A.
SHOW ME THE MONEY
T
o understand why Los Angeles doesn't have an NFL team 16 years after the Raiders and Rams left, you first need to understand why they left in the first place. Both teams were playing in outdated stadiums, with the Raiders sharing the Coliseum with USC and the Rams sharing Anaheim Stadium with the Angels. In a perfect world, the Raiders and Rams would have had their own state-of-the-art facilities. In a reasonable world the facilities they were in would have been drastically renovated to include luxury suites and club seats to bring in additional revenue streams needed to compete in the NFL.
Neither team got anything remotely close to perfect or reasonable accommodations and subsequently left town.
Nearly two decades later, the Coliseum has made only slight renovations and Angel Stadium was converted into a baseball-only park in 1998. Yet Los Angeles still wonders why it doesn't have an NFL team.
The problem is virtually every new sports venue in the country includes some form of public financing, which is almost impossible to achieve in California.
"

Even in boon times, Californians are very suspect of allocating public money to build a stadium. In bad times it's simply impossible. The state has a tradition of not spending public money on stadiums or arenas. For example, 1999 and 2000 were good years in California and even in those good times there was no appetite in spending public money.

"

-- Gray Davis, former
governor of California
"Even in boon times, Californians are very suspect of allocating public money to build a stadium. In bad times, it's simply impossible," Davis said. "The state has a tradition of not spending public money on stadiums or arenas. For example, 1999 and 2000 were good years in California and even in those good times there was no appetite in spending public money."
The Coliseum and Rose Bowl broke ground in 1921 and opened in 1923. Since then no new football stadiums have been built in or around Los Angeles. It's not only a Los Angeles problem. Outside of Lambeau Field, the three oldest stadiums currently in the NFL are all in California: Candlestick Park (1960), Oakland-Alameda County Coliseum (1966) and Qualcomm Stadium (1967). It's even an issue in Major League Baseball, where the three oldest ballparks outside of Wrigley Field and Fenway Park are in California: Dodger Stadium (1962), Angel Stadium (1966) and, again, the Oakland-Alameda County Coliseum (1966). The Raiders' move from one old stadium to another one continues to be one of many reasons their move back to Oakland hasn't been as fruitful as expected. Since returning to the Bay Area, 83 of the Raiders' 128 home games have been blacked out on TV after failing to sell out.
The lack of a new, state-of-the-art stadium has also cost California the opportunity to host the country's biggest events. Eleven of the first 37 Super Bowls were held in California, with seven of the first 27 held in the Greater Los Angeles area, far and away the most of any region during that span. The league, however, will not hold another Super Bowl in California until there is a new stadium. Add to the mix the Final Four, which was last held in California in 1975 at the old San Diego Sports Arena, and the state of California is out of the "big event" business until a new facility is built.
The biggest misconception when discussing Los Angeles' attractiveness as a market is thinking every NFL owner would salivate at the prospect of having a team in the second biggest media market in the country and the entertainment capital of the world. That is simply not the case in the NFL's egalitarian model, in which all national revenues are equally divided among the 32 teams. In the NFL, the amount of money a team can generate from its stadium with as little risk as possible is what NFL owners are after. So if they can get their state, city or county to completely subsidize the stadium while giving 100 percent of the revenue to the owner, as is the case in many NFL cities, that's the best possible deal. That would never happen in Los Angeles and therefore moving an NFL team to L.A. has never made financial sense for an owner with a better deal in a smaller market.
This might also help explain why the NFL isn't looking to expand anytime soon. Not only are the league's 32 teams perfectly aligned at the moment -- two 16-team conferences, each with four divisions of four teams -- but current owners are not looking to reduce their current cut from 1/32 to 1/33 and later to 1/34.
---
---
WHEN IS 'SOMEDAY?'
T
he age-old belief that the NFL needs Los Angeles more than Los Angeles needs the NFL has been debunked over the years. Just look at the league's TV contracts, which went from $900 million per year when they had to two teams in Los Angeles to $3.1 billion per year with no teams in the market. That figure is expected to double after the current contract runs out following the 2013 season, with or without an NFL team in L.A. Meanwhile, the state of California is $25 billion in the red and could certainly use the economic impact of big events, such as the Super Bowl, the Final Four and national conventions.
To attract any NFL team to Los Angeles, however, someone first has to privately finance a stadium. Again, California likely won't sign off on any public money and NFL owners want to avoid any and all risks in this department. Then you have to convince an NFL owner that the revenue he would generate off this new stadium would exceed what he's currently making. Then, for the venture to work for the developer, that person would either have to become a part owner of the team or diversify the revenue stream of the building enough by holding other events that he's making money off more than just 10 NFL games a season, thus making the investment worth it even after giving the NFL team its cut.
If it sounds complicated, unlikely and altogether impossible, just ask Ovitz, Broad, Burkle, Davis, O'Malley and every other person who has come and gone in this ongoing battle to bring the NFL back to Los Angeles.
"I think it will happen someday," Davis said. "Whether it happens in my lifetime or your lifetime, I don't know, but I think one day it will happen."
Arash Markazi is a columnist and writer for ESPNLosAngeles.com. Follow him on Twitter.
ESPNLosAngeles.com
Former columnist and writer after five years with Sports Illustrated
Markazi has also written for Slam, King, Vibe and Playboy
On board of directors for Jim Murray Memorial Foundation.
THE NFL IN LOS ANGELES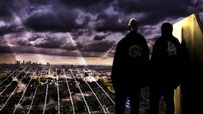 Why is there no NFL team in Los Angeles, the country's second-largest market? It's a study of power brokers and bureaucratic morass stretching over 16 years. ESPNLA takes a look at the history, the present and the future.
THE BITTER 16