Report: July 31 deadline for L.A. stadium
Updated:
June 3, 2011, 12:11 AM ET
ESPNLosAngeles.com
AEG president and CEO Tim Leiweke wants the Los Angeles City Council to approve his plan for a downtown NFL stadium by July 31, or else he says the project could be abandoned, according to a Thursday report.
"We will know by July 31, one way or another," Leiweke told the Los Angeles Times.
The Times reported that while the complexities of a fully defined deal "would take months," Leiweke would settle for a "memorandum of understanding" to be approved by the City Council before its summer recess begins Aug. 1.
Leiweke is looking for the city to provide $350 million in municipal bonds to help with the process of situating Farmers Field next to the Convention Center but has said that revenue generated by the project will eventually cover that cost, according to the Times report.
"I don't think we're meeting with resistance," he told the Times. "I think it's the reality of taking on the huge challenge of using football as an opportunity to also create a vision that gets this city in the top five in the events/convention business."
Gerry Miller, who represents the city's group that is involved in negotiations with AEG on the stadium deal, declined to comment to the Times.
THE NFL IN LOS ANGELES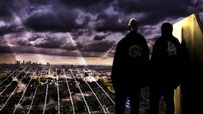 Why is there no NFL team in Los Angeles, the country's second-largest market? It's a study of power brokers and bureaucratic morass stretching over 16 years. ESPNLA takes a look at the history, the present and the future.
THE BITTER 16