Commentary
A lighter Selanne stares at 600
Updated:
February 8, 2010, 5:58 AM ET
By
Tom Murray
| ESPNLosAngeles.com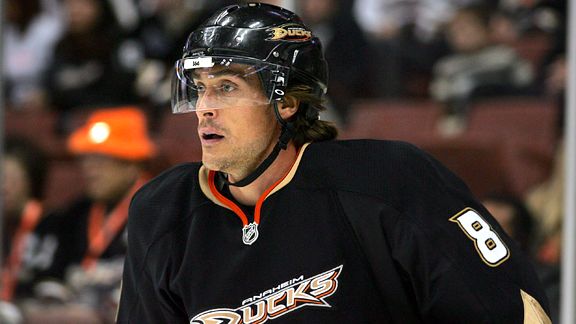 Gary A. Vasquez/US PresswireTeemu Selanne is just four goals shy of 600 career goals.
The game has been over for close to an hour when he finally emerges from the shower and heads for the stall tucked into a corner of the visitors locker room at Staples Center. From the waist up, Teemu Selanne looks more like a marathon runner or a soccer player -- a lot more sinew than muscle.
"I've lost 13 pounds," he says, shaking his head and smiling through a clenched jaw that was fractured after being hit by a deflected shot in a game last month. "For the last week or so, I've been eating normal food -- nothing hard, salmon, pasta, that kind of stuff -- but for 12 days I had only liquid. It's unbelievable how much weight you lose."
It's been that kind of a season for the Anaheim Ducks dynamic forward: He missed 17 games with a broken hand, sustained as he was trying to block a shot. It sidelined him for over a month, from early December to January. And then, less than a week after getting back into the lineup, a deflected puck smashed into his face as he lurked around the front of the net, looking for a deflection or a rebound. That knocked him out of the lineup for another eight games.
Now, as Selanne starts to get dressed, a reporter notices the ugly, oozing welt on his left elbow.
"I have no idea how I got it," he says, chuckling, as a trainer pushes a gauze sleeve up Selanne's left forearm and hands him some antibiotics. "Just one of those things that happens in a game and you don't notice it until afterwards when you realize you're bleeding."
Playing with football-like headgear that protects his still-healing jaw, Selanne returned to action against Florida on Monday night. He scored his 17th goal in just 33 games in this injury-riddled season in the Ducks' 3-0 win.

#8 RW
Anaheim Ducks
2010 STATS
GM

33

G

17

A

8

PTS

25

+/-

-6

PIM

16
The games are all important for Selanne these days, not only because his team is battling for a playoff spot, but also because at 39 he's no spring chicken and he's trying to play himself back into shape -- for the stretch run for the playoffs, but more immediately for the Olympics, which start in Vancouver on Feb. 12. Selanne is an alternate captain for the Finnish team, his fifth appearance for his country in the Games.
Watching him fly around the ice during Thursday night's 6-4 loss to the Kings, it didn't appear that Selanne had lost any of his jump or ability to get to the net. But he readily admits that he has a long way to go.
"I'm not even close to being normal," he says. "The biggest thing is the endurance. After 20 seconds, there's no juice left. If you don't skate, you lose a lot of energy and a lot of strength. But it's coming back slowly. That's why these games are so important before the Olympics, so I get normal skating and normal energy back. You got to be patient, and every day it's progress."
The locker room is completely empty now as Selanne pulls on his tie. The team bus is scheduled to leave in just a few minutes and a fidgeting Ducks PR flack is lurking, trying to move things along.
Assuming that Selanne won't endure any more significant injuries this season, it's a very safe bet that in the 24 games that remain in the regular season he'll hit and surpass yet another milestone in his Hall of Fame career -- his 600th goal. Selanne is just four shy of that mark.
When he inevitably scores that goal, he'll join one of the most elite clubs in the NHL, consisting of names like Gretzky and Howe, Bobby and Brett Hull, Lemieux and Yzerman, Messier and Sakic.
"I'm not a big numbers guy," he says, "but it will be a big, big accomplishment and honor to break that 600. Still, I've been so much hurt that I'm just happy enough to be playing and not thinking about those things."
"That's it," says the flack. "We got to go, Teemu."
And with that, Selanne walks briskly out of the locker room and down the hall, his hair still damp, his tie askew. He picks up his pace as he winds through the bowels of the arena. But one can only wonder why. That bus isn't going anywhere without him.
Tom Murray covers hockey for ESPNLosAngeles.com