Commentary
Kings ready for the experience
For their first playoffs since 2002, L.A.'s veterans have been prepping the youngsters
Updated:
April 15, 2010, 12:57 AM ET
By
Arash Markazi
| ESPNLosAngeles.com
LOS ANGELES -- When Los Angeles Kings captain Dustin Brown was drafted by the team seven years ago he didn't think much about the playoffs. The then 18-year-old right winger from Ithaca, N.Y., was just happy to be in the NHL and knew he would probably be going to a down-on-its-luck team that had missed out on the playoffs the previous season.
As Brown and the Kings continued to miss the playoffs for the next seven years, an eight-year drought that was ended this season, the constant mid-April exit meetings began to wear on him while he watched his friends around the league playing meaningful games for the Stanley Cup into June.
"The first couple of years we had some pretty good teams but never playoff contenders," Brown said. "When you're young you really don't understand it all and when I got to my third or fourth year, it started to rub me the wrong way."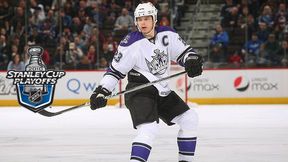 Michael Martin/NHLI/Getty ImagesDustin Brown came to the Kings as an 18-year-old and seven years later will get his first chance to feel what it's like to compete in the playoffs.
When Brown steps onto the ice at General Motors Place to play the Vancouver Canucks on Thursday in his first Stanley Cup playoff game, he won't be the only King taking an extra look at the Stanley Cup logo embedded in the ice. Brown is one of 14 key members of the Kings' young core, including high-scoring forward Anze Kopitar, defenseman Jack Johnson, defenseman Drew Doughty, forward Wayne Simmonds, forward Alexander Frolov, and goaltender Jonathan Quick who have never played in a playoff game.
The baby-faced and wide-eyed core have finally grown into contenders four years after general manager Dean Lombardi was brought on board to help rebuild the Kings from the ground up with young players who would take their hits early but eventually pay dividends in the future.
Well, the future is now for the Kings and their first postseason appearance in nearly a decade is simply the next step for a roster Lomabardi is crafting to be what he hopes is a perennial Stanley Cup contender.
"We started doing things the right way from the management on down to how we operate as players," Brown said. "It's starting to come to together. We're in the playoff and hopefully it's just the start. You don't want to make it just a one year thing and that's the responsibility of everyone involved in the organization."
When Lombardi was putting together the roster, he and coach Terry Murray understood talent and potential alone weren't going to be enough to get this team to the postseason and certainly wasn't going to sustain the Kings past the first round if they got there. So over the past two years they brought in a quartet of veterans who not only had played in a combined 229 playoff games but have each won the Stanley Cup.
They acquired defenseman Rob Scuderi, who won with the Pittsburgh Penguins in 2009, defenseman Sean O'Donnell, who won with the Anaheim Ducks in 2007, forward Justin Williams, who won with the Carolina Hurricanes in 2006 and forward Fredrik Modin, who won with the Tampa Bay Lightning in 2004.
"They're critical guys," Murray said. "I know they talk about [their experiences with the younger players] going to dinner at night and while they're sitting in the locker room. It's not always a verbal thing. It's how you come to practice, how you're focused, how you're preparing the right way in the locker room and everything. During the game on the bench these guys are talking about managing the puck and getting in strong with it. Their experience is coming out and the best time for me is when the game is going on and the immediate feedback from those veterans really goes a long way."
Kopitar, who scored 34 goals this season, admits he has heard about the rigors of the playoffs from Scuderi and Williams but gets speechless and shrugs his shoulders when asked what it will actually feel like when he plays in his first postseason game.
"To be honest I don't know how it's going to be because I've never been there," Kopitar said. "The best I can compare it to is maybe our series with Anaheim because those games are always intense, but I don't have anything that I can compare it too."
[+] Enlarge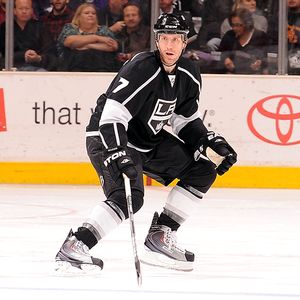 Noah Graham/NHLI via Getty ImagesRob Scuderi is one of four Kings veterans who have won Stanley Cup titles. Scuderi won with the Pittsburgh Penguins last season.
If Scuderi and Williams could have heard Kopitar comparing a Stanley Cup playoff game in Canada to playing the Ducks during the regular season they would have likely laughed and patted him on the head like a child on the dais of Kids Say the Darndest Things.
"I know for me I had to play in them to know what it was like," Scuderi said. "I was nervous my first game. It's the playoffs, it's something you think about growing up as a little kid and you finally get here and we were on the road to start and everyone is turning their heads and you don't know what you're supposed to do."
Murray is hoping the veterans on the Kings will have the younger players more prepared than Scuderi was for his first playoff game. He wants them to forget about the date on the calendar continue playing the kind of hockey that earned the team 101 points, their highest total since 1990-91 when the Wayne Gretzky-led Kings defeated the Canucks in the first round of the playoffs before falling to the Edmonton Oilers.
"We can't have a feel-it-out game," Murray said. "I don't want to see that and I don't want to think about that. Once you get into the playoffs, it's going to be hectic and the pace gets high. We can't go into the game thinking we have to experience it or feel it out because you'll be behind the eight ball early and it will be tough to crawl out of it. We have to be ready to go."
Johnson and Doughty, who played against each other in the gold medal game of the Winter Olympics two months ago in Vancouver smile now when asked about the nerves they'll have playing in their first playoff game. After playing in arguably the biggest hockey game in North American history, they're not as nervous as they might have been before taking part in the overtime thriller that captured the attention of both countries.
"The gold medal game between USA and Canada; I don't think I'll play in a bigger game the rest of my life," said Johnson, who played with his Kings teammates Brown and Quick on Team USA. "Every shift is do or die so I'm not worried about it at all. I'm just excited to get it going. It's been a long time coming."
Playing six games in the Olympics, however, is different than playing in the Stanley Cup playoffs, where you need to win 16 times over four seven-game series in two months if you want to be recognized as the best. It's something Kings left winger Ryan Smyth, who won gold with Team Canada at the 2002 Olympics, has yet to do in 15 years in the NHL, and believes he has a shot to do in Los Angeles if the team's young core and experienced role players can get on the same page.
"Obviously there are guys in this room who have won the Stanley Cup and guys who haven't been in the playoffs and I think it's important to collectively bring everything we have to the table," Smyth said. "We have a good team in here and we have to believe it. Once you believe it, you find ways to create energy and create momentum from shift to shift, period to period and game to game but you can't ride it too high or too low. It's a long playoff and we want to be playing in it for a while."
Arash Markazi is a reporter and columnist for ESPNLosAngeles.com.
ESPNLosAngeles.com
Former columnist and writer after five years with Sports Illustrated
Markazi has also written for Slam, King, Vibe and Playboy
On board of directors for Jim Murray Memorial Foundation.