Commentary
Kings not at all surprised by this series
Veterans had warned younger players it would be this way and now it's 2-2
Updated:
April 22, 2010, 4:36 AM ET
By
Arash Markazi
| ESPNLosAngeles.com
LOS ANGELES -- This is exactly what the Los Angeles Kings' veteran players had reminded the younger players on the team all along. The ones who had played in dozens of Stanley Cup playoff games and especially the four who have their names engraved alongside Lord Stanley's Cup told their inexperienced teammates, who were making their playoff debuts, it would be this way.
None of them ever said their Western Conference series against the Vancouver Canucks would be easy or go fewer than six or seven games. In fact, veterans such as Sean O'Donnell, Ryan Smyth, Jarret Stoll and Rob Scuderi have repeated the line "six or seven" in almost every one of their answers about the series.
So in a way the Kings' 6-4 loss to the Canucks on Wednesday at Staples Center that tied the quarterfinal series at 2-2, heading back to Vancouver on Friday, was expected.
"We expected this to be battle and a long series," Stoll said. "We're not going to take these guys for granted or take them lightly or disrespect them. If we don't play the right way they're going to get chances and score some goals and that's what we saw tonight."
In other ways, however, the Canucks' win, which saw Vancouver score four goals in the third period, snap the Kings' streak of six straight power-play goals and the Sedin Twins -- Henrik and Daniel -- break out of their slump may have been a premonition of worse times for the Kings.
[+] Enlarge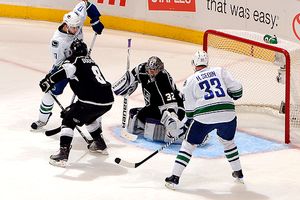 Andrew D. Bernstein/NHLI via Getty ImagesHenrik Sedin (33) and the Canucks, including brother Daniel and linemate Mikael Samuelsson, stepped up their games to even their playoff series with the Kings.
As much as Kings players wanted to put a silver lining on the loss, going back up to Vancouver, they knew they had blown a chance to take a commanding 3-1 series lead. Leading 3-2 in the third period, the Kings, who have made their mark this season by consistently coming from behind and never squandering a third-period advantage (they had been 29-0-2 when leading after two periods) did exactly that at the worst possible time.
The Kings had a chance to potentially put the game out of reach when Alexander Frolov had a breakaway opportunity on Canucks goaltender Roberto Luongo, but after being pulled Monday when he gave up four goals, Luongo more than made up for it with a sprawling save to deny Frolov and keep the Canucks alive. A little over a minute later Mikael Samuelsson tied the score 3-3.
"This is part of the process you've got to go through as a young group of guys and face adversity," Kings coach Terry Murray said. "Again, I feel we've handled those situations pretty well over the course of the year. We've shown to be resilient and ready and bounce back. It's going to be a big test back in Vancouver."
Henrik Sedin, who won the Art Ross Trophy as the NHL scoring champion, scored his first goal of the series with 2:52 to play on a pass from his twin brother Daniel off a four-on-two created when Wayne Simmonds fell in the Vancouver end and Smyth was out of position. The go-ahead goal not only gave the Canucks a much needed win (Ryan Kesler added an empty netter with 17 seconds left) but also may have breathed new life into what had been a lifeless performance from the Sedins.
Henrik and Daniel Sedin combined to score a goal and four assists in the win and seemed to be at their best when they were joined on the top line by fellow Swede Samuelsson, who has scored five goals in the series. Samuelson's impact on the Sedins and the Canucks goes beyond simply putting the puck in the back of the net. The 33-year-old winger has been a calming force on the team after signing with Vancouver in the offseason from the Detroit Red Wings where he won a Stanley Cup but felt was underutilized.
"This is was what I hoped for," Samuelsson said. "This is what I wanted. I wanted to play a bigger role. I really liked it in Detroit, but I got stuck a little bit there and I thought I could do bigger things and I still think that."
He has proven his worth so far, on and off the ice for a Vancouver team, which may have more playoff experience on the roster than the Kings but only has one player in Samuelsson who knows what it feels like to hold the Stanley Cup.
"He's been unbelievable for us and that's what we need," Henrik said about Samuelsson. "He's been there every game for us. It's been fun to play with him. He's really calm out there. He makes the plays that we need and he's really patient and if things don't go right he stays with it and that's what we need."
While the stat sheet will show Samuelson's impact on the ice, his ability to relax the Sedins and his teammates may be just as important. This is a team that would have almost certainly fallen behind 3-1 in a similar situation last year but stuck with its game plan and battled back to get the win this year.
"You have to approach it as a game," Samuelsson said. "If you want to get deep it's like if you're watching a movie. Last night I was watching a war movie. I can get into it, but you have to understand it's only a movie and this is only a game. It means a lot obviously, but you have to take it for what it is and separate yourself from it. I'm pretty easy going like that. I just try to stay calm."
It has been hard for the much maligned Sedin twins to stay calm and level-headed during the playoffs in Vancouver. All their goals and awards and highlights mean little up north when the Canucks constantly get booted out of the playoffs early.
"We know we have to do that," Henrik said. "We don't need the coach or the fans or the media to tell us that. We know when we have to do better. The difference tonight was we were still in the game in the third [period] and last night we were out of it. Both games we were patient and stuck with it. If this were a couple of years ago we would have started cheating and giving away breakaways and 2-on-1s and the game would have been out of hand."
Perhaps the turning point in the series came when the Canucks finally stopped the Kings' streak of six consecutive power-play goals and followed that three minutes later with a goal of their own to tie the score 2-2 on a shot by Pavol Demitra, who Canucks coach Alain Vigneault has been waiting to step up since the Olympics ended.
"For sure," said Henrik when asked if the power-play goals were getting in their heads. "The guys who were out there instead of making the play and being aggressive they're going to take away shooting lanes. It was big for us to be able to kill it off. That was six in a row. I've never heard of anything like that before."
With their six power-play goal streak and two-game winning streak snapped, the Kings now head back up to Vancouver with a clean slate and essentially begin a three-game series with the Canucks. It may not be what the young Kings players had hoped for coming into Wednesday's game but it's exactly what the veterans on the team expected all along.
"We know we can win in there barn so we got to go do it," Stoll said. "This could be good for us. This could be good so we learn how to play in the third period especially against a skilled team like this. It's going to be a battle. Going into this we expected a seven-game series, it would have been nice to get a win, sure, but we let it slip away and now we have to take care of business up there."
Arash Markazi is a reporter and columnist for ESPNLosAngeles.com.
ESPNLosAngeles.com
Former columnist and writer after five years with Sports Illustrated
Markazi has also written for Slam, King, Vibe and Playboy
On board of directors for Jim Murray Memorial Foundation.