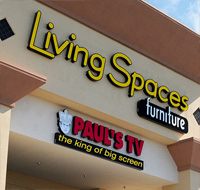 Join LA Sports Live's Mychal Thompson and Andrew Siciliano for a LIVE remote broadcast at the Living Spaces in Irvine on Friday, December 3rd from 10a-2p.
The 710 ESPN Street team will be there giving away $500.00 - that's right - $500.00!!! Plus, you could win tickets to see the USC Trojans battle the UCLA Bruins at the Rose Bowl in this year's crosstown rivalry game!
Legendary USC running back Anthony Davis will be there as well. Stop by and get an autograph from the "Notre Dame Killer."
At Living Spaces, you can buy today, and enjoy tonight! See you there on December 3rd!