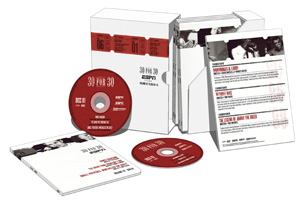 710 ESPN VIP Club members, click the "register now" button below to enter for your chance to win ESPN Films "30 for 30" Gift Set - Volume 1.

Not a member of the 710 ESPN VIP Club? Sign up for free now to stay connected to 710 ESPN and make yourself eligible to enter all of our online contests!
ESPN Films "30 for 30" Gift Set - Volume 1, which includes the first 15 films from the critically acclaimed series, will be released on DVD December 7, 2010 in time for holiday gift buying and the culmination of the series' 18-month run on ESPN. The six-disc "30 for 30" Gift Set presents extraordinary sports stories from the last 30 years from the creative vision of some of today's finest directors.
From Barry Levinson and Peter Berg to Steve James, Brett Morgen and Ice Cube, each filmmaker brings their unique perspective and a universal love of sports to their film. The films were official selections from the Sundance, Toronto, Tribeca and South by Southwest Film Festivals, making this collection of remarkable films a must-have for any film fan. Additionally, the series is among the highest rated documentaries on ESPN.
In addition to the first 15 films in the series, the six-disc gift set includes more than four hours of bonus features, including deleted scenes, extended interviews, trailers and director's statements. Total running time is 1161 Minutes.
Films Included in Set:
Kings Ransom

The Band That Wouldn't Die

Small Potatoes: Who Killed The USFL?

Muhammad & Larry

Without Bias

The Legend of Jimmy The Greek

The U

Winning Time: Reggie Miller vs The New York Knicks

Guru of Go

No Crossover: The Trial of Allen Iverson

Silly Little Game

Run Ricky Run

The 16th Man

Straight Outta L.A.

June 17th, 1994
Deadline for entry in this contest is 12/24/2010