Contact Us
Updated:
August 14, 2013, 2:29 PM ET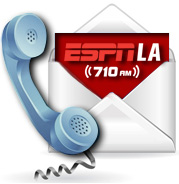 Thank you for listening!
For general comments or suggestions about station operations or programming, please refer to the links below:
General Manager - Scott McCarthy
Program Director - Mike Thompson
General Sales Manager - Matt Mallon
Digital Sales Manager - Heidi Loera
Marketing/Promotions - Tommy Lam
Webmaster - Jennifer Cerros
Interested in advertising with ESPNLA? Please contact our General Sales Manager Matt Mallon.
If you still have trouble getting in touch with a specific specific department and/or reaching a point of contact, please email our webmaster, thank you.
ESPNLA 710
800 W. Olympic Blvd., Suite 200
Los Angeles, CA 90015
Studio Phone: 877.710.ESPN (3776)
Office Phone: 213.284.7100