Chivas USA fires Martin Vasquez
Updated:
October 27, 2010, 11:25 PM ET
By
Scott French
| Special to ESPNLosAngeles.com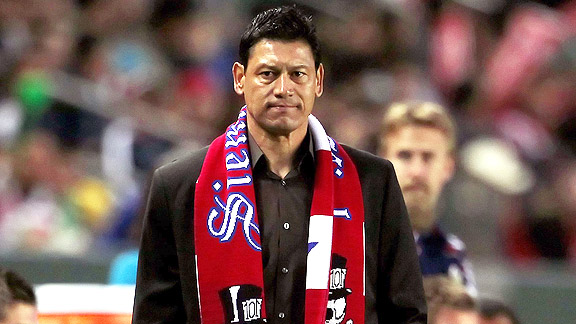 Jeff Gross/Getty ImagesChivas USA fired coach Martin Vasquez after one season and a last-place conference finish.
LOS ANGELES -- On Saturday, Chivas USA's vice president of soccer operations -- its GM, in traditional terms -- said Martin Vasquez definitely would be returning next year. On Wednesday, club officials reversed direction, dismissing their first-year coach after a difficult season in which the Goats failed to reach the playoffs for the first time since 2005, their inaugural season.
What changed so dramatically in four days? Maybe nothing.
"I think we got together and really evaluated the season," Stephen Hamilton, the soccer VP, said Wednesday, "and it was a decision of the [club's] soccer committee that this was a decision that needed to be made in the best interests of the club to move the franchise forward."
Hamilton, standing no more than six feet from Vasquez in Chivas' locker room, gave the rookie coach a vote of confidence after Saturday's season-ending loss to Chicago.
"He's the guy," Hamilton told ESPN Los Angeles. "We hired him for a reason. We believe in him. ... The things we saw in him previously, we still see in him, and I think he's going to benefit from a year of experience as a head coach.
"This is his first go as a head coach, so I think he's learned a lot. And talking to him in private, the conversations we've had, I feel good about him, the things he wants to do going forward."
On Wednesday, Vasquez, through a club spokesman, declined an interview request.
Soccer Blog

Scott French covers the Southern California soccer scene and beyond for ESPNLA.com.
Football Futbol Soccer »
The thinly talented Goats went 8-18-4 and finished last in Major League Soccer's Western Conference, and although Hamilton acknowledged it was a "transition" year and agreed that the team lacked the front-line players and depth to compete with the league's best teams, the team's inability to win proved costly for Vasquez.
"[It was about] results, at the end of the day," Hamilton said. "We had some tough results this year. I think we were better than our record. At the end of the day, we felt a change would help the organization, would help the team."
Vasquez, who had served as an assistant coach with the Galaxy, Chivas USA and for Jurgen Klinsmann during a nine-month stint at German powerhouse Bayern Munich, took charge of Chivas during a major turnover in talent, with the departure of several important figures -- not the least midfielder Jesse Marsch, who retired to join U.S. national team (and former Chivas USA) coach Bob Bradley's staff -- forcing the club to begin rebuilding.
Sacha Kljestan left for Belgian champion RSC Anderlecht in June, depriving the Goats of their lone playmaking talent, but there were players who made valuable and at times unexpected contributions -- forward Justin Braun and rookie midfielder Blair Gavin -- and the return of midfielder Paulo Nagamura following six months in Mexico and the arrival of Mexican winger Rodolfo Espinoza boosted the club's talent level. It wasn't nearly enough, and Chivas' final two games, three-goal losses at San Jose and to Chicago, were two of its worst all season.
"We have to start looking at some of the things that went wrong," Vasquez said after Saturday's game. "But first of all, take responsibility. I think it's the first thing [I must do]. I can start naming facts or arguments, but they are all going to sound like excuses. If we blame this or that, it's not going to work.
"The emotions are difficult right now, but the only way we turn this around is by making sure that we learn from the mistakes we made this season."
The committee, consisting of Hamilton, President/CEO (and minority owner) Shawn Hunter, and representatives of primary owners Antonio Cue and Jorge Vergara, believed Vasquez "put a lot into the club this year, gave us a lot, and nobody wanted to have to let him go," Hamilton said on Chivas USA's website.
Hamilton said Chivas would begin searching for a successor immediately and that the committee would "take our time to make sure we find the right person moving forward." He said he wasn't willing to exclude anyone from the list of candidates "at this point," and that "some familiarity with the league would be a bonus."
Asked if he would approach Klinsmann, who lives in Huntington Beach and broke off talks after the World Cup about becoming U.S. coach over control issues, Hamilton laughed and said the club was "going to do a thorough search, generally, to find the right guy."
Scott French writes the Football Futbol Soccer blog for ESPNLosAngeles.com.