Robin Fraser ready for challenge
Updated:
January 5, 2011, 9:51 PM ET
By
Scott French
| Special to ESPNLos Angeles.com
CARSON, Calif. -- Chivas USA introduced new head coach Robin Fraser to the media Wednesday by predicting he'd lead the club to a Major League Soccer championship.
Talk about pressure.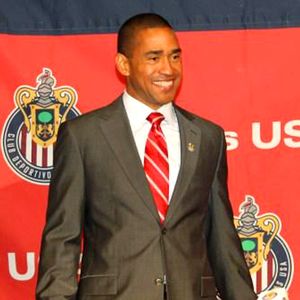 Juan Miranda/Chivas USANew Chivas USA coach Robin Fraser spent the last 3 1/2 seasons as an assistant at Real Salt Lake, which won the MLS Cup in 2009.
But that challenge, to take a flailing team and turn it into a winner, is part of what made the job so attractive to Fraser, a former star defender -- for the Galaxy and other clubs -- who said he'd been building toward this day most of his career.
Fraser, 44, who on Tuesday was announced as the sixth head coach in the seventh-year club's history, has ideas about how to turn the Goats around, and he can't wait to get started on them.
"I think that there are a number of very good players here," he said during a news conference at the Home Depot Center. "I think that with some organization and discipline and, really, kind of a different approach ... I'm very excited about where it is now because of where I know it can be."
Interim general manager Jose Domene said the Goats were impressed with Fraser from the first interview.
"We did our due diligence," Domene said. "It was a long process. We did a lot of interviews, we talked to a lot of coaches, did a lot of reading, and we're sure [Fraser] is the right choice ... and we're sure he's going to take this franchise to the next level and we're going to win a championship with him."
Fraser, who spent the last 3 1/2 seasons as part of the staff that took a struggling Real Salt Lake team and turned it into a champion, says an emphasis on cohesive team play -- "getting everyone on the same page in terms of philosophy, what we are trying to do" -- will be the foundation of Chivas' success, and that winning will follow naturally.
Soccer Blog

Scott French covers the Southern California soccer scene and beyond for ESPNLA.com.
Football Futbol Soccer »
And, of course, he wants to play "attractive, attacking soccer."
"I've never heard a coach hired in this league who didn't say, 'I'm going to play attractive, attacking soccer,' " Fraser said. "But I think there are some keys to how you get there. You don't just wake up and play attractive attacking soccer. And think a lot of that is building a foundation and teaching your players to solve problems on the field.
"I think that is the biggest thing, that if you were to sum it up in a nutshell: We're going to teach our players how to solve problems on the field. Because the team that can solve problems on the field is the team that's going to win."
Greg Vanney, Fraser's former teammate on the Galaxy and with the U.S. national team, will be his chief assistant -- they've been planning to coach together for "five or 10 years," Fraser said -- and assistant coach Carlos Llamosa, who also played with Fraser and Vanney on the national team, and goalkeeper Daniel Gonzalez will be retained.
Scott French writes the "Football Futbol Soccer" blog for ESPNLosAngeles.com.