Commentary
Hunter scrutinized for his defense
Angels' Gold Glove outfielder recently has had some uncharacteristic episodes
Updated:
June 17, 2010, 6:12 PM ET
By
Mark Saxon
| ESPNLosAngeles.com
CHICAGO -- Torii Hunter has experienced a lot in his 11-year career. He has been to a few All-Star games. He even robbed Barry Bonds of a home run in one. He has played in a bunch of playoff series and won a couple of them.
He has signed fat contracts. He has taken home a bunch of awards, some for hitting, most for fielding and one -- the Man of the Year award -- for his charity work.
But one thing he had never done until Monday night was to help an opponent hit a home run. He ushered Casey McGehee's deep fly ball over the center-field fence while trying to make a leaping grab.
"I've made that play hundreds of times and it's never happened like that in my professional career, 18 years. Never," Hunter said. "I was pretty heated after that. I really couldn't focus."
[+] Enlarge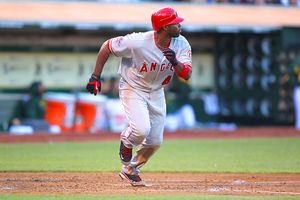 Jed Jacobsohn/Getty ImagesTorii Hunter's defensive skills may not be what they used to be, but his hitting seems to be improving.
After watching the early months of this season, some people wonder if that was the first time Hunter's focus has wandered in center field. After winning a Gold Glove after each of the last nine seasons, Hunter hasn't looked quite as sharp in the outfield. Wear and tear can do that. He's 34 and has had an assortment of leg injuries over the last five years. One veteran major-league scout said Hunter's defense has been gradually declining since his final Minnesota days. His speed is average, his instincts above-average, but the overall package is not what it once was.
"Instead of great, he's just good," the scout said.
There has been a seesaw effect: As Hunter's hitting has improved -- and he might be the Angels' lone All-Star at Angel Stadium next month -- his defense has declined.
The harshest critique comes from an outfit called Baseball Info Solutions, which helps provide ESPN with data. Evaluators, who all played at the college level or higher, watch every game. They chart plays into categories of Good Fielding Plays (GFP) or Defensive Misplays (DM). Subtract the bad plays from the good ones and you get a measure of a player's defensive worth.
According to Baseball Info Solutions, Hunter is the worst center fielder in baseball, at minus-15. The best is the San Diego Padres' Tony Gwynn, Jr. (plus-11). That doesn't quite mesh with what the Angels feel like they're seeing out of their veteran center fielder.
"He's playing at a high level," insists Angels manager Mike Scioscia.
But even Hunter's supporters suggest that there has been a falling off from his elite form. Twice this year, Angels bench and outfield coach Ron Roenicke has questioned Hunter after watching him misplay a ball. It happened at Yankee Stadium in April and it happened at Dodger Stadium on Sunday, when Manny Ramirez hit a high fly ball off Jered Weaver that turned into a double.
IT'S L.A., AND IT'S LIVE

For more about the Angels, plus coverage of the complete Los Angeles sports scene, visit ESPNLosAngeles.com. »
Both times, Hunter said he couldn't see the ball because of the backdrop at the stadium. Hunter said he occasionally loses balls in a sea of white T-shirts.
"Those things maybe make you look at it and say, 'All of the sudden, he's different,' but I think there have just been a couple of fields where he hasn't seen the ball well," Roenicke said.
Hunter acknowledges he hasn't robbed opponents of extra-base hits as frequently as in previous seasons, but says it has as much to do with opportunities as it has to do with him. As the Angels' best healthy player, he also has the responsibility of keeping himself in the lineup, particularly now that Kendry Morales, Erick Aybar and Maicer Izturis are all out.
Hunter missed five weeks last year because of a groin injury sustained after a series of hard collisions with walls in May and June. He wound up requiring off-season surgery.
"I want to be here for my teammates," Hunter said. "I'm not playing cautious. If another opportunity comes up and I have to catch the ball in a clutch situation, I'm doing it. If it's 10-1 and a situation where I have to run into a wall, I'm going to back off. If it's second and third, two outs in a close game, I'm diving ... face-first."
Hitting was always the hard part for Hunter, but it seems to be getting easier. He has matured into a reliable force in the middle of the Angels' lineup. He leads the team in RBIs (46) and seventh in the American League in that category. Plenty of outfielders are willing to give up their bodies to catch a fly ball, but the Angels can scarcely afford it in Hunter's case. If they lose him, they're looking at the possibility of a long, lost season.
"The guy has his badge of honor and, meanwhile, your $10 million center fielder is on the DL and you're calling up somebody from Triple-A," the scout said. "When you think about it, what he said makes a lot of sense."
Mark Saxon covers the Angels for ESPNLosAngeles.com.
ESPNLosAngeles.com
Mark Saxon is a staff writer for ESPNLosAngeles.com. He spent six years at the Orange County Register, and began his career at the Oakland Tribune, where he started an 11-year journey covering Major League Baseball. He has also covered colleges, including USC football and UCLA basketball.