Commentary
Pagenaud wins ALMS race
Late pass on Fernandez gives Patron Highcroft Racing its first Long Beach victory
Updated:
April 18, 2010, 12:38 AM ET
By
Martin Henderson
| Special to ESPNLosAngeles.com
LONG BEACH, Calif. -- Simon Pagenaud and Adrian Fernandez put on a show in the closing moments of the Tequila Patron American Le Mans Series race Saturday in the streets of Long Beach. The younger French driver got the better of the established Mexican legend with a last-lap pass, giving Patron Highcroft Racing its first victory at the legendary venue.
The drivers traded leads twice in the final minutes of the 100-minute sports car race in a battle of finesse vs. power.
This time, finesse won.
Pagenaud and starter David Brabham, driving an HDP that was quicker through the corners and braking, completed 67 laps on the 11-turn, 1.968-mile layout. Both had their moments against the faster but heavier V12-powered Lola-Aston Martin driven by Harold Primat and, after the mandatory driver change, Fernandez.
[+] Enlarge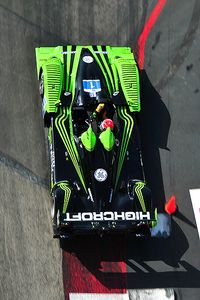 Rick Dole/Getty ImagesSimon Pagenaud, seen from overhead, works his way around the course in Saturday's American Le Mans Series race.
Although Primat led the first 13 laps, he fell to third after getting put into a tire barrier by Brabham, who was issued a stop-and-go penalty for avoidable contact. Primat eventually dropped to third place after starting from the pole.
But 56 minutes later Fernandez caught Pagenaud at the famous hairpin and passed him on the front straight with about four minutes remaining.
"I could see he was having some issues in his driving or something on the car, I could see he was braking a little bit earlier, making little mistakes," Pagenaud said. "I thought if I keep pressuring, if he makes a mistake, even on the last lap I could capitalize on it. I'm surprised he did. I was pushing hard, and he had to push hard in the corners to make up."
Fernandez was pushing hard in the corners because that's where Pagenaud was making up time. He took the white flag but went wide at Turn 5, where Pagenaud got inside him and crossed in front at Turn 6. He survived the Aston Martin's power on the backstretch and, most important, on the frontstretch. "I was able to get out of the [last turn] hairpin really well and out-drag him," Pagenaud said.
"It was very hard to stay ahead, I had some problems with my brakes," said Fernandez, 47, who made his debut at Long Beach in the early 1990s. "That was quite wild. Pagenaud drove really well and they deserved the win."
Pagenaud, 25, who won five times last season driving for Gil de Ferran's team, called it the best victory of his career "because it was so intense to the last lap of the last corner."
Based on last year's specifications, the Aston Martin is an LMP1 car and the Highcroft HPD is LMP2, but the classes have been combined to form one common LMP class.
A new class, LMP Challenge, or LMPC, was won by Scott Tucker Elton Julian of Santa Monica and Gunnar Jeannette in the Green Earth Team Gunnar Oreca as they finished fourth overall, one lap behind the four LMPs that were within 11 seconds of each other.
The competitive GT class, which features marques such as Jaguar, BMW, Ferrari, Ford and Corvette, was won by Patrick Long of Agoura Hills, who drive the finishing stint for the first time, and Joerg Bergmeister. They won for Flying Lizard Racing in a Porsche 911 by finishing eight overall.
The 35-car field was the largest in Long Beach history.