Commentary
Starting Rivera in Midsummer Classic would be ultimate tribute
Originally Published:
July 7, 2008
By
Bob Klapisch
| Special to ESPN.com
NEW YORK -- In a world of crazy, outside-the-box thinking, here's one idea that has gained some traction in the Yankees' clubhouse lately: Why not give Mariano Rivera, this generation's greatest closer, a chance to be really appreciated at the All-Star Game?
How? Not by letting him get those last three outs; that's too pedestrian. There's no guarantee the American League will need a save, and there's no promise that even if Rivera takes the mound, he'll be pitching in a critical situation. A blowout by either league would render the appearance meaningless.
[+] Enlarge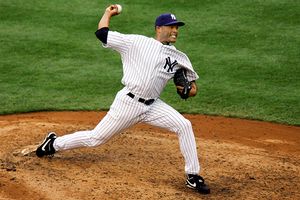 Jim McIsaac/Getty ImagesMariano Rivera is third on the all-time list with 466 career saves.
No, the real way to commemorate Yankee Stadium in what could be its final marquee event is to let Rivera
start
the game: Allow him to bask in the thunderous standing ovation, and let him know what it feels like to have a million flashbulbs go off in his face upon delivery of that first cut fastball. Unconventional? It's almost surreal. But Rivera himself says, "I'm sure the fans would love it. They'd go crazy." The theory behind this heresy goes like this: The 2008 All-Star Game isn't your typical Midsummer Classic. The very reason it's being staged in the Bronx is to bid an official farewell to Yankee Stadium, which is being replaced by a new structure in 2009. All the ghosts are heading across the street -- Ruth, Gehrig, DiMaggio and Mantle, among others. Tickets for this event give new meaning to the term "sold out." Some seats are being hawked for almost $10,000 a pop on eBay. This is Yankee-mania at its best (or worst). Either way, the usual protocols don't have to apply: All-Star Games are often awarded to new ballparks, not ones that are about to meet their doom at the wrecking ball. So if celebration will be the working theme on July 15, why not do honor to the single most dominant Yankees figure of the past decade?
Derek Jeter
has been the marketing equivalent of Microsoft, but on the field, Rivera has been the Bombers' real difference-maker. Jeter himself says, "Mo is the one who deserves the attention. Whether he pitches the first inning or the last, that's not up to me. But one way or another, all the eyes are going to be on him. That's the way it should be." The decision will be Terry Francona's, and there's at least one Yankee who thinks the Red Sox manager is open-minded enough to at least consider the proposition. "I don't think it's that crazy,"
Johnny Damon
said. "I bet Terry would do it. If anyone would do it, it would be him. The guy is awesome." If Francona were to even consider handing the ball to Rivera instead of, say,
C.C. Sabathia
, it would be as a gesture of respect to the Yankees, and an acknowledgment of the warming relations between the two franchises. Despite their never-ending struggle in the American League East, the hostility in the northeast corridor has clearly diminished in the past two years. Maybe the Red Sox's dominance has quieted the winds of war. Maybe the Yankees don't pose the same threat as they did in the Joe Torre era. Maybe everyone's suffering from battle fatigue. That might've explained why Brian Cashman and Theo Epstein, archenemies in theory, appeared jointly at a seminar at the Yogi Berra Museum over the winter. And it was worth noting that
Alex Rodriguez
, arguably the most hated Yankee in New England (after Jeter), publicly congratulated
Manny Ramirez
on his 500th career home run. Even Hank Steinbrenner, who blasted the concept of Red Sox Nation as a creation of ESPN, ultimately admitted the Sox aren't the enemy, after all. "We have a lot in common," Steinbrenner told reporters in March. "Red Sox ownership and Yankee ownership has a lot in common and a lot of common interests. You never know, we may end up being partners outside of baseball."

I don't think it's that crazy. I bet Terry [Francona] would do it. If anyone would do it, it would be him. The guy is awesome.
--Johnny Damon on Mariano Rivera being the starting pitcher for the American League in the All-Star Game
So what would stop Francona from making such a historic decision? Real-world politics, for one: The Yankees have no interest in seeing Rivera start the All-Star Game. Cashman said, "To be honest with you, asking Mariano to be a starting pitcher would be like asking Alex [Rodriguez] to play center field. I don't like it." But Rivera would only throw one inning; that would be the stipulation. One inning, and he gets to stand on the mound and let the ovation cover him like a soft rain. It would be a reminder of better times in the Bronx, back when the Yankees really did rule the world. And, technically speaking, it wouldn't be an entirely foreign assignment for Rivera. He did begin his career with the Yankees as a starting pitcher. The matter of actually finding a closer is just as simple. It could be anyone, and everyone. Francona would undoubtedly pick his own guy,
Jonathan Papelbon
, even if it comes with the caveat that the final three outs could mean nothing, depending on the score. That's a risk Rivera doesn't necessarily want to take, however. He thought long and hard about the idea of starting, before finally deciding he'd rather close. "The game means something, we have to win [for home-field advantage in the World Series]," he said. "I'd go out there doing this for my team, not just my league." Rivera paused and considered the outside-the-box -- OK, outside-the-brain -- concept one last time. Starting? After 811 consecutive appearances in relief? "Interesting," Rivera said, which is how civilized men put it when they mean, "Don't get your hopes up."
Bob Klapisch is a sports columnist for The Record (N.J.) and a regular contributor to ESPN.com.
Bob Klapisch is a sports columnist for The Record (N.J.) and a regular contributor to ESPN.com.
EDITORS' PICKS
Brandon Moss blasted a two-run homer in the first.
Gamecast

Why the Nationals will end Washington, D.C.'s 89-year title drought.
Jayson Stark »

We take a look at some of the numbers that might matter in October.
Story »