Whole organization easing assimilation
FORT MYERS, Fla. -- Daisuke Matsuzaka's mind worked furiously. The camera clicks sounded like a thousand typewriters, his every twitch broadcast around the world, in at least two languages. There he was, in front of millions of people, momentarily stumped.
He was looking for the right word, and despite the interpreter sitting next to him, it wasn't coming. As his eyes searched the crowd, they locked with a familiar face: a fellow Japanese man, there covering the event.
The Red Sox are extremely excited about Matsuzaka-mania.
Matsuzaka mouthed the word he was considering, the reporter nodded discreetly in affirmation and the news conference continued. His bearings secure, the new Red Sox pitching sensation answered the question, another cultural bridge crossed.
Off to the side, Red Sox official Dr. Charles Steinberg watched this unfold. As team president Larry Lucchino's right-hand man, he's been involved in many of their efforts to make sure Matsuzaka and fellow new Bostonian Hideki Okajima feel as comfortable as possible. They want him to be at home, even when there isn't a familiar face in the crowd.
"Did you see the body language differences when he was answering the questions that were directly asked in Japanese?" Steinberg said afterward. "All of this is based on empathy. I don't know if it's a cultural transition or a cultural unification. Let him learn that which he can learn. Let us learn that which we can learn."
Not long before, he'd met Matsuzaka downstairs. They talked about pitching without words, just miming grips and flight paths.
"I said yokoso for welcome," Steinberg said. "Daisuke turned and smiled. I know yokoso and konichiwa. Today is day one for me. I'm at two words."
---
This education began more than two decades ago, when Lucchino was with the Orioles. They'd just won the World Series and went off on a tour of Japan. Walking the streets, he saw a strange new world.
Between that trip and his lifelong friendship with Daniel Okimoto -- a former Princeton classmate and, at Stanford, one of the preeminent Japanese scholars in the world -- Lucchino always has understood that the gap between American and Japanese cultures can't be spanned by high-speed Internet and McDonald's franchises. There are deeply entrenched differences in the most important of core issues: how we see ourselves fitting into the body politic.
In Japan, the "I" exists to serve the "we." In America, home of Wyatt Earp and Michael Irvin, it's the opposite. Successful baseball managers are often revered for their ability to massage all the gigantic egos in a clubhouse, which is a worthless skill in Japan. For ballplayers coming here, who are taught from birth to be homogeneous, living in a me-centric clubhouse is the toughest adjustment.
Lost ... and found?
FORT MYERS, Fla. -- As if his large contract and larger expectations aren't enough, new Red Sox pitcher Daisuke Matsuzaka has an additional burden on his shoulders, one with which most Americans are not familiar.

Not only is he expected to win baseball games, but he's also being asked to help reverse a major cultural crisis afflicting a segment of Japan's youth. There is a class of de facto hermits, called hikikomori. They spend most of their days shut away in their rooms, playing video games, shunning the goal-oriented society of their parents.

They were created by both Japan's rapid economic boom and by its collapse. With successful parents, children, for the first time in Japanese history, could afford not to rush to the marketplace. And, with the economy's recession, the competition for a shrinking number of jobs is intense. Some kids are choosing simply not to try.

"Many social commentators have argued," said Tulane professor and Harvard research fellow Daniel Aldrich, "that this generation lacks the strong interest in lifetime employment in a single company, a strong drive for career advancement, and some kind of investment in the community as a whole. These are big changes from the past."

This trend has been chronicled in a book by Michael Zielenziger titled "Shutting Out the Sun: How Japan Created Its Own Lost Generation," and it's a topic of worry for the nation.

"The most extreme example of the alienation or malaise is young people who stay in their rooms, curtains drawn to block out the sun, and never go outdoors at all," says Peter Grilli, president of the Japan Society of Boston. "Daisuke clearly offers a very different model of what life can be."

Which is the exact question a member of the Japanese media asked the pitcher at a Fort Myers press conference to open spring training. He wanted to know what Matsuzaka thought about helping bring these young men and women back into the light. Can succeeding in a new culture help restore traditions of the culture he left behind?

"There are some friends of mine who may fall into that category of the lost generation," he said. "At least one of my friends told me that by watching me pitch, it made him feel that he should start working. As long as my play and how I pitch will inspire some others, I would like to keep sending that message to my generation."

-- Wright Thompson
"In Japan, usually you introduce yourself as being from a team or company," says Tulane professor Daniel Aldrich, currently a research fellow at Harvard. "It's not like, 'Hi, I'm Daniel and I teach.' There, it is, 'I'm of Tulane University, the political science department, and my name is Daniel.'"
For many Japanese ballplayers, this difference makes them worry about their children. Matsuzaka, for instance, has a 1-year-old daughter. If she starts school in the United States, by the time they move back to Japan, she will have missed out on the assimilation indoctrination. Japanese children educated outside the country are often shunned when they return home.
"There are schools in Japan whose only job is to retrain children of Japanese who have been living in America," Aldrich says. "When they get back, those kids of baseball players don't fit in very well. Coming back to Japan after being in America is hard. A lot of my friends don't want to go back. There is a phrase in Japanese: The nail that sticks up gets hammered down."
Then there are the other transitions, some obvious, others obscure. Language is a major stumbling block, of course. If you speak Spanish, you can at least navigate. If you are used to Japanese kanji, you can't even read the signs. Something as simple as having friends pronounce your name correctly isn't a given. After meeting his new teammates for the first time, Okajima winced a bit at the butchering.
"They were trying," he said through an interpreter, looking for the bright side.
Finding a place to eat is challenging. Just as Americans go to Japan and are perplexed by squid for breakfast, Japanese players are expected to perform at the highest level fueled by unfamiliar cuisine.
"Japanese are really addicted to their own food," said author Robert Whiting, the English-speaking world's expert on Japanese baseball. "They get back so late that some of these restaurants are already closed and all that's left are the room service in the hotels, and they wind up eating cheeseburgers."
They aren't used to American work habits. It still bugs Ichiro when the Mariners make a mental error. He'll gripe that if they practiced more, they wouldn't make silly mistakes. They aren't used to fan negativity, which ran Kazuo Matsui out of New York. They can't understand throwing a jockstrap at a clubhouse attendant; in Japan, even the janitors are considered as important to team success as the clean-up hitter.
For Japanese soldiers, businessmen and ballplayers, there is a very formulized relationship between the mentor and the mentored. The elder is called a sempai and the student is called the kohai. When a Japanese player comes here, he goes from sempai to kohai, and it can be confusing.
"Yes, I played in Japan for eight years," Matsuzaka said, "but it's my rookie year here in the United States, so I would stay humble."
They are, almost to a man, petrified of the crime in the United States. Japan might be the safest country on the planet. If you leave your wallet in a taxi, the driver literally will chase you down until he gives it to you. When they come here, many Japanese players are convinced they will be robbed immediately.
"They don't understand the American fixation with guns," Whiting said.
Any of these factors alone wouldn't be a big deal. Together, they can paralyze a young man. For many of the Japanese players who come to America, baseball success depends on their ability to handle the off-the-field challenges. For some, like Ichiro, who married a woman who spoke perfect English shortly before moving, the transition is a smooth one.
For others, it's too hard.
---
So when the chase for Matsuzaka began, Lucchino and the Red Sox knew they weren't just signing an outstanding pitcher. They were bringing a stranger to a strange land, and that came with certain responsibilities.
"It's just common sense," general manager Theo Epstein said, "and from a humanist standpoint, it's the right thing to do."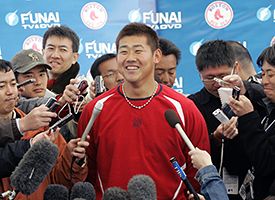 AP Photo/Chitose SuzukiOne thing that hasn't changed? Matsuzaka is still the center of attention wherever he goes.
At the beginning, the club looked to experts for answers. Baseball operations guys called counterparts at the
Seattle Mariners
. And long before any contract was printed, the phone rang in the office of Peter Grilli, president of the Japan Society of Boston.
It was the Red Sox.
"We've got something really major in the works here," a team official told him. "We've got to find out more."
The education hit another gear.
"It's a combination of big things and little things," Lucchino said. "We hope we are touching the right bases."
Red Sox business cards were reprinted with Japanese on the back, since team owner John Henry knew from doing business in the country the importance of that custom. Exchanging gifts is a social must, so Matsuzaka's daughter got Red Sox gear for her first birthday. Steinberg and the team's video crew made a tape introducing the family to town, going through some of the history. The mayor filmed a welcome. A local Japanese chef filmed one too, in Japanese.
The team is figuring out how to have meals catered to the clubhouse, putting sashimi alongside meatball grinders. The Red Sox have hired a Japanese language staffer to help ease the transition. Grilli has identified a local Japanese school, so the Matsuzakas don't have to worry about their daughter's falling behind.
"It meets Saturday mornings," he said, "and is designed specifically to help Japanese kids keep up with the curriculum and language, so that when they return to Japan they can step right back into Japanese schools."
The team helped the pitcher find a house in a gated community near Lucchino and Henry, to ease any fears he has about safety. The fans have chipped in, one man waving a Japanese flag when Matsuzaka's car pulls up to the spring training facility. Even parking lot attendants have been spotted with Japanese phrasebooks.
"It's a combination of big things and little things. We hope we are touching the right bases."
-- Red Sox team president Larry Lucchino
Pitching coach John Farrell spent the offseason with a Japanese tutor, learning enough to have a meeting at the mound. He downloaded conversation lessons on his iPod and listened to CDs in his car. After he got the basic sentence structure down, he started in on baseball terms.
Like, say, arm.
"It's ude," he says, laughing.
While Okajima and Matsuzaka are taking English lessons in training camp, Farrell will continue with his Japanese training. What he doesn't learn, he'll carry on a cheat sheet.
"I'm gonna look like Tom Brady with the pop-up wristbands," he said. "I'm sure that I will have some card in my back pocket. When someone thinks I'm looking at a lineup card, it will be a translation card."
The players have gotten into the act, checking out Matsuzaka's beer commercial on YouTube.com, already planning on teaching their new teammates all the pranks. Wonder how you say "hot foot" in Japanese?
"You gotta get used to their bowing," Red Sox infielder Kevin Youkilis cracked. "I've learned how to bow."
Mostly, they're hoping that, once on the field, their love for the game will bind them more than their cultural differences divide them.
"Baseball is a common language," reliever Jonathan Papelbon said. "We all speak the same language, and it's baseball."
Good thing, too.
"Man," he drawled, "I couldn't speak Japanese if my life depended on it."
---
Now that Matsuzaka has arrived in Fort Myers -- on time and carrying his own bag, two habits big leaguers will soon break him of -- the Red Sox only hope the plan they have in place works.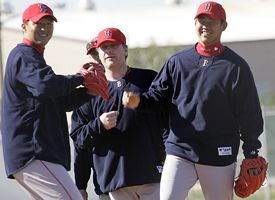 AP Photo/Chitose SuzukiOkajima, left, and Matsuzaka, far right, are getting used to life in The Show.
History has shown Japanese players can go either way. Some see this as a chance to get a break from a regimented culture, like the preacher's daughter getting to college and going wild.
"They like the freedom," Whiting said. "Training in Japan is more militaristic. Like [Hideo] Nomo said, in Japan they treat you like a child, and in the States they treat you like an adult."
Satoru Komiyama, who played for the Mets but has since returned to the Japanese League, said in an e-mail through a translator that he didn't make it because he was too intent on having fun, something he now regrets.
Some, like Komiyama, go home. Others love it. Take Nomo, who inspired a then-junior high student named Daisuke Matsuzaka to dream of the major leagues.
"He adjusted to the culture and embraced the American chicken wing like no one I've ever seen," former teammate and current Tigers pitcher Todd Jones wrote in a funny e-mail. "He was also a big fan of house red wine. His house red wine line was to be used at any restaurant he was in. Morton's. Ruth's Chris. Or Denny's and Waffle House. No matter what he wants … house red wine."
Matsuzaka seems to be adjusting well. He's smiling, which indicates comfort. He's meeting his new teammates and sits next to Okajima in the clubhouse. His English gets better every day.
"I don't have any particular dislikes," he said. "So far, so good."
Wright Thompson is a senior writer for ESPN.com and ESPN The Magazine. He can be reached at wrightespn@gmail.com.
Senior Writer, ESPN The Magazine
Wright Thompson (
@wrightthompson
) is a senior writer for ESPN.com and The Magazine. He has been featured in seven editions of
Best American Sports Writing
and lives in Oxford, Mississippi.