Big Z slugs 22nd career home run
April, 14, 2011
04/14/11
11:22
AM ET
Today's Stat of the Day leads me -- not to mention several of my favorite Twitter followers -- to ask this compelling question:
Is Carlos Zambrano in the wrong line of work?
Big Z launched his 22nd career home run Wednesday night. His 22nd! Which got me to thinking. And that, as you loyal readers know, is always a frightening development.
So is this man more dangerous at the plate than he is on the mound? Think about it as you peruse these fun statistics:
[+] Enlarge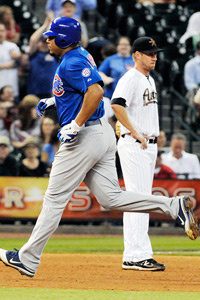 AP photo/Pat SullivanUnlike most pitchers, Carlos Zambrano knows his way around the bases.
• As I observed last night on Twitter, that 22nd trot means Zambrano has now passed Biff Pocoroba, F.P. Santangelo and Harold Reynolds on the all-time home run list. And thanks to the miracle of Twitter, we get to pass along Santangelo's amusing reaction to that news: "If I would have played at Wrigley my whole career I would have had at least 23!" Good point, actually.
• Even more impressive, though, is this news: Zambrano now has a better career home run ratio (one every 28.3 at-bats) than Victor Martinez, Michael Cuddyer, Pudge Rodriguez or Billy Butler. And he's closing in on Shin-Soo Choo (one every 28.1).
• The list of Zambrano's victims here is amazingly impressive. He's homered off Roy Oswalt, Mark Buehrle, Yovani Gallardo, Tom Glavine, Wandy Rodriguez, Kyle Lohse and Aaron Harang -- among others. Fun list!
• As the Elias Sports Bureau pointed out after Wednesday's rocket off Fernando Abad, Zambrano has now hit a home run in nine consecutive seasons. And only one other pitcher in the 51-season expansion era has ever done that: Gary Peters (from 1963-71).
• That homer also raised Zambrano's career slugging percentage to the precipice of .400 (.393, to be exact). According to Lee Sinins' Complete Baseball Encyclopedia, the only pitcher in the live-ball era with at least 10 homers and a higher slugging percentage than that was Ken (Brother of George) Brett, at .406.
• According to our friends at hittrackeronline.com, Zambrano's bomb Wednesday traveled an estimated 428 feet. That makes it the longest home run by any pitcher since a 440-foot shot by CC Sabathia in 2008. Andohbytheway, that also meant it soared 90 feet farther than Alex Rodriguez's 338-foot Yankee Stadium special Wednesday.
• And finally, here's this goofy list that I just had to look up. Not even sure why. It's the 20-20 Club -- pitchers who have hit 20 homers but never had a 20-win season (since 1900):
OK, so what do those three all have in common? They all pitched (and hit) in Chicago. What else? Must be a deep-dish thing.
Shameless Book Plug Dept.: Have I mentioned lately that the new paperback edition of "Worth The Wait," including an all-new preface (cue the trumpets), has rolled off the presses this month? Well, I have now. And I'll be signing copies at the beautiful Barnes & Noble store in Willow Grove on Saturday from 10 a.m. to noon. Please stop by!