Commentary
Clemens' answer? Blame everyone but himself
Updated:
February 13, 2008, 11:03 PM ET
By
Howard Bryant
| ESPN.com
WASHINGTON -- Wednesday was a day of losers. While the Mitchell report withstood its stiffest challenge yet, baseball lost. Roger Clemens lost and Brian McNamee lost. Clemens had his day under oath in front of the country, and he spent it flailing, splashing against relentless waves of facts he could not calm, even after 4½ hours.
He did not drown as Mark McGwire and Rafael Palmeiro did in the same seat three years before him, but after a riveting and grueling day of testimony before the House Committee on Oversight and Government Reform, Clemens nevertheless could not escape his singular isolation. And so his improbable position remains: He has asked the public to believe that his handpicked personal trainer obtained human growth hormone, and used it on his most loyal protégé as well as his wife, but not on him.
[+] Enlarge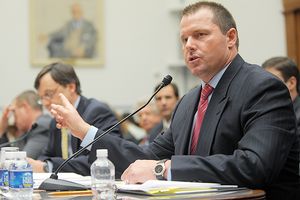 Tim Sloan/AFP/Getty ImagesRoger Clemens made an impassioned attempt to prove his innocence during the hearing.
Despite frustration, the especially bloody afternoon did not end in a stalemate, for the Mitchell report emerged a stronger, more important document. McNamee took a savage beating, mostly from Republican members of the committee who decided to cast their lot with Clemens. But like Clemens, McNamee did not budge. He told the Mitchell commission investigators that he injected Clemens, Chuck Knoblauch and Andy Pettitte with growth hormone, and he repeated the same allegations over the past two months and again Wednesday with Clemens seated at the same table, 3 feet away.
McNamee stood disgraced, completely debased, so much of his life exposed as a failure. He was a police officer who devolved into enabling athletes with illegal drugs. He defrauded his friends and business associates into believing he had earned a Ph.D. in behavioral studies when all he did was earn a correspondence course certificate that was flimsier than a wet newspaper. To save himself and remain in the gilded multimillion-dollar world of professional sports, he lied to the law enforcement authorities on certain occasions, all of his flaws and crucial mistakes now in the public record and the public memory.
Brian McNamee was ruined on Wednesday.
But unlike Clemens, he was human, and on one point -- the only point that matters -- still credible.
Clemens, meanwhile, revealed himself as incapable of introspection or culpability. When cornered, he attempted to bully, but Room 2154 of the Rayburn House Office Building is not a pitcher's mound and he did not hold the gavel. Not being in control frustrated Clemens, and he did not know what to do.
He avoided accountability for his role in his own drama. At no point during the day did he take responsibility for the direction of his career or the choices he's made. As much as McNamee, by being a signature player in the steroids era, Clemens has been part of a drug culture that has diminished his standing and that of his sport, but he never once acknowledged his part in its, or his, downfall. There was always someone else who should have done something for Roger. Clemens had an answer for everything the committee asked him, and each answer, when sifted to its essence, was that nothing was his fault.
Clemens attacked the veracity of the Mitchell report but said it wasn't his fault he didn't speak to former Sen. George Mitchell, even though Mitchell reached out numerous times to speak with him. That was the fault of his agents and the players' association, whom he said never told him Mitchell requested an interview. Clemens clung to this stance while changing the story he told on "60 Minutes," that his lawyers told him not to deal with Mitchell.
Clemens said there was no place in baseball for steroids, that the game was heading in the right direction. Yet for all of his anger and defiance about there being no "shortcuts" to greatness, he was never a champion for a drug-free sport despite being the signature pitcher of his era. He avoided Mitchell just as all of the players did, with the exception of Frank Thomas. Clemens avoided using his influence for so many years. Someone should have told him drugs were bad.
He was asked about his use of vitamin B-12, generally accepted in the United States as unnecessary except in extreme medical cases, and blamed his use on his late mother, who in 1988 told him to use it. Left unsaid was discussion of the Toronto Blue Jays' medical staff, which administered his B-12 shot. The medical staffs of all 30 major league teams have been told for years not to administer B-12 shots because most, if not all, world-class athletes do not need them.
The committee decided early on that Clemens' friend, Andy Pettitte, was perhaps the most credible individual of the day, even though Pettitte did not testify in person. Pettitte admitted that McNamee told the truth in the Mitchell report. But when it came time for Clemens to confront Pettitte's recollections that implicated him, Clemens had only one response. Pettitte, he said, must have "misremembered" their conversations.
And so, too, must have Pettitte's wife.
Clemens said he knew "nothing" about growth hormone. In fact, Clemens said he learned more about growth hormone over the past month than he did during his whole career. He learned about HGH through magazine articles and his wife, Debbie. McNamee injected Debbie with HGH, Clemens said. And even though he welcomed McNamee into their home, Clemens wouldn't even take responsibility for that, either.
[+] Enlarge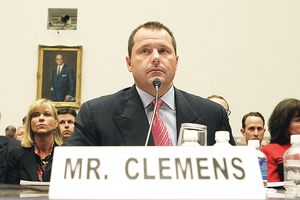 AP Photo/Pablo Martinez Monsivais/Susan WalshRoger Clemens has more work to do in the court of public opinion.
When the committee found Clemens' former nanny to ask her to corroborate McNamee's claim that she was at a party hosted by Jose Canseco, not only did Clemens contact her, he blamed her testimony -- which the committee found to be truthful -- on, ironically, her poor command of English. When the committee told him it was inappropriate for him to contact the nanny before committee members could speak with her, Clemens said he was doing the committee "a favor."
And when faced with the accumulation of facts -- that he was clearly involved in an unethical and illegal culture and aware that McNamee was not an expert professional, yet kept him in his employ -- Clemens relied on blinding the committee with his celebrity. He said he was simply too good. He was, as he said, "trusting to a fault."
He did not say that retaining and rehiring McNamee on two occasions was an error in judgment. He did not say that perhaps he should have or could have handled these details of his life differently. He was never at any point accountable for being in his current position, despite the glaring inconsistencies in his testimony.
He threw his entire team -- family, friends, agent, team doctors, everyone -- under the bus. And they all had to take it, because he's Roger Clemens.
Ultimately, we did not learn that Roger Clemens lied, nor did we learn he did not. As expected, the truth lies somewhere in the creases of the memories of the people involved. What we did learn is that Roger Clemens had an answer for everything the committee asked him. At the ready, his finger was always pointing at a reason, but it was never at himself. And that is why so many of the committee members did not believe him.
Howard Bryant is a senior writer for ESPN.com and ESPN The Magazine. He is the author of "Juicing the Game: Drugs, Power and the Fight for the Soul of Major League Baseball," and "Shut Out: A Story of Race and Baseball in Boston." He can be reached at Howard.Bryant@espn3.com.
Senior Writer
Senior Writer, ESPN.com and ESPN The Magazine
Author of "The Last Hero: A Life of Henry Aaron"
Author of "Juicing the Game"
CONGRESS CALLS FOR JUSTICE


The congressional committee that grilled Roger Clemens and Brian McNamee on allegations of performance-enhancing drug use in the Mitchell report has asked the U.S. Department of Justice to investigate whether Clemens committed perjury when he testified on Capitol Hill.
Perjury Probe
•
Clemens issues apology for personal 'mistakes'
•
Report: Clemens alleged to have had affair
•
Republican's report questions if Clemens lied
•
Report: Clemens probe expands to Houston clinic
•
Congressman asks FBI to drop Clemens inquiry
•
FBI opens probe of whether Clemens was truthful
•
Congress asks Justice to examine Clemens
•
Waxman: Seven contradictions (.pdf)
•
Rocket mum on Congress' investigation request
•
Text of committee's letter to Justice department
•
Fainaru-Wada: Damning analysis on Clemens
•
Wojciechowski: Clemens' inconsistent truth
•
Poll: Clemens lied, but should be voted into Hall
•
Astros owner might reconsider Clemens contract
After The Hearing
•
Radomski says new HGH receipt found under TV
•
Report: Receipts show HGH shipments to Clemens
•
U.S. GM: Clemens not welcome on Olympic team
•
Judge allows Clemens to keep Hardin in lawsuit
•
Lawyer talking with Clemens about dropping suit
•
McNamee's attorneys ask judge to remove Hardin
•
Investigator wants to talk to Canseco about Clemens
•
Report: McNamee selling off signed Clemens items
•
McNamee tells students to learn from his mistakes
•
Hardin makes case to represent Clemens
•
Reports: McNamee faints behind wheel, hits bus
•
McNamee's lawyers want Clemens' suit tossed
•
Report: McNamee nearly joined Mets as coach
•
Report: Photo exists of Clemens at party
•
Pettitte reports, apologizes
•
Report: Pettitte's HGH provided by ex-classmate
•
Posada: 'I believe Rocket' about steroid claims
The Hearing
•
Transcripts: McNamee attempted to warn Rocket
•
Report: Waxman wishes hearings didn't happen
•
Parties divide over Clemens' treatment at hearing
•
Stark's running blog
•
Clemens: Pettitte 'misremembered' him on HGH
•
Fish: Clemens' support breaks along party lines
•
Fish: Pettitte's role was clincher for Cummings
•
Pettitte says he also used HGH in 2004
•
Clemens statement: I never took steroids
•
McNamee statement: I told truth about Clemens
•
Statement on behalf of Andy Pettitte on affadavit
•
Debbie Clemens admits HGH use
Analysis
•
Munson: The Rusty Hardin effect on Rocket's lawsuit
•
Wojciechowski: Clemens feeds feds' case
•
Fainaru-Wada: Damning analysis on Clemens
•
Stark: Pettitte saga doesn't end here
•
Wojciechowski: Pettitte deals with past
•
Hill: Truth will set Andy free
•
Bryant: Clemens blames all but himself
•
Wojciechowski: Pettitte speaks loudest
•
ESPN experts: Who was more credible?
•
Munson Q&A on Wednesday's hearing
•
Drehs: Body language breakdown
•
Stark: Pettitte's shadow looms large
•
Neyer: What matters to Roger is Roger

Video
•
Complete coverage from the hearings

Committee Depositions/Interviews (pdf)
•
Andy Pettitte
|
Brian McNamee
•
Roger Clemens
|
Chuck Knoblauch
•
Clemens' nanny
The Mitchell report
•
Mitchell delivers his report
|
Read it (pdf)
•
Players: Who's named in the report
•
Recommendations from the report

MOST SENT STORIES ON ESPN.COM